Body of work: The pioneering women behind the groundbreaking Grant's Atlas of Anatomy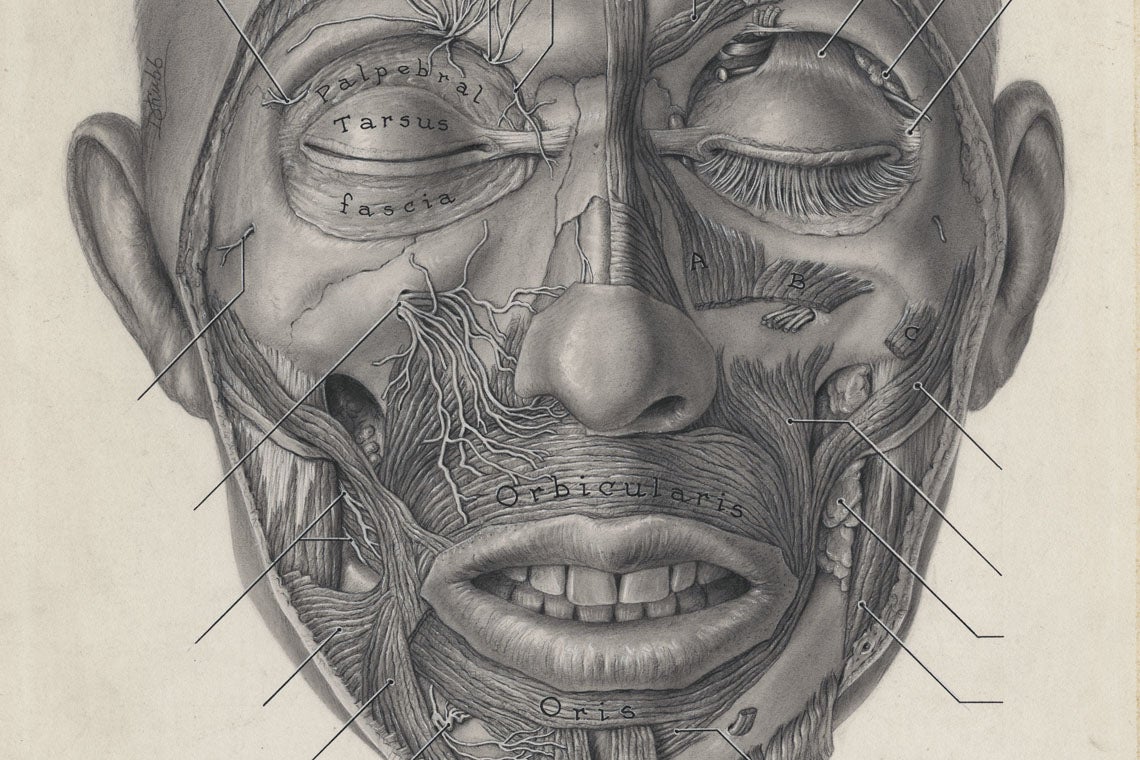 Their drawings are detailed and precise, yet they capture the beauty of the human body – a feat that makes the work of some of Canada's earliest medical illustrators worthy of both a gallery wall and the pages of a textbook.
"The way was paved by women and has been largely dominated by women who have been leaders in the field in this country," says Jodie Jenkinson, associate director of the Master of Science in Biomedical Communications program at the University of Toronto Mississauga.
Many of the women who laid the foundation for medical illustration in Canada were also behind the drawings in the groundbreaking Grant's Atlas of Anatomy. The text, illustrated by Dorothy Foster Chubb, Nancy Joy and a number of other women over the years, helped to change the way the body was studied and understood by medical professionals all over the world.
Before the Second World War, most of the anatomy atlases were produced in Germany. When the war began, those texts were either embargoed or harder to come by – a problem that became an opportunity for J.C.B Grant, who was then the chair of anatomy at U of T. 
He proposed a new kind of anatomy atlas – one that used English anatomical terms instead of Latin, and looked at regions of the body (for example, head and neck or limbs) as opposed to systems, such as skeletal, circulatory or nervous.
This approach was more in line with how people actually practised medicine, says Nicholas Woolridge, director of U of T's biomedical communications.
"It's the way you dissect a cadaver and the way you do surgery," he says. 

Various editions of Grant's Atlas of Anatomy, housed at U of T Mississauga's Terrence Donnelly Health Sciences Complex (photo by Romi Levine)
Grant needed illustrators, so he approached Maria Wishart, who was the founder and head of the Medical Art Service in the Faculty of Medicine.
The service was originally created to provide U of T divisions with medical images and models. Over the years it evolved – first becoming a certificate program in 1945 called Art as Applied to Medicine, a bachelor of science program in the 1960s, and then a graduate program in the 1990s, when it was renamed biomedical communications.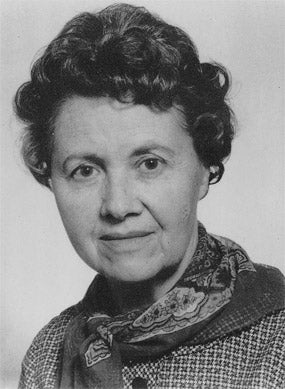 Wishart recommended Chubb (pictured left) to Grant. She was working with Wishart at the Medical Art Service after studying at Johns Hopkins University under Max Brödel, who is considered the father of modern medical illustration.
Chubb agreed to work with Grant under one condition:
"Apparently she said to Grant, 'I'll agree to do this as long as you don't pressure me,'" says Woolridge. "Perhaps she knew he was going to be demanding and exacting in his standards and, at that time, she had a young family and wasn't necessarily looking for something that would fill her days."
It was a bold request for a woman in the 1940s when the field of medicine was dominated by men, but Grant complied.
In turn, Chubb produced hundreds of drawings for the atlas's first edition, published in 1943 in two volumes.
Creating the illustrations was no easy task.
"This profession embodies this ability to take in very complex information and translate that into a form that other people can understand," says Jenkinson.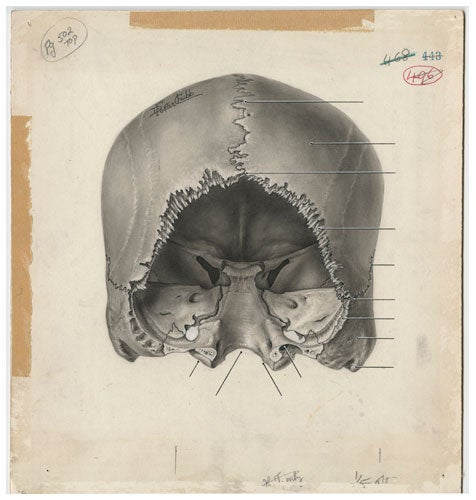 Chubb's illustration of a skull for the atlas (courtesy of U of T biomedical communications)
Grant and his assistants would perform dissections that would be photographed and printed out on large transparencies, says Woolridge. The prints would be placed on a light table where they would be traced by the illustrators, forming the base for the drawing.
Details would be added to the drawing using a carbon pencil on cold press illustration board.
"The technique they used is one that's relatively unique to medical illustration, called carbon dust," says Wooldridge. "To get the tone in, they would rub carbon against sandpaper to get a pile of carbon dust and they would apply that with a paint brush. You would get these lovely even tonal gradations with an amount of contrast that would reproduce really well."
Chubb was a master of this technique, he says. "Dorothy Chubb's work is very visually distinctive – I could recognize it immediately… It's really beautifully observed, and has a really strong sense of a light source and a really strong three dimensional sense." 
The success of the atlas sparked a need for medical illustrators in Canada, which is how the Medical Art Service became Art as Applied to Medicine at U of T, says Jenkinson.

Joy with a copy of Grant's Atlas of Anatomy (courtesy of U of T biomedical communications)
And women flocked to the profession.
"I think in part it was that it was not very common for women to enter medical school at that time but it was also a career that afforded women the luxury of also being able to have a family and raise children because they weren't in the surgical theatre around the clock," says Jenkinson. 
The field also attracted women who were interested in both anatomy and art, says Woolridge.
"It was hard to be a woman and to be an artist in those days since there were institutional and societal barriers to success at the time."
Women continued to dominate the medical illustration field in Canada. Joy, who illustrated Grant's Atlas of Anatomy in subsequent editions, became chair of Art as Applied to Medicine in the 1960s.
Margot Mackay, a professor emerita in the department, was taught by Joy and eventually worked alongside her. She remembers her as being "very strong willed and strong-minded."
"There were very few female chairs in any of the departments back in those days," says Mackay.
Grant's perfectionism with the atlas rubbed off on Joy in the way she taught her students, she says.
"She never really felt you were finished."
Though the atlas's publisher is based in Baltimore, Md., U of T has always played a large part in its production.
Anatomy Professor Anne Agur, in the Faculty of Medicine's department of surgery, is the current co-editor of the atlas, and recent biomedical communications alumni were hired to create colourized versions of the illustrations for the latest edition.
"There's now this very colourful, very refreshed version of the atlas where the illustrations are for the first time published at their full quality," says Woolridge of the 14th edition.
But those full quality images could never have happened if it weren't for one editor in Baltimore.
In the early 1990s, the publisher scanned the original drawings with technology available at the time, which wasn't of the highest quality, says Woolridge.
"They were in the process of clearing out archives and were considering sending the original illustrations to a landfill," he says.
Luckily, an editor recognized their value and contacted U of T to see if it would be interested in accepting the drawings.
"We of course said yes and they were sent up in these two coffin-like boxes just piled higgledy piggledy with no organization," says Woolridge.

Woolridge and Jenkinson pose in front of an enlarged illustration by Chubb (photo by Romi Levine)
The drawings are now stored carefully at U of T Mississauga and, with the help of a Social Sciences and Humanities Research Council grant, the department was able to create high-quality digital scans of the collection, which are being used in the current edition of the atlas.
Over time, the field of medical illustration has changed and expanded to include research, new technologies, and a deeper exploration of the body from a cellular level.
"We're teaching students how to become strong visual communicators and visual problem solvers," says Jenkinson.
U of T's biomedical communication program is the only accredited program of its kind in Canada and one of four in North America. And today, Toronto has the highest concentration of medical illustrators in the world, says Jenkinson.
"The profession as a whole has changed and women have been a big part of that."

A painting of Joy welcomes those who come to browse the archives of drawings from Grant's Atlas of Anatomy (photo by Romi Levine)
UTC