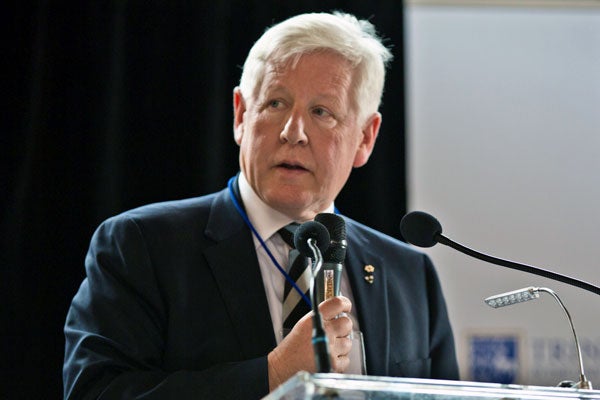 Bob Rae joins University of Toronto
The Honourable Bob Rae has joined the University of Toronto as a Distinguished Senior Fellow at the School of Public Policy and Governance (SPPG), effective July 1.
"Obviously Bob Rae brings an incredible wealth of policy expertise and experience in public service," said Mark Stabile, director of the SPPG. "This is a fantastic opportunity for our students to learn from one of Canada's most distinguished political leaders. We look forward to him taking part in many of the school's activities, meeting with faculty and students and participating in courses."
Rae announced his resignation as the Member of Parliament for Toronto Centre on June 19. In addition to his role as Distinguished Senior Fellow, Rae will be chief negotiator for First Nations in talks with the Ontario government about development of the Ring of Fire, an area in the James Bay Lowlands of Northern Ontario where mining exploration is under way.
He recently served as interim leader and foreign affairs critic for the federal Liberal party and was the 21st premier of Ontario from 1990 to 1995. He has been elected nine times to federal and provincial parliaments.
Rae's association with U of T dates back to his undergraduate years at University College. He graduated with a Bachelor of Arts degree in 1969, followed by a degree in law in 1977. During Rae's final year as an undergraduate, his strong academic and extracurricular record led him to be awarded a prestigious Rhodes Scholarship to the University of Oxford where he studied under renowned political philosopher Isaiah Berlin.
Rae obtained a B.Phil, a graduate degree from Oxford in 1971 and was named a Queen's Counsel in 1984. He has received numerous honorary degrees – including one from U of T in 1999 – and awards for his public service. He was appointed to Her Majesty's Privy Council for Canada in 1998 and was named an Officer of the Order of Canada in 2000 and an Officer of the Order of Ontario in 2004.
Kim Luke is a writer with the Faculty of Arts & Science at the University of Toronto.