Black History Month 2023: What's on across U of T's three campuses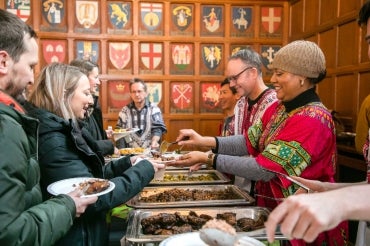 From dance parties to thought-provoking panels and celebrations of Black excellence, the University of Toronto is hosting a wide array of events across the three campuses to mark Black History Month.
Members of the U of T community will have the chance to come together to learn, reflect, share stories, have fun and engage in self-care at conferences, cultural events and celebrations throughout February.
Rounding out the calendar is the annual Black History Month Luncheon, which is being held in-person and will spotlight Toronto International Film Festival CEO Cameron Bailey.
Here's a sampling of the events on offer throughout the month.
---
Feb 1. – Feb. 4
The Canadian Black Scientists Network is hosting a four-day virtual conference that brings together researchers in Science, Technology, Engineering, Mathematics, Medicine and Health (STEMM). The agenda includes talks by leading Black scholars across disciplines, networking sessions and opportunities to mentor the next generation of scientists.
Feb. 1
Ghetto Fabulous: Black Y2K Party
Time to pull out your finest threads from the 1990s and 2000s for this throwback bash, hosted by the Black Students' Association at U of T, reclaiming the word "ghetto" and celebrating the Black subculture of the era.
Feb. 2 – Feb. 3
Re/Viewing, Re/Visioning, and Re/Imagining Black Canada Symposium
This two-day symposium, co-hosted by U of T and York University, will provide a forum for Canadian and American scholars to reckon with themes raised in the recent volume Unsettling the Great White North: Black Canadian History, published by University of Toronto Press. The event will engage participants in the latest debates, research and theories in Black Canadian history/studies to better understand how scholarship has evolved to offer a more expansive and nuanced view of Black Canadian experiences.
Feb. 4
You better bring your A game to this sports-themed kiki at U of T's Goldring Centre for High Performance Sport. Guests can warm up with a beginner-friendly vogue dance workshop led by Legendary House Mother Snoopy of the Disney Kiki House. Then get ready for a ballroom battle celebrating game-changing Black athletes such as Colin Kaepernick, Simone Biles and Venus and Serena Williams.
Feb. 6
Black History Month Symposium – What Has Changed: The Role of Attitudinal Barriers to Advancing Black Inclusion
Hosted by the Anti-Racism and Cultural Diversity Office, this event will examine attitudinal barriers that contribute to anti-Black racism in post-secondary environments and discuss strategies to address this systemic problem. It includes a performance by U of T alumna Michelle Bookal and opening remarks by Njoki Wane, chair of the department of social justice education at the Ontario Institute for Studies in Education (OISE), and Charmaine Williams, dean of the Factor-Inwentash Faculty of Social Work. Panellists include: Cherilyn Scobie Edwards, director of the Equity Diversity and Inclusion Office at U of T Scarborough; Andrew Campbell, assistant professor at OISE; Nancy Simms, adjunct professor at the Faculty of Law; and Teeanna Munro, project co-ordinator in the Black Perspectives Office at Concordia University.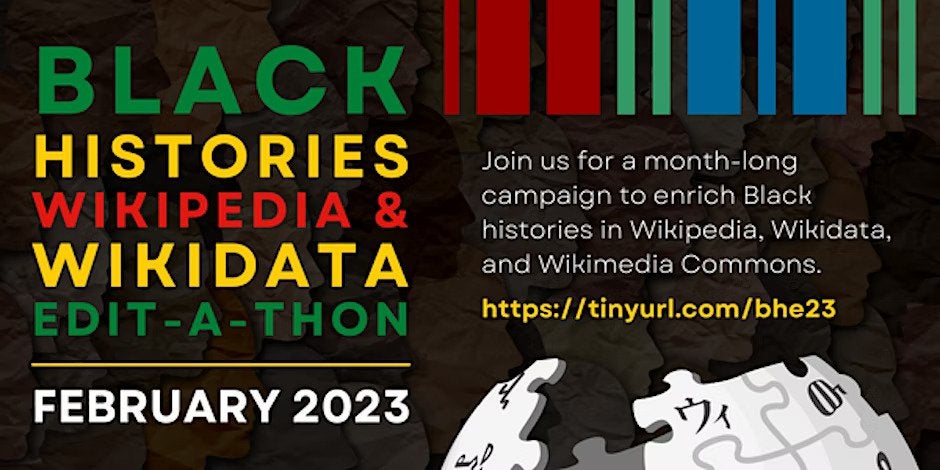 Feb. 8
Kickoff Panel for Black Histories Wikipedia & Wikidata Edit-a-thon
This is your chance to contribute to Wikipedia through a series editing sessions focused on Black histories. The events are co-organized by U of T and other universities in collaboration with the Toronto Public Library. Funké Aladejebi, an assistant professor in the department of history in the Faculty of Arts & Science, moderates the kickoff panel featuring multidisciplinary artist Debbie Ebanks Schlums and Jonsaba Jabbi, co-founder of Building A Black Archive.
Feb. 9
Tastes of Culture 2022-23: African Perspective
U of T Mississauga's International Education Centre and Hart House co-present this virtual cooking session that will bring the tastes of Ghana to your home kitchen. Chef Kwame Owusu-Afriyie Nsafoah will show how to make stewed black-eyed peas and krakro (plantain fritters) to be paired with jollof rice and stuffed into a burrito.
Feb. 9
The Intersecting Identities that Inspire Our Excellence
The Dalla Lana School of Public Health hosts a celebration of Black leaders across a range of fields for a discussion on how their intersecting identities inform their work. Panellists include: Toronto Argonauts linebacker Hénoc Muamba; Celina Caesar-Chavannes, a former MP and business consultant; Jason Faulkner, owner and clothing designer of Spread Love; Stella Djulus, visual artist and founder of Arts by Stella; and Kevin Allwood, owner of Allwood MKRT & KaSpace Café.
Feb. 10
This session, hosted by Anti-Racism and Cultural Diversity Office, invites Black participants to slow down and engage in community care. After starting the session with gentle meditation and movement, Yamikani Msosa will facilitate a dialogue about how both rest and action can be forms of resistance in the fight against anti-Black racism.
Feb. 13
Get a free trim, fade or braid while testing your hip-hop knowledge at this pop-up hosted by Hart House Hip Hop Education in partnership with beauty services finder Fyyne, co-founded by Jeff Fasegha, a U of T graduate and a member of the of the Black Founders Network.
Feb. 15
Our Stories: Black History Month
Learn from the lived experiences of three U of T students as they share their stories at this virtual event co hosted by U of T Scarborough's International Student Centre, U of T Mississauga's International Education Centre and the St. George Centre for International Experience.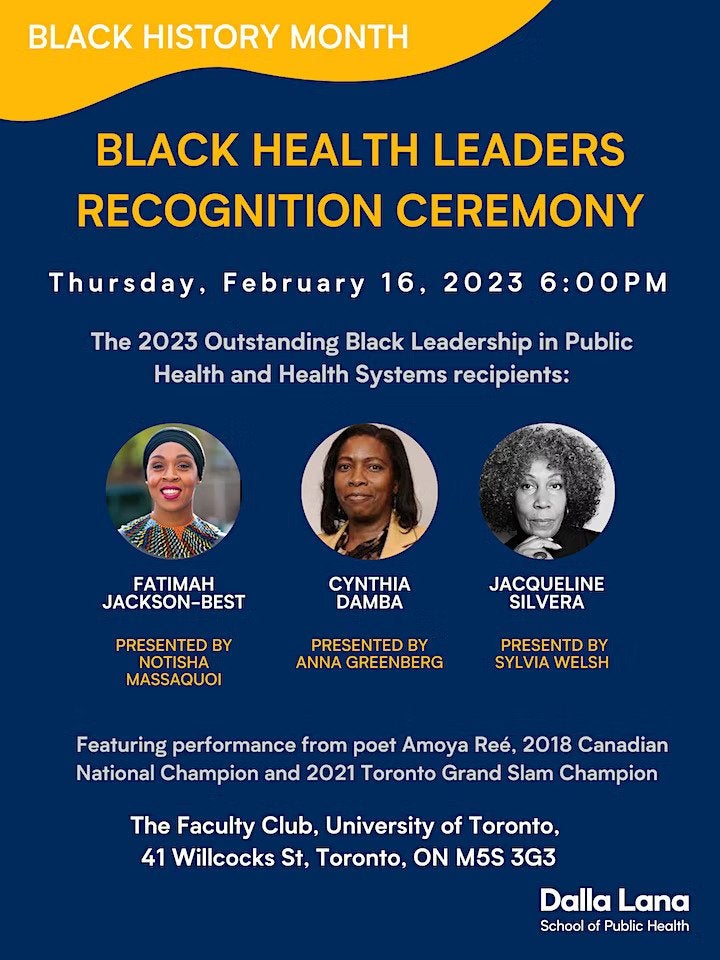 Feb. 16
Black Health Leaders Recognition Ceremony
The Dalla Lana School of Public Health hosts its inaugural recognition ceremony celebrating Black leaders in Toronto's public health and health systems. This year's recipients are: Fatimah Jackson-Best, project manager at the Black Health Alliance and assistant professor at McMaster University; Cynthia Damba, director of health analytics at Ontario Health, Toronto Region; and Jacqueline Silvera, director of inclusion, diversity, equity, accessibility and anti-racism with the University of Health Network.
Feb. 17
Skaters of all ages are invited to hit the ice at Varsity Arena and glide along to the sounds of hip-hop, R&B and Afrobeats curated by DJ Mel Boogie. Professional figure skaters Chloe Panetta and Kieran Thrasher will be on hand to offer tips and perform a routine.
Feb. 22
Black Ice: Film Screening and Panel Discussion
U of T's Faculty of Kinesiology & Physical Education (KPE), Innis College and the Cinema Studies Institute present a special screening of Black Ice, an acclaimed documentary tracing the history of anti-Black racism in hockey, from the 19th century to the present-day. Director Hubert Davis will join KPE faculty members Janelle Joseph and Simon Darnell for a discussion of the film, which counts LeBron James, Drake and Maverick Carter as executive producers.
Feb. 23
Panel Discussion on Black-Led Community Space
Isaac Olowolafe Jr. of the Dream Legacy Foundation, Amina Mohamed of the Somali Centre for Culture and Recreation and Alica Hall of Nia Centre for the Arts engage in conversation about the need for community spaces built by and for Black communities. The event – sponsored by the Infrastructure Institute at U of T's School of Cities and co-hosted by the Somali Centre for Culture and Recreation – comes on the heels of a joint report examining gaps in public investment in and access to Black-led social infrastructure in Toronto.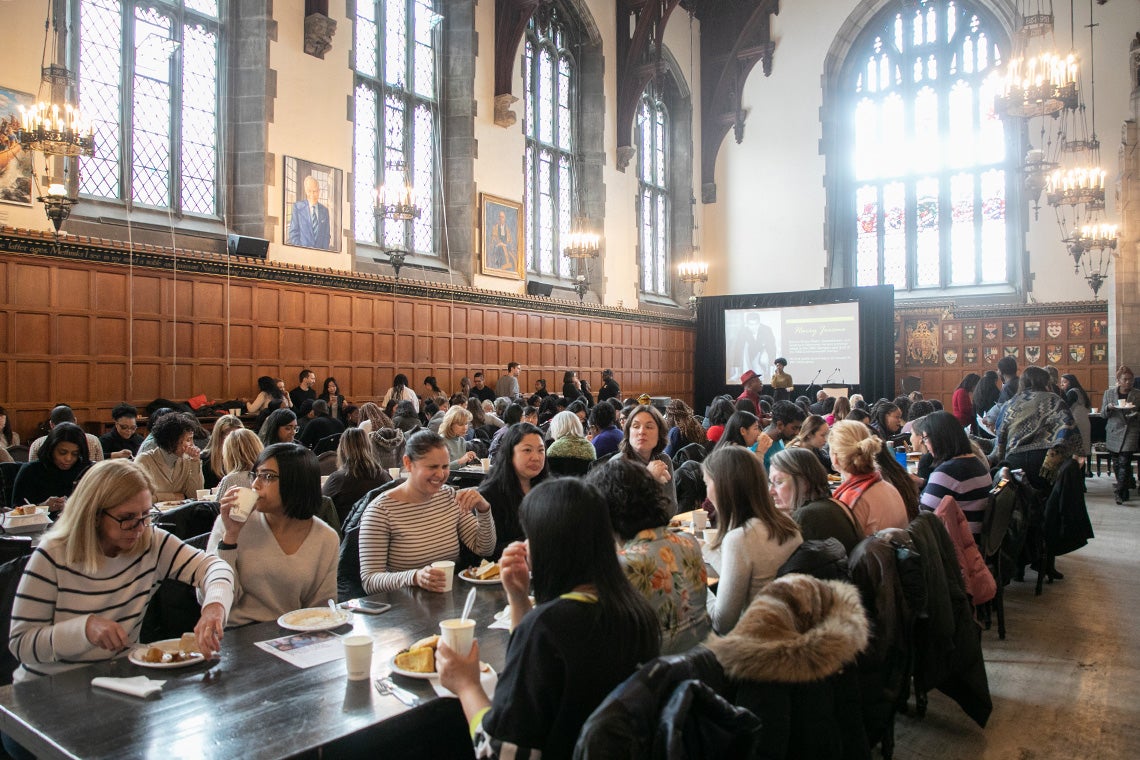 (photo by Johnny Guatto)
Feb. 24
21st Annual Black History Month Luncheon
TIFF CEO Cameron Bailey is set to give the keynote address at this year's celebration of Black excellence, continuing a more than two-decade-long tradition that has become Black History Month's marquee event at the university. Community members will come together at Hart House and be treated to delicious food, captivating speakers and dynamic performances.
Feb. 25
Future Black Business Leaders Conference
Black business leaders will share their tips for success with the next generation of power players at this conference hosted by the Rotman School of Management. Attendees will have the chance to connect with top industry professionals and learn more about Rotman's scholarships and awards for future Black leaders.
Feb. 28  
Lecture/Recital with Beau Dixon
Actor, musician and playwright Beau Dixon returns to U of T to discuss his creation and curation of the Stratford Festival's Freedom Cabaret 2.0: How Black Music Shaped the Dream of America. The event will also feature performances by Dixon and singers from the Faculty of Music.
Feb. 28
There are plenty of ways to decompress at this Hart House event aimed at encouraging self-care for Black students. Relaxing activities include painting, aromatherapy ball-making, guided meditation, massages and board games.
UTC