'Bionic professor' aims to transform the field of wearable robotics
Brokoslaw Laschowski's lab is developing AI-powered technologies that interface with humans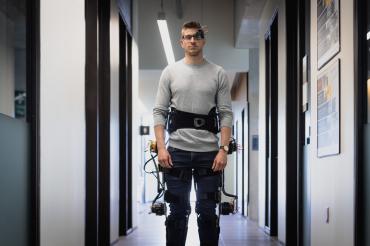 To students in his University of Toronto lab, Brokoslaw Laschowski is known as "the bionic professor" – a superhuman nickname that speaks to both his fascination with wearable robotics and passion for helping others.  
A research scientist at the
KITE Research Institute
, University Health Network, and assistant professor (status) in the Faculty of Applied Science & Engineering, Laschowski and his team are developing wearable robots that use artificial intelligence (AI) to make decisions on their own – not unlike autonomous cars. 
Their work includes bionic prosthetic legs, exoskeletons, AI-powered smart glasses and neural interfaces. 
"We are trying to help individuals with physical disabilities. It's such a challenging problem, how do you design technology that interface with humans and allows them to synergistically move in a meaningful way?" 
For Laschowski, who says he has long been fascinated with the concept of "cyborgs," computer vision can help seamlessly merge humans with machines.
"Humans use their vision for path planning and control, which inspired the use of vision in autonomous cars," he says. "I started looking into how we could possibly use vision with walking robots."
For the team's prosthetic leg and exoskeleton, tiny cameras allow the devices to sense their environments in real-time – an idea that Laschowski says is unique to his research. 
"There aren't many labs in the world that are using computer vision to improve human-robot walking," he says.  
The team's smart glasses interact with both the exoskeleton and bionic prosthetic leg. The system works by combining computer vision and deep-learning AI to recognize the surrounding environment and adapt to obstacles and changes in terrain. 
"We can accurately and quickly identify features of the environment and relay that information to the bionic legs," he says. 
Laschowski says he became passionate about assistive technology while he was pursuing his second master's degree at the University of Waterloo. At the time, he was working with Paralympic athletes from Team Canada on design optimization of wheelchairs using computer simulations. 
He completed a PhD in engineering at Waterloo before coming to U of T to do a postdoctoral fellowship in the Temerty Faculty of Medicine.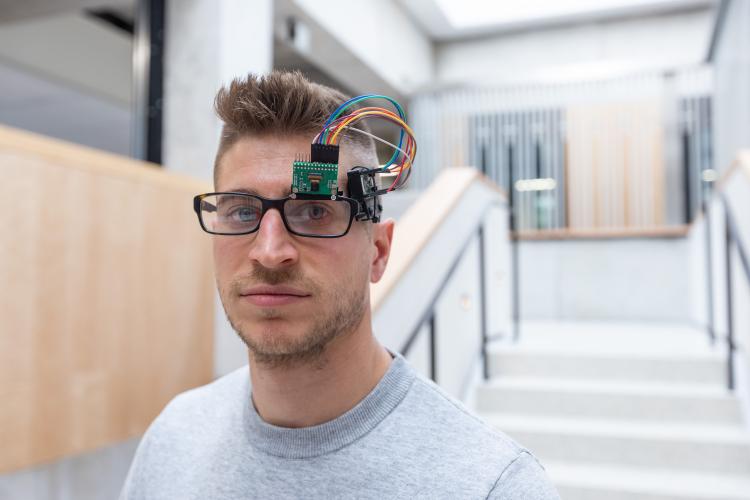 Laschowski's drive to help others extends well beyond the realm of assistive devices.
Last year, he worked with Michael Brudno, chief data scientist for the University Health Network and a professor of computer science in the Faculty of Arts & Science, to launch a summer research program for students fleeing the Russian invasion and war in Ukraine.  
As a Ukrainian-Canadian, Laschowski says the initiative is close to his heart. 
"We took students out of war zones and gave them a safe learning environment – especially last year." 
The initiative, which drew more than 400 applicants this year, gives computer science students from Ukraine the opportunity to work and study with top U of T faculty who are engaged in cutting-edge research. It receives support from U of T's department of computer science, the
Vector Institute for Artificial Intelligence
, the Robotics Institute and the department of mathematical and computational sciences at U of T Mississauga.
Laschowski and Brudno are both deeply involved – reviewing submissions, helping students fill out visa forms and preparing them for one of the biggest moves of their lives. They also
organized a welcome event
for the new cohort of 21 students who arrived at U of T in May. 
"We feel a huge sense of responsibility," Laschowski says. "They are under our care. We promised that we would help them while their brothers and fathers are fighting for freedom." 
Oleksii Tsepa, a master's student in computer science at U of T, left his home in Kyiv on the first day of the war, with his parents urging him to go aboard. "The borders were still open," he recalls. "I understood that I wouldn't be able to leave Ukraine later." 
He stayed in Cyprus for a couple of months before finding out about the U of T program. 
"I feel lucky that I qualified and that I worked with Professor Laschowski," Tsepa says. "He taught me that I always have to answer myself. I understood that achievements can't be reached without putting in effort." 
The effort put in by Laschowski and his team is evident in their potentially game-changing technologies, which are being tested in environments both inside and outside the lab. 
"I am a huge proponent of getting out of the lab as fast as possible because these devices are going to have the greatest impact in the real world." Laschowski says.
His lab is also developing neural interfaces, which would give humans direct control over the bionic prosthetic leg and exoskeleton. Far into the future, he imagines he'll be working on connecting his smart glasses to a brain implant.  
"We could potentially map images of the walking environment from the glasses directly onto the visual cortex of the brain – essentially bypassing the eyes and giving users bionic vision," he says. 
"If somebody has macular degeneration or some age-related visual impairment, we may be able to use the smart glasses to bypass that and interface directly to the brain."
Laschowski says he believes humans are beginning to go through a technological evolution – one that he is helping to make reality.  
"If we could allow the visually impaired to see and the paralyzed to walk through advances in technology – those are some of my career goals."
UTC