On the big screen: U of T researcher on Hollywood's depiction of women in law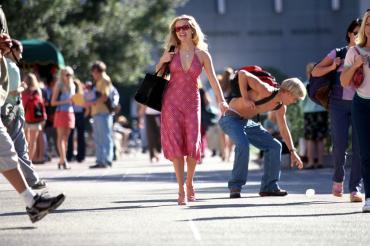 Brenda Cossman is a self-confessed pop culture junkie.
"Anything that gives me a reasonable excuse to watch TV, is just fabulous – academic interest justifying popular culture addiction," says Cossman, a professor in the University of Toronto's Faculty of Law.
"Popular culture tells us a lot about the changing norms, values, roles and expectations about gender," says Cossman. "What society thinks about women lawyers has changed, or arguably not changed, over time."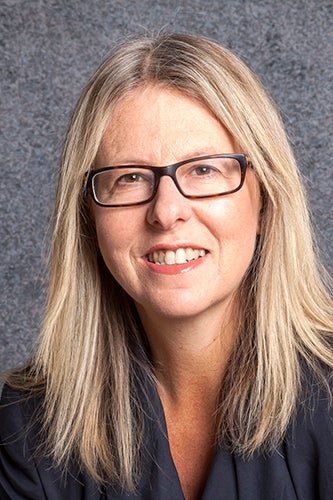 Cossman (left) recently shared her talk "Pretty Pictures? Women lawyers in film and television" with U of T's Women and the Law student group. The presentation focused on a period that roughly spanned the 1930s to the turn of the century.
"Women and the Law represents female students here at the law school to create connections and a support system between students and practitioners," said second-year law student Serena Ceco, who helped organize the talk Cossman pitched to the group. 
"You never stop to consider how these representations impact your worldview or how you think of yourself as a female law student heading into the profession."
Cossman says the first women lawyer movies started to appear in the 30s, starting with films like Ann Carver's Profession, which "tells the story of a lady lawyer whose career almost wrecks her home life." From The Defense Rests (1934) and Career Woman (1936) to Portia on Trial (1937), Cossman explains that, throughout this period, we see actors portray young, naive women who are committed to justice, but need a man to come to their rescue.
"Portia on Trial was a little bit different," says Cossman. "It resulted in a complaint by the Los Angeles [County] Bar Association to the motion picture censors that Portia was unethical. Why? Because she was advocating for women's rights."
By 1939, Cossman says the "lady lawyer genre" returned with Disbarred, casting Joan Carroll as a young lawyer who makes terrible choices because of her love for a man, and is disbarred in the process. It was received positively because it didn't challenge women's roles.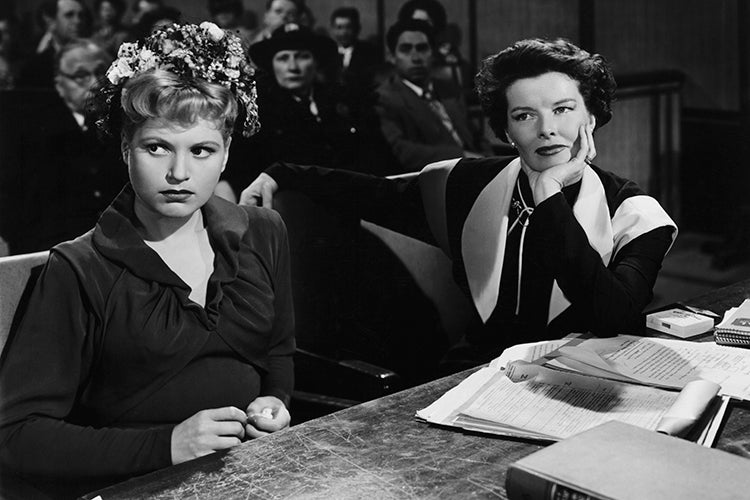 Doris Attinger (Judy Holliday) is on trial for attempted murder and is represented by her lawyer Amanda Bonner (Katharine Hepburn) in Adam's Rib (photo by John Springer Collection/CORBIS/Corbis via Getty Images)
By the 1940s, a then-best for representation of women lawyers in film is Katharine Hepburn's portrayal of Amanda Bonner in Adam's Rib (1949). She faces off against actor Spencer Tracy, cast as her lawyer and husband, in a battle of the sexes. Hepburn defends a woman who's been accused of attempted murder of her unfaithful husband.
"Hepburn's character is smart, articulate and confident. She argues against the double-standard. Women should have the same defensive provocation as men," says Cossman.
"She wins the case, but it's unclear whether she wins the battle-of-the-sexes. Her husband emerges victorious because she has to admit that she doesn't really believe her own argument. It's about the way in which we misuse equality in courtroom settings to advance things that might not be that principled."
Cossman says after Adam's Rib, the women lawyers are less present in the 1950s and 1960s, but start re-appear in the 1970s. By the 1980s, a whole new film genre focusing on lawyers who are women emerges – a trend that Cossman says coincides with an influx of women into law schools.
However, she says the onslaught of films with women lawyers as main characters during this period are troubling.
"Though they have some professional victories, their victories tend to only highlight their personal isolation and failure," Cossman says. "They are an incredibly promiscuous lot – they sleep with senior partners, clients, jurors, detectives. They are single, divorced, childless, often described as 'married to the law'. They're miserable in their personal lives and make terrible choices. If they do have children – they're terrible mothers."
Cossman says that ethical violations abound in these films and most of the female characters end up alone, or they give-up the law for a heterosexual relationship. 
"The films of this era were written as being representative of the backlash of that moment in time – a very conservative pushback to the entry of women into the workforce, and rise of women's rights, rather than reflecting women's emerging equality," says Cossman.
"These were films about strong women as threatening to themselves and others around them – a kind of morality tale about what happens if women step out of their traditional roles."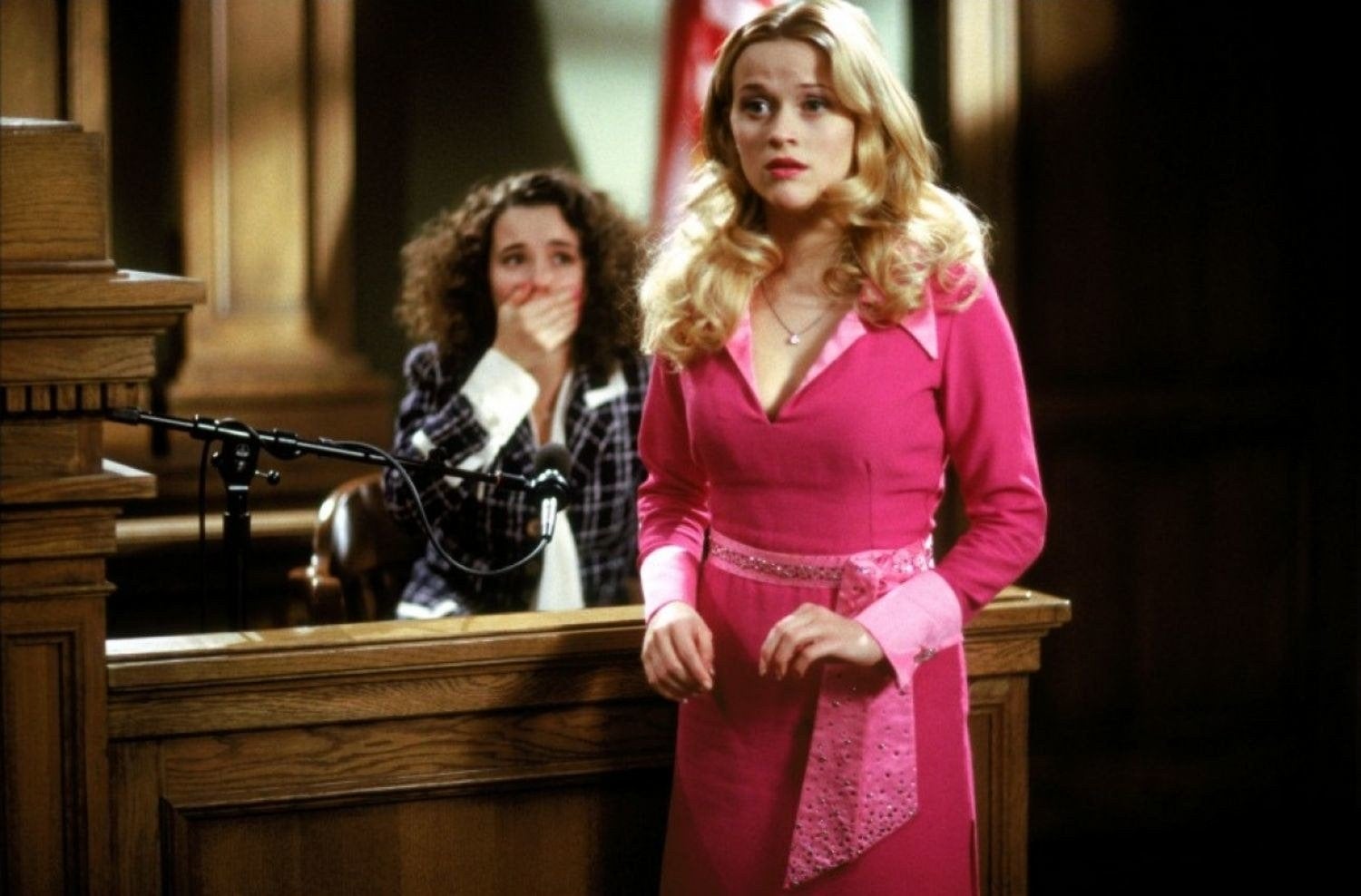 Reese Witherspoon who played Elle Woods in Legally Blonde has said many fans have approached her over the years about movie inspiring their own law school journey (image courtesy of MGM Pictures)
In 2001, however, a very unlikely heroine arose: Elle Woods in Legally Blonde.
"She is very pink – so pink – ditzy, blonde, from a California sorority who follows her ex-boyfriend to Harvard law school – 'Oh, is that hard?'" says Cossman, quoting one of actor Reese Witherspoon's memorable lines from the movie.
While Cossman says it can be difficult to take Elle Woods seriously, she turns out to be a smart, ethical and articulate lawyer.
"We're in the realm of comedy and parody – not unlike Adam's Rib – where I think we have to suspend disbelief and go along for the ride."
The defining moment of the film is when Woods is defending a sorority sister who has been accused of murdering her husband. "She is able to use her feminine knowledge to bust open the cross-examination by effectively getting [the daughter] to admit she is guilty," notes Cossman. "It all comes from understanding that you would never take a shower after a [hair] perm. The guys would never know this, right? Who would know this? Elle would."
Cossman argues that Woods is probably the best depiction of a female lawyer that Hollywood has put on screen.
"She demonstrates that women need not choose between femininity and competent lawyering," she says. "It's a story about her being true to herself, about not letting the law change who she is – represented by the pink and not letting the sexual harassers get in her way – which is very pre-#MeToo, but very much a #MeToo story. She doesn't sell herself short."
The film went on to gross over US$140 million and was followed by a sequel. Witherspoon has said many fans have approached her over the years about Legally Blonde inspiring their own law school journey.
"Elle Woods absolutely inspired many women to go to law school," says Cossman. "For me, she is an unadulterated heroine: You can do it your own way and you don't have to give up your soul to do it."
Law