Bianca Andreescu a model for Canadian success, U of T's Roger Martin writes in the Globe and Mail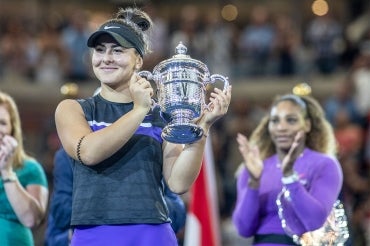 Mississauga-born Bianca Andreescu's win at the 2019 U.S. Open championship was a historic moment for Canadian tennis. And Professor Emeritus Roger Martin, academic director at the Martin Prosperity Institute and a former dean of the Rotman School of Management, says it provided a blueprint for Canadian organizations seeking greatness.
In a Globe and Mail op-ed, Martin argues that if Canadian corporations, non-profits or public sector entities aim high and makes distinctive choices in pursuit of their goals, they can succeed globally just as Andreescu did on the tennis court.
As a past chair of Tennis Canada, Martin forged a strategy to elevate Canadian tennis players. That included hiring world-class coaches to find and develop young players and equally funding high-performance athletes who used their own coaches or Tennis Canada's, "as long as they met our development standards," he wrote.
"Perhaps most importantly, we unflinchingly enforced adherence to the strategy through the successive three-year chairmanships of Mr. [Jack] Graham, Mr. [Tony] Eames and myself," said Martin. "As Ms. Andreescu knows, winning takes commitment by the athlete, and we were determined to be as committed to our strategy as they were to their training."
UTC