Beverly Glenn-Copeland, a musician who pushed boundaries, receives honorary degree
As a musician, he has blended genres and pushed boundaries, drawing on his love of nature and science fiction to create a sound that is uniquely his own. And as a trans artist with a diverse family background, he has been a strong advocate for Black, Indigenous and LGBTQ2S+ communities in Canada and abroad.
Today, for his innovative and influential musicianship known around the world and his sterling artistic reputation, Beverly Glenn-Copeland receives a Doctor of Laws, honoris causa, from the University of Toronto.
Born in Philadelphia in 1944, the only child of musical parents, Glenn-Copeland grew up listening to his father playing Chopin, Bach and Mozart on the piano. His mother played piano, too, and sometimes sang spirituals. Although the family identified as Black, their ancestry was diverse. "None of us are entirely this or that," Glenn-Copeland once told an interviewer.
Glenn-Copeland started singing lessons at age 17 and won a scholarship to study classical music at McGill University, where he was one of the first Black students. He left before graduating and moved to New York to train with Metropolitan Opera soloist Eleanor Steber. "She loved my voice and I think she could see into my personality, and she could see that I wasn't suited to it, you know, flouncing around in the opera world," he said in a 2005 Globe and Mail interview.
He represented Canada at a concert for Expo 67 in Montreal and over the next several years recorded two bluesy folk albums. Then a friend who worked at CBC's Mr. Dressup wrote him into an episode as a singer-songwriter; he soon became a regular and performed on the popular kids' TV show for 25 years.
While working at the CBC in Toronto, Glenn-Copeland taught himself how to use a computer and began exploring electronic music. He was driven by the idea that the computer could help him produce sounds that had never been heard before.
Inspired partly by nature and a deep interest in science fiction, he recorded Keyboard Fantasies using an Atari computer, a synthesizer and a drum a machine. It was nothing like his previous musical work. "I felt like electronic music … pushed something," he told Paper magazine in 2020. "It helped me imagine new sounds."
A writer in the Guardian newspaper described Keyboard Fantasies, which Glenn-Copeland self-released in 1986, as a "trippy mix of electronica, folk and new age, overlaid with Copeland's sumptuous contralto tenor." He made 200 copies of the album on cassette and sold 50. Discovered by a Japanese collector in 2015, the album was reissued the following year by Toronto's Invisible City Editions to considerably more success. It is now considered his masterpiece.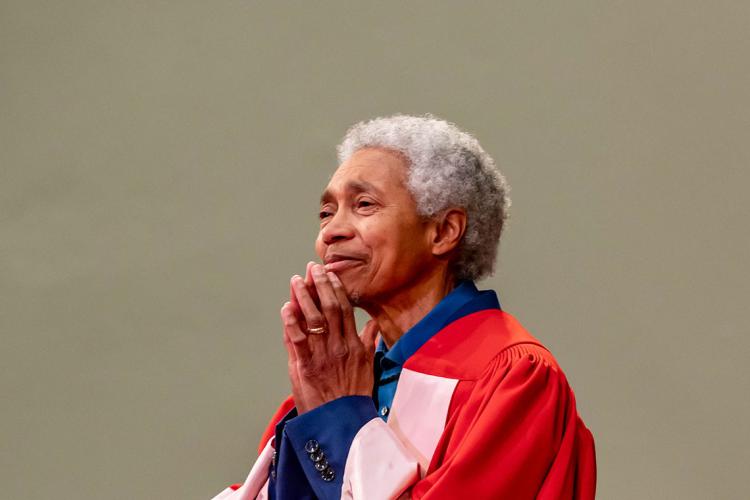 His most recent recording, Transmissions (2020), compiles tracks spanning his 50-year career and covering a range of genres – from folk to ambient electronic to worldbeat.
Glenn-Copeland lived as a woman for much of his life, coming out as transgender in his late 50s. In an interview with the CBC, he says that the realization had come to him several years earlier as he was on a beach, reading a book by a transgender man. In the author's description of his childhood, Glenn-Copeland recognized himself. "I was lying on the sand, and I just kind of sat up and went, 'I am transgender.' And I had never put those words to it."
His mother told him that when he was three, he had declared that he was a boy. He recalls she dismissed the idea, and the thought "faded into my subconscious." After reading the book, he decided to act. "From that moment on, I knew I was actually a man in what was nominally a woman's body, and I just went, 'Oh well, I have to follow this,'" he says in the CBC interview.
By the time Glenn-Copeland decided to have gender affirmation surgery, his mother was onside with the idea (his father had died at 51 of lung cancer). "She had come to a very supportive you-must-be-yourself courageous parental stance around it," he says in the Globe interview.
Over some 50 years, Glenn-Copeland has also drawn support from Buddhism. He told Lion's Roar magazine that participating in the ancient philosophical tradition has been the single most important thing in his life. "The message of my Buddhist practice is, 'Be courageous. You are exactly what is wanted. We're all different.'"
In 2020, Beverly Glenn-Copeland's Keyboard Fantasies (1986) was awarded the Slaight Family Polaris Heritage Prize. Now in his 70s, his experiences on tour for the first time, with the band Indigo Rising, were captured by the filmmaker Posy Dixon in Keyboard Fantasies: The Beverly Glenn-Copeland Story (2019).
In his convocation address to graduates of Faculty of Music and St. Michael's College, Glenn-Copeland says he titled his new album The Ones Ahead in honour of young people, like today's graduating students, and future generations. "Its purpose is the same as my purpose here today: to encourage you to find your inner gold."
UTC