Better data crucial to Canada's recovery from COVID-19: David Naylor in the Globe and Mail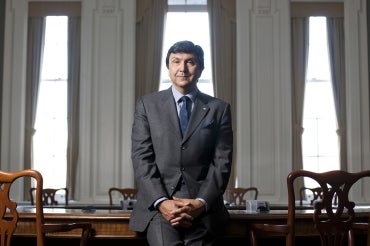 As hospitals brace for a wave of COVID-19 patients, policy-makers need to strike a balance between slowing the spread of the novel coronavirus, boosting health-care capacity and mitigating damage to the economy.  
That's according to a Globe and Mail op-ed co-authored by University of Toronto President Emeritus David Naylor, a noted health-care policy expert and former dean of U of T's Faculty of Medicine, and Tim Evans, director of the McGill School of Population and Global Health at McGill University.
As countries scramble to obtain protective equipment and other clinical supplies, "Canada's governments must intensify their collaborative procurement efforts to avoid hospitals and ICUs being overrun," as well as protect health-care workers, the pair write.
Where testing data is concerned, Naylor and Evans call for "detailed de-identified" data to be shared in real time with decision-makers as well as the public.
"What decision-makers need, accordingly, is a balanced scorecard synthesizing the demographics and risk profiles of new and existing cases, and linking those profiles to testing patterns, hospitalizations, ICU admissions and deaths," say Naylor and Evans, adding that better data means better informed short-term decisions about measures like physical distancing.
UTC