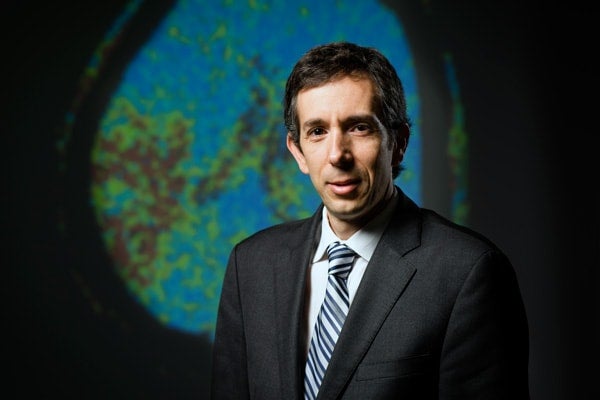 The benefit of prolonged heart monitoring after unexplained strokes: New England Journal of Medicine
Prevention of stroke due to atrial fibrillation "global health issue"
A major 16-centre Canadian study, published June 26 in the prestigious New England Journal of Medicine, shows the benefit of prolonged heart monitoring to diagnose silent, but dangerous, irregular heart rhythms in people who have unexplained strokes.
Findings of the three-year EMBRACE trial represent "an important advance" in determining the cause of up to a third of ischemic strokes, which result from blood clots to the brain, writes Cornell University neurologist Dr. Hooman Kamel in an editorial accompanying the study.
"The results . . . indicate that prolonged monitoring of heart rhythm should now become part of the standard care of patients with cryptogenic (unexplained) stroke," Dr. Kamel writes.
Led by Dr. David Gladstone, an associate professor in the Department of Medicine at the University of Toronto and clinician-scientist at Sunnybrook Research Institute, the EMBRACE trial followed 572 patients ages 55 and older with a recent stroke or TIA (transient ischemic attack) and in whom standard diagnostic tests (including conventional heart monitoring for at least 24 hours) failed to detect the cause.
The study found that, by monitoring patients at home with a new chest electrode belt for 30 consecutive days, atrial fibrillation (irregular heart rhythm) was detected in 16 per cent of patients, as compared with the standard 24-hour monitoring which found the arrhythmia in only three per cent of patients.
Prevention of stroke due to atrial fibrillation is "a global public health issue," according to the Canadian Stroke Network-funded study, the largest clinical trial of heart monitoring in stroke patients. Atrial fibrillation is known to cause some of the most disabling, deadliest, and most costly types of strokes.
However, the challenge has been that atrial fibrillation is often hard to diagnose because the irregular heartbeat may last for just a few minutes at a time, after which the heart reverts back to its normal rhythm. Unless an individual is wearing a heart monitor at the time it occurs, the diagnosis is usually missed. In practice, stroke patients have traditionally received only short-duration heart monitoring (e.g. for 24 hours) to screen for atrial fibrillation – a strategy that now appears inadequate according to the study's findings.
"The harder we look with more intensive heart monitoring, the greater the chance of finding this hidden risk factor – it's like medical detective work," said Gladstone, whose research was supported by the Heart and Stroke Foundation (HSF) and the HSF Canadian Partnership for Stroke Recovery.
In the study, enhanced detection of atrial fibrillation led to significantly more patients being prescribed stronger anti-clotting medications to prevent recurrent strokes. Atrial fibrillation is a risk factor for stroke because it can promote the formation of blood clots in the heart that can travel to the brain. It is important to detect because it can be effectively treated with certain anti-clotting medications, which cut the risk of clots and strokes by two-thirds or more.
Gladstone has already begun implementing the study's findings in practice by offering prolonged heart monitoring to patients at Sunnybrook Health Sciences Centre, where he directs the Regional Stroke Prevention Clinic.
"With improved detection and treatment of atrial fibrillation, the hope is that many more strokes and deaths will be prevented," Gladstone said. The New England Journal of Medicine published a second U.S-based study on prolonged monitoring this month, called CRYSTAL AF, which further supported the practice change.
The EMBRACE trial was conducted by investigators of the Canadian Stroke Consortium and coordinated at the Li Ka Shing Knowledge Institute of St. Michael's Hospital in Toronto.