'Like being in a David Attenborough documentary': U of T students explore rainforest trails, career paths in Ecuador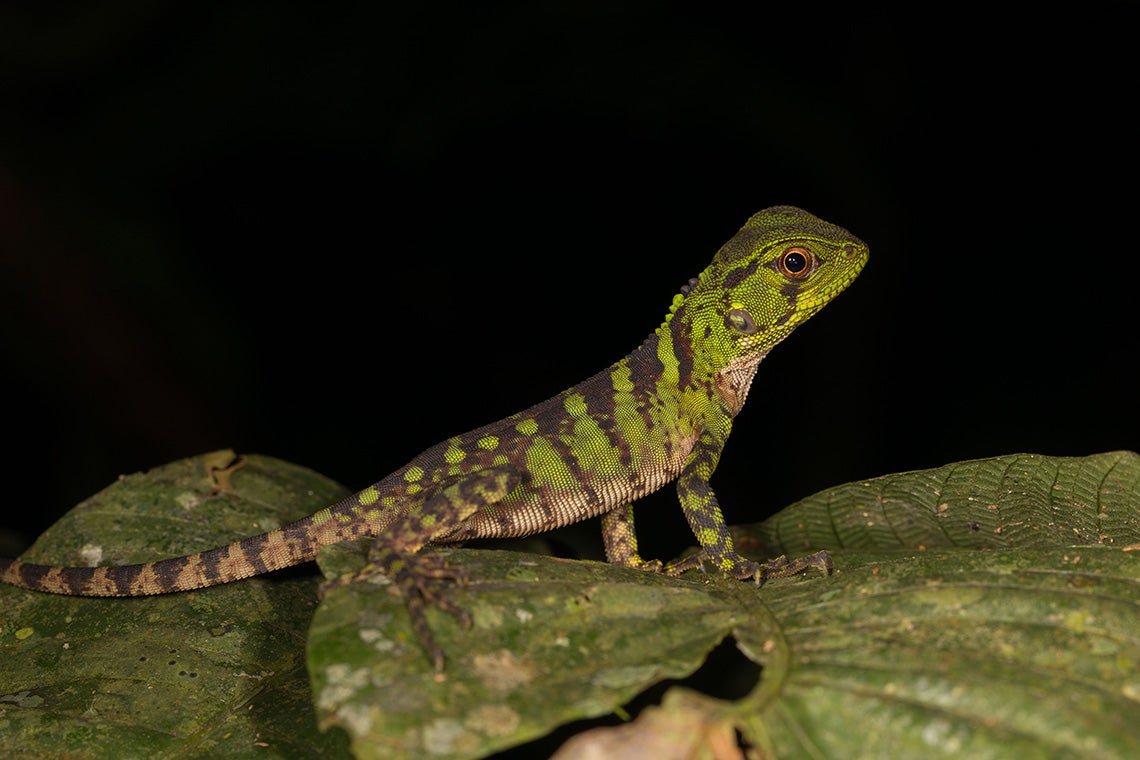 University of Toronto evolutionary biologist Luke Mahler received an unusual wake-up call on Feb. 22: tremors from a 7.5 magnitude earthquake shook him awake at 5 a.m. after a late night of catching specimens with students.
Mahler, his teaching colleagues and 19 undergraduate students were in Yasuni National Park in northern Ecuador – well away from the quake's epicentre and any danger – to experience what life as a scientist is like, study how animals interact with their environment and observe as many species of tropical amphibians and reptiles as possible.
The trip was part of Mahler's Diversity of Amphibians and Reptiles International/Indigenous Course Module (ICM). The Faculty of Arts & Science's ICM program provides undergraduate students with the opportunity to travel outside Toronto, often internationally, for a hands-on learning experience.
How did they do?
"We crushed it," says Mahler, an assistant professor in the department of ecology and evolutionary biology. "We saw just over a hundred species of reptiles and amphibians. That's staggering. There are only 55 reptile and amphibian species in Ontario – and the students loved it. They were ecstatic to see the creatures in their natural setting."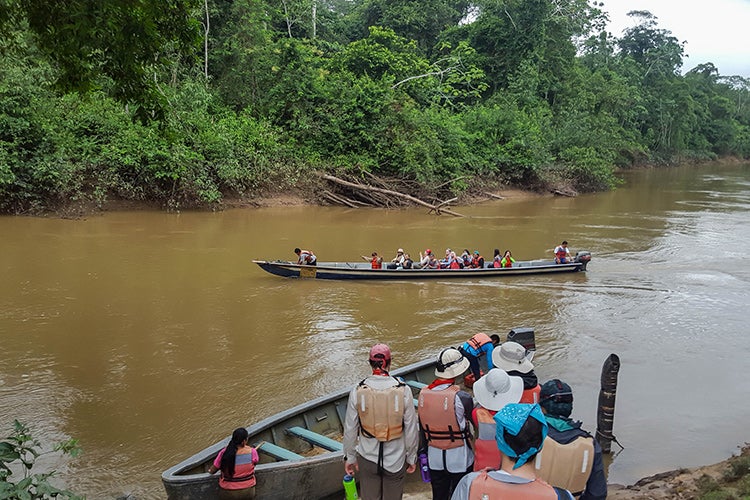 Mahler's teaching colleagues on the trip included Njal Rollinson, a fellow assistant professor in the department, as well as two biologists from Pontificia Universidad Católica del Ecuador (PUCE) in Quito, Ecuador. Five students from PUCE participated in the trip alongside 14 U of T students.
For five days, the group's home was the Yasuni Research Station. Their daily routine included two hikes into the rainforest – one in the afternoon and one in the evening. For each hike, the group broke into three teams, picked different trails and delved into the rainforest.
Students and instructors scoured the surroundings for reptiles and amphibians. When a specimen was spotted, the students recorded its identity, location and where it was discovered – on the underside of a leaf, on a tree branch, on the ground, etc. If it was the first specimen of a particular species, it was caught for closer study back at the station.
"Trekking through the humid, winding forest trails at night, when everything is pitch black except where your headlamp is shining and all you can hear are frogs – it's surreal," says U of T student Justin Moon, a fourth-year New College student majoring in ecology and evolutionary biology, and earth and environmental systems. "It was like being in a David Attenborough documentary. And the satisfaction of yelling out 'Frog!' or 'Snake!' was the best."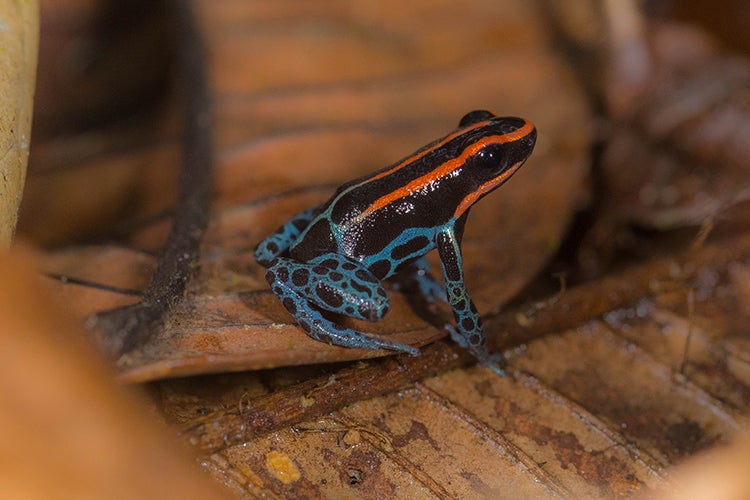 "On our very first night hike, our guide realized we wanted to see an anole lizard since Professor Mahler studies anoles," says U of T student Siobhan Drysdale, a fourth-year student at Victoria College majoring in ecology and evolutionary biology, and biological anthropology. "So, she suggested we look up into the trees. As soon as we looked up, we saw one. It was green and had brown stripes and extremely bright blue eyes. We identified it as a banded tree anole, Anolis transversalis. It was exciting to find because they're usually high up in the canopy and are rarely seen. Professor Mahler had never seen one in the wild before, so he was excited, too."
For the students, the opportunity to see animals in their natural habitat was invaluable.
"In the lab, the animals are dead and have little natural colour," says U of T student Hanatu Tak, a fifth-year student at St. Michael's College majoring in ecology and evolutionary biology, and health and disease. "And at the zoo, you can't look at them up close. But in the field, we saw so much more. For example, we saw first-hand several of the defence mechanisms used by reptiles and amphibians. They ran away, sprayed poison at us, adopted defensive positions, played dead, urinated on our hands."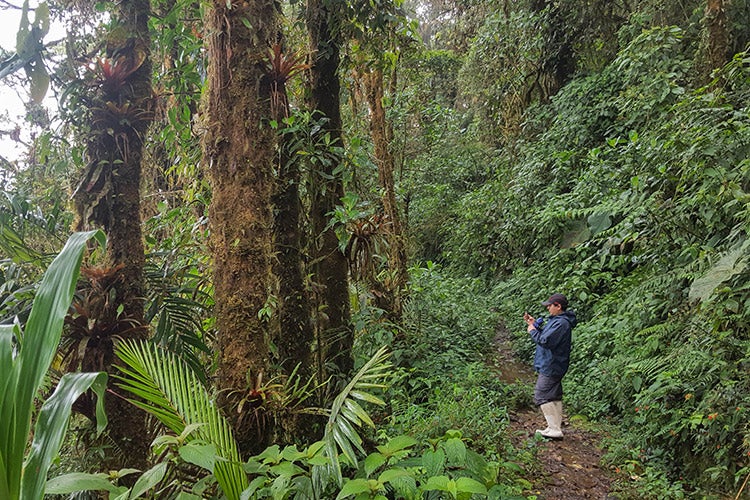 "Despite my previous experience on field trips to Yasuní National Park, I'd never seen that many species before," says Mariá José Navarrete, a PUCE student. " We found very rare and beautiful specimens. The forest was our lab."
"Getting a chance to interact with these species at close range, looking at how they behave, seeing how bewilderingly diverse and weird these things are – it was amazing," adds Mahler.
Mahler's group joins the list of more than 50 groups of students that have travelled to Rwanda, Mexico, Hawaii, Georgia and other international locations over the years, thanks to the ICM program. As with those trips, the students' experience in Ecuador was far richer than could be communicated through a course description.
When they weren't gathering specimens, the students met members of the reclusive Huaorani tribe, some communities of which still resist contact with outsiders. They saw dwarf caiman – a reptile similar to an alligator – and other species on a boat trip down the Tiputini River at night. And, on a separate day trip, they explored an ecosystem few witness: the Andean cloud forest.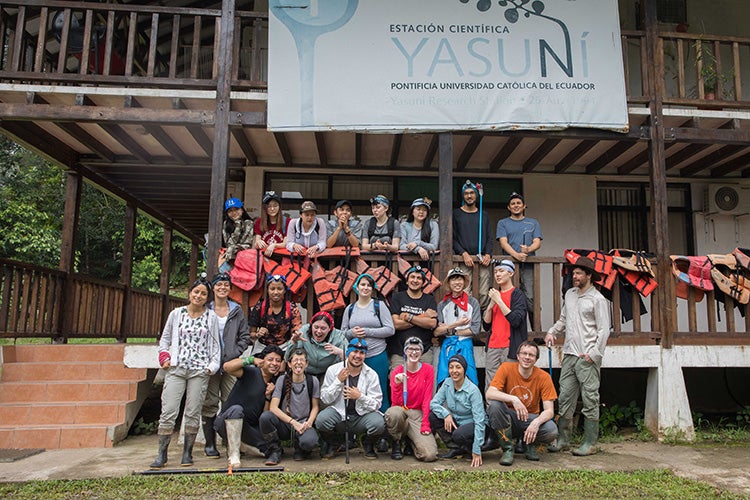 "It was an experience like this that influenced my trajectory as a student," says Mahler. "I got an opportunity to take part in a study-abroad course in Tanzania as an undergrad, and going to a tropical country where life is different, witnessing it first-hand with students from there – that exposure gave me perspective. It was empowering. These experiences can be so meaningful for students as they figure out what direction to go with their lives."
Navarrete, the PUCE student, says the trip reinforced her desire to study evolutionary biology.
"These trips are also great opportunities to learn about so many things unrelated to science," Navarrete says.  "You meet new people, see new cultures. You even learn about yourself."
Arts & Science