'Be a community member and be determined': U of T grad seeks to improve education for Indigenous youth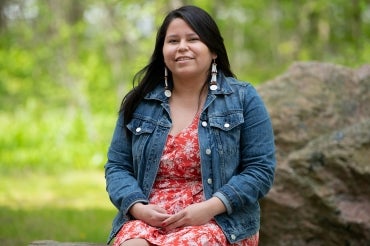 One of Diane Hill's biggest goals in life is to build a career that lets her support her community through education.
A member of the Oneida Nation of the Thames First Nations community, Hill is graduating from the University of Toronto Scarborough with a double major in health policy and socio-cultural anthropology. She is also the recipient of the Gordon Cressy Student Leadership Award, which recognizes students' co-curricular contributions on campus.
"A lifelong goal would be to help create a better education system in my community," Hill says.
"Whether it's a school or a cultural practice, it's always been my passion to raise awareness about inequity and be a positive influence for other people."
Hill's passion dates back to a conversation she had with her grandfather – a story she shared during her 2016 TEDxUTSC talk. She recalled her grandfather recounting memories of not being allowed to speak Oneida in school.
After Hill moved away from her community to go to high school in London, Ont., she saw first-hand the uneven distribution of funding and support in education – and the impact it has on First Nations students.
"In the city of London, children per capita get about $7,000 for their tuition, whereas on reserve, we get about $3,000," Hill explains.
"I wanted to share my grandpa's story and how systemic these issues are in terms of Indigenous kids not getting culturally safe education or care."
During her second year, Hill became president of the Indigenous Students Association and worked to raise cultural awareness on campus. The leadership opportunity led to her role as the Indigenous program developer at U of T Scarborough's Department of Student Life.
The role included participating in committees to oversee U of T's calls to action, a response to the Truth and Reconciliation Commission of Canada that includes hiring and recruiting Indigenous faculty.
"Part of what I'm proud of is that a lot of advocacy that went into that job," Hill says. "I'm proud to leave that behind – that raised consciousness of who Indigenous people are and why their history is important."
Hill's passion for education and Indigenous health took her to New Zealand, where she interned at the Ngā Pae o te Māramatanga/New Zealand's Māori Centre of Research Excellence last summer. The 90-day internship was supported by the QE II Establishing Right Relations program and Queen Elizabeth II Diamond Jubilee scholarship.
Hill will be attending U of T's Ontario Institute for Studies in Education (OISE) in the fall to pursue a Master of Arts in social justice education. Her second year will be spent conducting her own research.
What has her time at U of T Scarborough taught her?
"It taught me about perseverance and to look within for that strength and to be empowered, to be a community member and be determined."
UTC