Barbara Jackman, an immigration lawyer who championed the rights of refugees, receives honorary degree
For countless immigrants and refugees, the opportunity to resettle in Canada brings hope for safety, security and a better life. But the process of becoming a new Canadian can be challenging: Non-citizens have limited rights and the system does not always serve newcomers well.
Over the course of more than 40 years as an immigration lawyer, Barbara Jackman has argued for the rights and humanity of migrants, demonstrating a commitment to protecting the most disadvantaged and vulnerable in society.
Now, in recognition of her transformative impact on Canadian immigration and refugee law, as well as her tireless advocacy for social justice and human rights, Jackman receives a Doctor of Laws, honoris causa, from the University of Toronto.
Jackman earned an undergraduate degree from the University of Windsor in 1972, and her law degree from U of T in 1976. She was called to the Bar of Ontario in 1978.
Initially, Jackman had planned to pursue labour law, but after volunteering at the Faculty of Law's Student Legal Aid Society (now known as Downtown Legal Services) she chose a different specialty. "Through that work, [I] realized that probably the most vulnerable class of people in Canada are immigrants – people who are not citizens," Jackman told the Varsity in a 2016 video interview.
During her time at the legal clinic assisting individuals with their immigration claims, she recognized the profound impact her efforts could have on her clients. As she told the interviewer, she "just decided to continue doing it."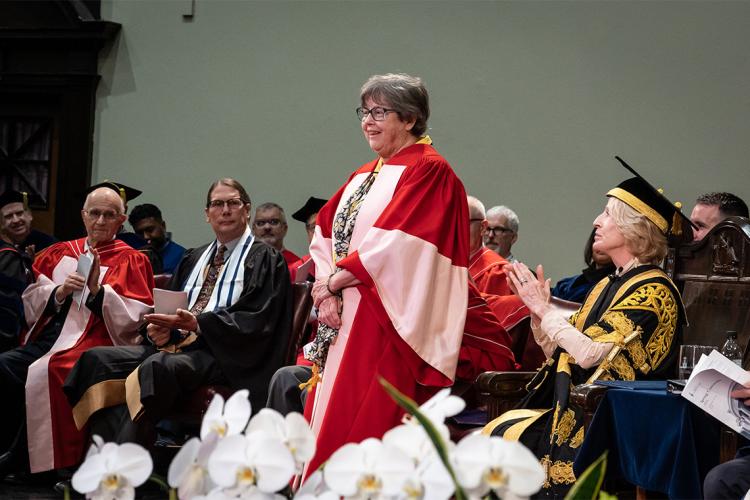 Over the years, Jackman built a reputation for vision and determination in championing the rights of refugee claimants fleeing persecution. She believes it is crucial for all non-citizens to be treated with dignity in their claim for status in Canada. "I like my work, I like my clients, and notwithstanding the difficulties in trying to advance human rights protections for non-citizens, it is worth the struggle to continue pressing for such protections," she told U of T's Faculty of Law.
Her cases have involved a range of serious issues – from national security to human rights and torture, to allegations of membership in terrorist organizations. She has appeared before all levels of court, including the Supreme Court of Canada on numerous occasions.
Of all the cases she has argued, perhaps the one with the biggest impact resulted in immigrants being able to obtain an order from a judge to halt their deportation while they are in court arguing against their deportation – a possibility previously unavailable to them.
According to Jackman, her most challenging cases were ones in which the Canadian government had deemed an immigrant to be a national security threat. In these instances, a judge would review the case in secret; only the judge and the government lawyer saw the evidence. Meanwhile, the person deemed a threat could be held in solitary confinement for years. "I found those [cases] personally really painful," she told Canadian Lawyer magazine in 2021. "It's the first time I felt powerless as a lawyer."
In a landmark Supreme Court case argued by Jackman, the court found the government's national security status proceedings unconstitutional. Under the new system, brought in as a result of this case, special advocates were appointed to represent the accused, with the ability to ask questions and argue for evidence to be released. "It was like night and day," Jackman told the Varsity.
Jackman was influential in another way, serving as a role model for a younger generation of women practising law. She began her career in the early 1980s at a time when there were relatively few women in the legal profession. Initially, she believed her gender would not matter at work but learned quite quickly that it did. "Early on, my primary problem was getting the court to recognize that I was a lawyer and not an accused or my client's daughter. This went away as I aged," she told the Faculty of Law.
At times, when she perceived differential treatment from a (typically male) judge, she worried about the cause. "Was it because I was a woman, or because I was perceived as a 'radical,' or just because the judge didn't like me or the arguments I was advancing? There was no real way to know, short of asking the judge and this, of course, is not an appropriate question."
Jackman is the author of many papers, articles and book contributions, and has lectured at Ontario law schools, including Queen's University, U of T and Osgoode Hall Law School. She has received three other honorary doctorates and the Law Society Medal. In 2019, she was appointed to the Order of Canada.
UTC