Bao creator makes mom proud with Oscar win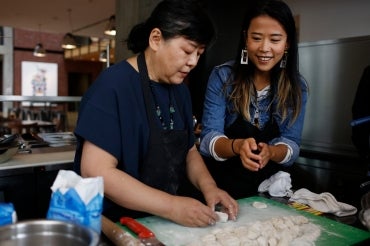 Ningsha Zhong, who has worked at the University of Toronto for two decades, was so nervous before the Academy Awards on Sunday that she could hardly focus on anything else.
She could finally breathe a sigh of relief when her 29-year-old daughter, Domee Shi, and producer Becky Neiman-Cobb received the Oscar for best animated short for Pixar's Bao, which opened ahead of Incredibles 2.
It tells the story of a Chinese-Canadian mom who nurtures a dumpling that magically comes to life, then smothers it with love – an allegory for parents dealing with their kids growing up and leaving the nest.
Holding her gold statuette, Domee thanked her mom and dad. In interviews leading up to the Oscars, she explained that she drew inspiration from her family. "I'm an only child," she said, "so I've always been that overprotected little dumpling for my whole life."
One has only to look around Zhong's office to see how much Domee means to her. She has no less than four framed pictures of her daughter decorating her desk, spanning the ages of kindergarten to college graduation. There's also a cartoon of a smiling mushroom taped to a cabinet, a birthday present from her daughter.
 "She is the joy of my life," Zhong says. 
Domee, Zhong and her husband Le Shi moved to Toronto from Chongqing, China in 1991, when Domee was two. "Domee" was one of many nicknames Zhong had for her daughter before it became her legal name. In Mandarin, it means the sprout of a pea plant. 
Zhong is a professional education administrative co-ordinator in U of T's department of physical therapy, while Le Shi is a freelance artist and art educator who teaches here and in China. 
While Domee has loved drawing since she was a girl, Zhong says she and Le chose not to enrol her in art lessons at a young age to give free range to her creativity. They decorated the living room with her work, Zhong says. In her Oscar acceptance speech, Domee gave a shout-out to "all the nerdy girls out there who hide behind their sketchbooks."
As in Bao, food is important in their household. Domee's favourite dish, her mother says, are Chinese dumplings with chives, pork and Chinese cabbage. Zhong and her husband take turns in the kitchen, but they both want to cook whenever Domee visits. 
Domee pitched the story that became Bao in a 2015 in-house competition at Pixar. Her mother ended up having a hand in the production, literally. She was invited to the Pixar studio where she made dumplings for the crew. The close-up shot in Bao of the mom rolling and cutting dough and filling it with pork and vegetables was a challenge, Domee told the Associated Press. "That took two effects artists over two months to create that shot," she said.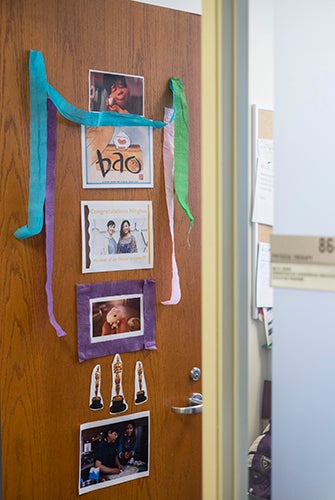 In an interview with the New York Times, Domee said she wanted Bao to inspire audiences. "If they are Asian I hope they enjoy a bit seeing themselves on screen," she said. "If not, I hope they learn about Chinese culture and community and are more curious about Chinese food, Chinatown. I hope they call their moms and take them out to lunch."
Zhong says she was touched when she saw the storyboard for Bao. "Lots of scenes were very familiar," she says. She admits it was difficult seeing her daughter grow up and move away.
Domee landed an internship at Pixar only a month after graduating from Sheridan College. "It's hard. Sometimes I don't want to let go," Zhong says.
Zhong couldn't get a ticket to attend the Oscars on Sunday, but her daughter called to say thank you. On Monday, Zhong received a surprise at work: Her colleagues decorated her door with streamers, pictures of Domee and Bao.
Although they live on opposite sides of the continent, mother and daughter are still close. Zhong insists Domee call her once a week. "Even if you have nothing to say,' she instructed. 
UTC