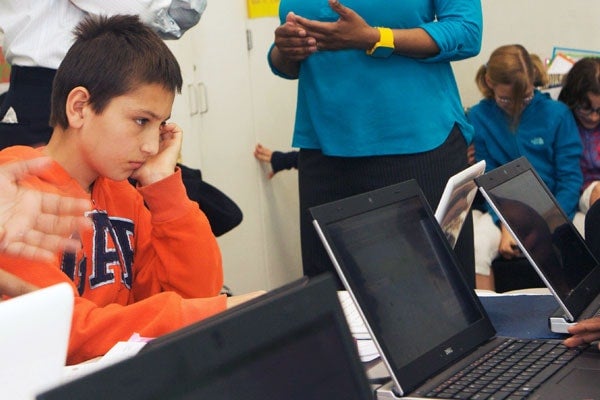 Back to School: how to calm students' stress and anxiety
The heavy academic pressures so common today raise back-to-school stress like never before –  and it's not just high school seniors or university students who are feeling it right now.
"It's very sad to hear an eight-year old say 'if I don't get an A on this book report, I'm not going to university," says Sandra Mendlowitz, assistant professor of child psychiatry at the University of Toronto's Faculty of Medicine. "We live in a very different world today, and children are facing all kinds of new pressure. Information overwhelms them. They're overexposed."
Parents can do a lot to help ease their children's anxieties around school, she says. The key is to really listen, and let your child open up about their fears.
"You engage in a conversation when you're not distracted by other things," she says. "With younger children, you need to ask them specific questions that jog their memory. Ask what their teacher is like, not how their day was. If teens refuse to talk about their day, you could say, 'Oh, sounds like something really juicy happened!'"
Performance aside, kids worry most about whether their teacher is friendly, and whether they will have a friend in the class, says Mendlowitz, who works on the anxiety disorders team at the Hospital for Sick Children. Younger children worry about whether their parents will be there to pick them up. Older kids might be anxious about whether their clothes or lunch will look weird to others. Parents shouldn't dismiss their fears, but they should also resist the urge to pile on reassurance. Instead, help the child develop true confidence by thinking together about their fears and learning how to manage them. Work with the child on a plan to address the problem.
That's also true for the college crowd, according to David Wolfe, a professor of psychiatry at U of T and director of the centre for prevention science at CAMH. "Avoid helicopter parenting," he advises, because hovering, overprotecting parents make it tough for kids to grow and become independent. That said, those newly independent university students probably do need help with time and money management, he notes – which means helping them develop a plan to manage their money, not just giving them more.
Showing your child how you solve problems is also a great solution, says Mendlowitz. "You could say, I had a great day except for one thing, and here's how I managed it," she advises.
And talking to your child's teacher is also key, she adds. "It may be simply that the child is very uncomfortable with their seat mate. Or sometimes they're too shy to ask for help, and the teacher needs to check in with them."
If the parent shows anxiety, the child will likely pick up on this and become insecure, Mendlowitz warns. Parents should be aware of their own anxious signals: a high-pitched voice, asking the child if they're okay too many times, or placing too much focus on the what-ifs.
"It's never just one thing," she says. "It's the constellation of many different factors coming together that make a difference between whether your child is going to have a good or a difficult school year."
Heidi Singer is a writer with the Faculty of Medicine at the University of Toronto.