For award-winning Andrew Petersen, teaching computer science is all about the 'human element'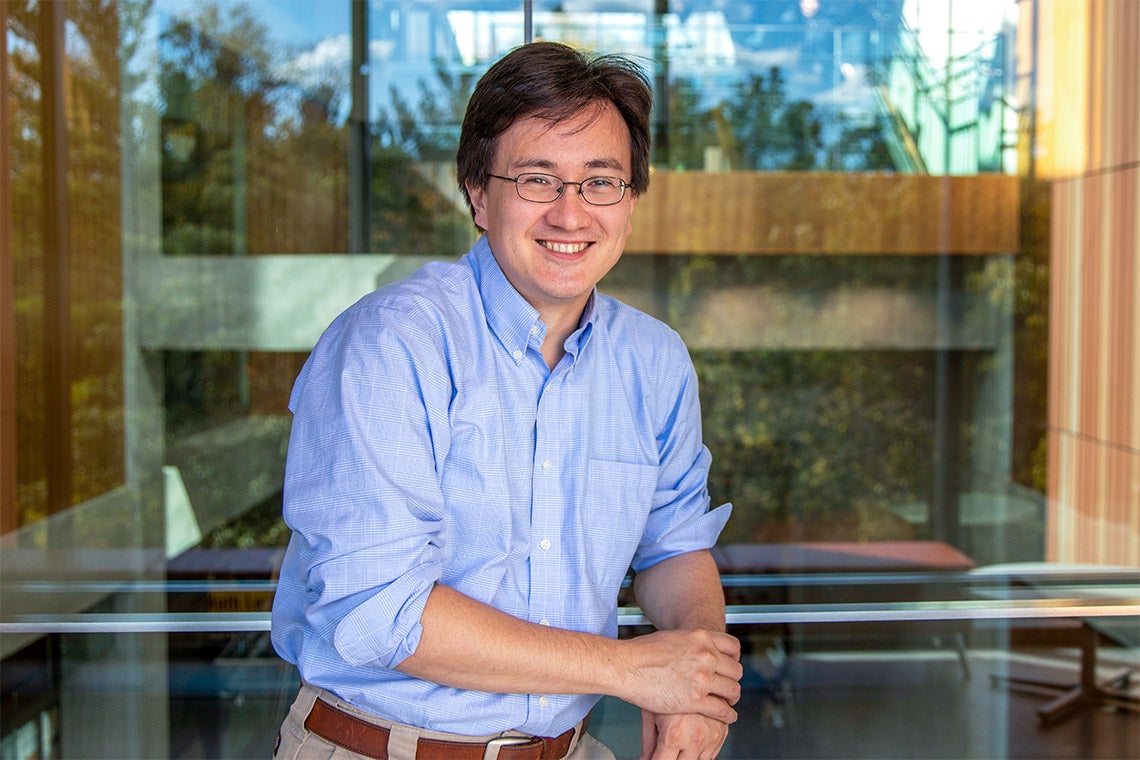 For Andrew Petersen, teaching computer science takes a human touch.
His dedication to community and collaboration has earned Petersen a reputation as one of Ontario's most outstanding university educators. An associate professor, teaching stream in the department of mathematical and computational sciences at the University of Toronto Mississauga, he was recently recognized by the Ontario Confederation of University Faculty Associations (OCUFA) with the 2018-2019 OCUFA Teaching Award for his contributions to the advancement of innovation in teaching and learning practices.
"Faculty are at the heart of Ontario's vibrant universities," says OCUFA President Rahul Sapra, who presented the award at an October ceremony in Toronto. "Through their hard work and boundless energy, they inspire students to embrace new ideas and build a brighter future. This year's distinguished award recipients are all dedicated and passionate teachers and mentors."
Petersen trained to design and program computer chips, but that career took a different direction when he discovered a passion for pedagogy as a teaching assistant during his graduate studies. "I really enjoy working with students," Petersen says.
Over the past 13 years, the first year undergraduate class has grown from 120 students to over 700, a development that has presented exciting new opportunities and challenges. "Our teaching methods and the way we interact with students has had to scale," he says. "The personal contact with students is so important."
That personal contact is what drives Petersen's approach to teaching and research. "It's easy to forget, when you're dealing with machines, who is on the other side," he says. "Code has to rest with real people. You're writing code so that other people can modify it, and so they can solve a problem that a real person has. If we lose the human element, we lose focus."
He is energized by the collaborative possibilities offered in U of T Mississauga's new active learning classrooms. "Active learning classrooms allow us to see what students are doing," Petersen says. "I've been surprised by what students get stuck on because I've never been able to see it firsthand before – I have a better sense now. We can do code reviews where students can see and critique each other's code."
That collaborative space also helps to break down barriers. "Students can see that they are making the same mistakes as other students." 
Petersen developed the Programming Course Resource System (PCRS), an open-source application for students and faculty that bundles interactive programming exercises with video and text content. "PCRS provides immediate feedback that is really important. Otherwise, students don't know whether what they are doing is working or not," he says. "This allows them to get immediate results."

Data from PCRS exercises and other ongoing research helps Petersen and his colleagues to make evidence-based improvements to the curriculum. "All of my questions are driven by something that's happening in my classes – a problem that I'm seeing, a course that needs updating or a student interaction that led me to understand something new," he says.
Petersen also credits his tri-campus colleagues for their work to improve the student experience. "There's a lot that co-teaching leads us to learn from each other and allows us to continually improve these courses," he says. "When you work in a group, there's always someone suggesting a way to do better and someone to take on that work. That's part of what's awesome about being here."
"Andrew has made a huge difference, particularly in the educational research community," says colleague Michelle Craig, an associate professor, teaching stream with the department of computer science in the Faculty of Arts & Science.
She notes that Petersen has created reading groups for students and colleagues to stay up-to-date on best practices and new pedagogical research, and also established the website for U of T's tri-campus Computer Science Education Research Group. The site, which gathers together projects and research efforts of teaching stream computer science faculty across U of T, lists 157 publications published by group members since 2003, 102 of which were published in the past five years.
 
"This has changed the way we teach, and improves our practice all the time," Craig says.
But for Petersen, the joy of his work always comes back to interactions with students.
"Classroom work is important, but much of what we do is outside the classroom – talking to students about grad school, or supporting student-led initiatives like the Cloud Developer Club," he says. "That's work where we can support what the students are doing and taking the next step.
"It really comes down to those interpersonal connections."
UTC