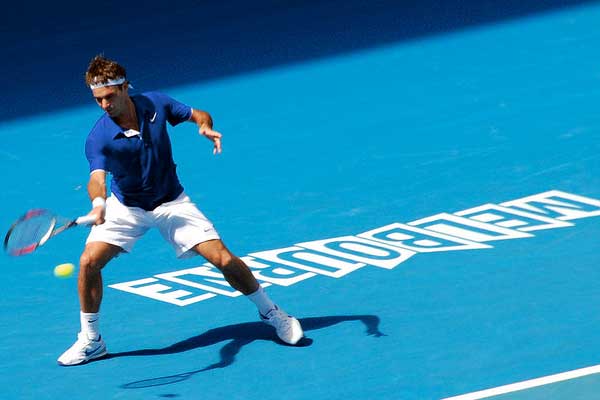 Australian Open overshadowed by allegations of match-fixing: U of T expert explains
Traditionally, low-ranked tennis players or soccer players who haven't been paid by team owners are most vulnerable to bribes, Peter Donnelly says
The start of the Australian Open this week  was overshadowed by allegations of match-fixing reported by the BBC and Buzzfeed News. 
The reports allege 16 players had been flagged repeatedly with tennis authorities on suspicion of match-fixing but were not sanctioned and half of those players are entered in the Australian Open.
Professor Peter Donnelly of the University of Toronto's Faculty of Kinesiology and Physical Education conducts research on sport policy and politics, sport subcultures and sport and social inequality. He is an expert on match-fixing in sports, the difficulty of determining the crime and ways of combating corruption in sports. 
How prevalent is match-fixing in sports, in tennis in particular?
Match-fixing is directly related to gambling, and it seems to have increased exponentially since international online betting on sports events has become easily accessible. In the past it was associated mainly with sports on which there was direct gambling, such as horse racing and greyhound racing but in the era of online gambling there have been reports of match fixing on sports ranging from darts, snooker, table tennis and bowls to badminton, beach volleyball and tennis, to soccer and cricket.
A report last year indicated that online sports gambling was a $170 billion per year industry, and it is now possible to bet on anything – not just the outcome or score of a match, but also specific bets on who will score the next goal, who will score the winning goal, or on any of the many random events that occur in sports events.
The three sports mentioned most often in relation to match fixing are soccer (including recent reports that games have been fixed in the Canadian Soccer League), cricket and tennis. 
How difficult is it to prove match-fixing?
In general, it is difficult to prove match fixing. The three main forms of proof are: a confession (for example, Novak Djokovic's report yesterday that in 2006 he had been offered – and rejected – $200,000 to lose a match in Russia); an informant or whistleblower (which is the source of documents given to BBC/Buzzfeed that has led to the current concern about match fixing in tennis); and, most frequently, evidence of unusual gambling activity (e.g., a great deal of money being bet on an underdog, who goes on to win).
Online gambling businesses fund agencies such as the European Sport Security Association (ESSA) who track online betting patterns and flag any unusual or suspicious activity. These incidents are reported to the governing body for the sport concerned, who are then supposed to determine if there is enough evidence to take action against individuals or teams. 
What are some ways of combating corruption in sports?
Most match-fixing seems to occur at the lower levels of sport. Those most vulnerable to offers of bribes to fix the outcome of a match are players who are in financial difficulties (e.g., soccer players on lower division teams who may not have been paid for several months by the team's owners; tennis players who are outside the top-100 ranking, and who do not win enough prize or appearance money, or receive enough sponsorship money to be able to continue competing).
The only sanctions for match-fixing issued by the professional tennis federations in the last eight years have been to one official and about half a dozen low-ranked players. The reason for so much concern about the BBC/Buzzfeed report is that it claims to have evidence of match-fixing involving 16 top-50 players, including some championship winners – eight of whom are reported to be competing at the 2016 Australian Open. 
It's difficult to determine the best way to combat such corruption. Perhaps more equitable prize money and salaries, and more effective players' unions would create a less precarious employment situation for professional athletes. And more intelligence and security concerning on line betting and gambling syndicates, with widely accepted protocols for dealing with suspicious gambling activity would help. But since so much of online gambling is based off-shore, and bets may be taken on any sporting event in the world (including reports of betting on high school games in the USA), it would involve some complex international agreements in order to regulate the industry.   
Should betting companies be prevented from sponsoring major tennis tournaments? 
I'm not sure how this would be possible in the short term. Gambling companies have become major sponsors of many sports events, and professional sports have become dependent on their sponsorship and advertising. Even in North America where gambling legislation is supposed to be most restrictive, individuals have found ways to bet on matches through off shore betting sites, or through fantasy leagues. Certainly regulation is necessary but again this involves international agreements."
If the allegations of match-fixing in tennis are proven, who stands to lose the most?
If the BBC/Buzzfeed report is accurate, there are two main concerns. First, it would mean that match fixers have found some way to co-opt even higher ranked/highly paid tennis players. Second, it would mean that the professional tennis organizations have been prepared to impose sanctions on lower ranked players, but have held back from sanctioning higher ranked players.
It is obvious that such players are the cash cows of the sport – they make everyone involved richer, and evidence that some of them had been involved in match fixing would damage the reputation of the professional tennis organizations and tournament organizers, throw suspicion on other players, lead to the withdrawal of sponsor and media contracts, and perhaps cause a decline in live audience and media audiences for the sport.  
In other words, everyone is a potential loser if it is revealed that there has been a coverup of attempts to manipulate the outcome of tennis matches.
(Visit flickr to see the original of the photo by Richard Fisher used above)