Artificial intelligence can accelerate the race toward sustainable energy technologies, prominent researchers argue
Call to action by U of T's Ted Sargent, Alán Aspuru-Guzik, Yoshua Bengio and others says machine learning could focus the efforts of scientists looking to harvest, convert and store clean energy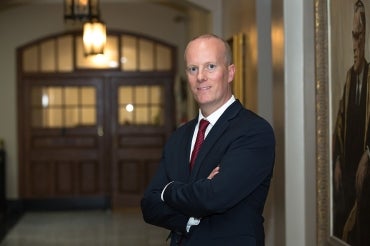 We've all heard that artificial intelligence and machine learning are poised to transform our lives with self-driving cars and voice-activated robotic assistants. But these technologies may also be the key to speeding up the development of clean energy – from better batteries to more efficient solar cells.
That's the argument advanced today in Nature by a team of prominent researchers, including the University of Toronto's Ted Sargent, Harvard's Alán Aspuru-Guzik, and internationally renowned AI pioneer Yoshua Bengio of Université de Montréal. University Professor Sargent of the Faculty of Applied Science & Engineering is U of T's vice-president, international.
Solar and wind power have seen dramatic reductions in cost in recent years; however, in order to displace significant amounts of fossil fuels, they urgently require further improvements in conversion efficiency and energy storage. Sargent's team is among those racing to develop new technologies that can meet these needs.
The problem, argues Sargent, is that "the search space is vast."
"According to the Materials Project, there are more than 700,000 potential materials to choose from," says Sargent. "But when researchers select which materials to use in a new device, such as a solar cell or battery, they typically focus on a few combinations of elements they deem interesting, based on their own experience. They ignore everything else."
Sorting through all possible materials to determine the very best ones to use in each particular situation is a task for which humans are ill-equipped. Artificial intelligence, on the other hand, is very effective at mining large databases to find the optimal match for given set of criteria. The approach could avoid a lot of dead ends, saving valuable time and money.
"What we'd like to see is more collaboration between the artificial intelligence community and the clean energy community," says Phil De Luna, a PhD candidate in the department of material sciences and engineering and an author on the paper. "If machine learning algorithms can decode human speech and recognize faces, they should also be able to point us to the combinations of materials that will be most promising."
The Nature opinion piece was a product of a joint seminar between two research programs of the Canadian Institute for Advanced Research (CIFAR): Bio-Inspired Solar Energy and Learning in Machines and Brains. Held at MIT last summer, the meeting resulted in this collective call to action, sponsored by more than a dozen internationally renowned professors and industrial scientists in fields ranging from materials science and engineering to computer science.
U of T's Faculty of Applied Science & Engineering is well-positioned to mediate these new collaborations. Researchers such as Sargent and others in the Institute for Sustainable Energy are developing innovative solutions in energy generation and storage. On the artificial intelligence side, faculty members have developed algorithms that can provide sophisticated facial recognition in real time, or hunt through the human genome to find the root causes of disease.
U of T is also home to the Vector Institute, which brings together a vibrant community of innovative problem-solvers to work across disciplines on both curiosity-driven and applied research challenges: Applying machine learning and artificial intelligence to sustainability would be a perfect fit.
Sargent and his co-authors acknowledge that what they are proposing is a tall order, yet they believe that it is a necessary step.
"Time is running out for finding the new energy technologies the world needs," says Sargent. "Existing strategies may not get us there fast enough, so we need to try something new."
The full list of co-signatories includes professors and scientists from the following institutions and companies: The University of Toronto, Université de Montréal, Harvard University, Northwestern University, Stanford University, Korea Advanced Institute of Science & Technology, University of Pennsylvania, Carnegie Mellon University, Total, IBM Watson Health, Toyota Research Institute, and Citrine Informatics.
Engineering