Art in the time of COVID-19: Finding ways to 'render the invisible visible'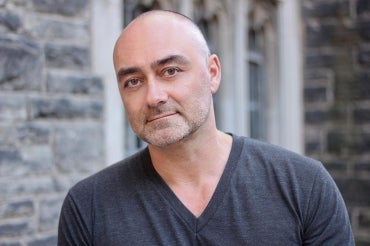 With much of the world locked down due to COVID-19, art and creativity has burst into living spaces through platforms like Zoom, livestreams and over social media – a development that does not surprise the University of Toronto's John Paul Ricco, who says social upheavals and health crises has historically inspired artists.
"I do think this speaks generally to the value of art in all of its various forms, and that it is probably our principal and most developed way of being attuned to the world," says Ricco, a professor in the department of visual studies at U of T Mississauga.
"It is a way to try to register, record and re-shape our perceptions and to really take stock. But also, I think art plays an incredibly important role in a moment when people are looking around and are really interested in art and humanities – and writing again – because when the world feels like it's imploding, art and aesthetics are there to save you."
Ricco, who has been on faculty at U of T Mississauga since 2006, is an art historian and queer theorist whose research closely examines the relationship between art and ethics.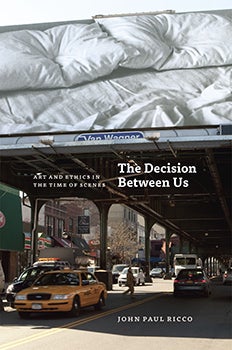 Ricco's 2014 book The Decision Between Us: Art and Ethics in the Time of Scenes argues that scenes of intimacy are spaces of sharing, but that they are also spaces of separation, which has a particular resonance in the current climate.
He says the present situation is a time to ask how we can find ways of connecting while in solitude – space that allows the social to happen, but also the capacity for people to figure out how to deal with being physically separated from others.
Ricco points to past health crises that have led to exploring similar concepts in art, particularly the AIDS outbreak when he was an undergraduate student at New York University. That health epidemic in the 1990s influenced his path throughout his graduate studies and he became involved in AIDS activism, exploring ways in which contemporary artists were contending with the situation.
For example, Ricco curated a contemporary art exhibition in Chicago in 1996 titled Disappeared that brought together artists contemplating the question of representation in relationship to AIDS. There was the "disappearance" of the people who died from the disease, as well as the loss of aesthetics that resulted from not being able to fully represent AIDS in a visual form.
He also points to a past exhibit by artist Félix González-Torres that challenged the prohibitions on physical contact to avoid the spread of the disease.
When it comes to the current COVID-19 crisis, there is once again a warning to avoid physical proximity and it is also difficult to put a shape to the invisible virus. However, Ricco feels this is part of the challenge for visual artists: rendering the invisible visible.
He suggests we are all taking part in the process by our inadvertent choreography of physical distancing in our homes and out on errands or on walks.
"I think one of the most interesting things that art can help us contend with is exactly those things that cannot be seen and what we do with that difficulty or that problem," says Ricco.
"We can imagine art being made in the midst and in the wake of the COVID-19 crisis that takes up this prohibition of physical proximity – touching and contact – and uses that as the way to explore what it means to be in physical proximity, to have contact and how art can be a kind of stage that enables people to engage with that. I think one of the things that has happened in the midst of this is that there is a whole new awareness of ourselves in the world and with others."
UTM