Art, math and knowing yourself: Paris Ouma reflects on her journey from Kenya to U of T
Paris Ouma says she always feels hesitant before she begins to paint, questioning herself and her artistic abilities.
But her confidence inevitably returns with each brushstroke.
"What I love about art is how much it encapsulates so much of myself in every way," she says. "Painting to me is a physical manifestation of how I re-learn over and over again to trust the process and myself."
Ouma, who lived hours away from her family at age 12 while attending boarding school in Kenya, will once again be looking within herself as she prepares to embark on her next big chapter: moving to Canada to attend the University of Toronto as a Lester B. Pearson scholar.
"Don't get me wrong, I'm still going to cry a lot," says Ouma, who is enrolled in a social sciences program at U of T Mississauga. "But I'm ready for change more often than not."
Named after Lester B. Pearson, a U of T alumnus, former prime minister and Nobel Prize recipient, the Pearson scholarship was created by U of T to bring exceptional students from around the world to study at the university. Awarded to those who demonstrate exceptional academic achievement and are recognized as leaders within their high school, the scholarship covers four years of study for first-entry students in undergraduate programs, including tuition, books, incidental fees and residence support.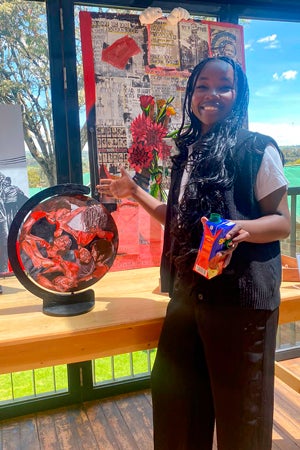 Ouma, one of 38 students to be awarded the scholarship this year, says attending boarding school in Molo, Kenya at such a young age taught her discipline, independence and, above all, the importance of speaking up for herself.
The self-confidence she gained through the experience made it easier to trust her instincts and follow her interests, even when they pointed in seemingly different directions.
That's how she ended up becoming an artist with a passion for solving math problems, which she describes as "a thrill."
"I used to be really bad at math, so my grandma tutored me. I got my first A in year eight and that's when I started liking it," says Ouma, who studied art, math and history in high school.
"It's so satisfying when you get it."
While math and art may seem worlds apart, they share a range of creative and cognitive skills that are increasingly valued in a wide range of fields, from medicine to business.
At U of T Mississauga, Ouma plans to pursue a degree that will lead to a career in wealth management or private equity – with a minor in art, of course.
She is also keen to help others discover themselves.
At her boarding school, she mentored younger students, empowering them to take pride in their native language and lending a helping hand in their exam preparations.
"I like listening and sitting down and being in people's presence," she says. "There's so much people can offer you and you can offer them."
Upon arriving in Canada, Ouma plans to explore the outdoors, including the natural beauty that surrounds the U of T Mississauga campus along the serene banks of Credit River. She has already made connections with fellow Pearson scholars through a group chat and says she's excited to meet her soon to be roommate Natran Ambaye Tewoldemedhin, who is coming to U of T Mississauga from Ethiopia.
As she was preparing for her flight, Ouma packed her life into three suitcases – bringing with her essential hair products, two puffer jackets to combat the Toronto winter and a secret ingredient to make every meal special.
"It's a seasoning blend called Royco – it's Kenyan and I put it on everything."
UTC