Art and Architecture intersect at U of T's Future Environments event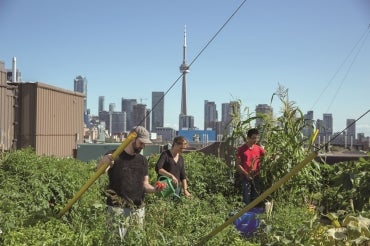 What role does art and design play in addressing the critical challenges facing our environment?
Those not familiar with art and design may find the range of approaches – and the new ways of thinking they inspire – surprising, says Mason White, an associate professor at the John H. Daniels Faculty of Architecture, Landscape, and Design.
On May 3, White, along with five colleagues from Daniels will shine a light on the innovative ways that art and architecture are shaping the future. The event, Future Environments, Art and Architecture in Action, is free and open to the public.
Topics will include the ways that computation and digital technology are enhancing the ability of architects to unite a greater complexity of aspects into building design, the importance of incorporating local context and interdisciplinary research into the design of green roofs, the value of metaphor in understanding technology and the role of museums in shaping public memory. 
"The breadth of approaches will be fascinating," says White, whose own design firm Lateral Office has gained prominence for its research in the arctic and experimentation with strategies to engage citizens in the urban context. "Sometimes design comes out of a very scientific approach. Sometimes it comes out of something very whimsical."
Presented by the University of Toronto's Science and Engineering Engagement (SEE) and Daniels, Future Environments will highlight the rich cross-disciplinary collaborations that are increasingly vital to research and academic inquiry.
"SEE is excited to partner with the Daniels Faculty to deliver that element of surprise, at the intersection of architecture and technology, with this evening of ideas," says University Professor Molly Shoichet, senior adviser on science & engineering engagement.
Nora Young, from CBC's hit radio show, Spark, will emcee the evening at U of T's Convocation Hall.
"I hope to portray the potential of architecture and urban design to be more collaborative with environments rather than see environments as something to defend against and to protect us from," says White about his presentation, titled "Micro-Environments."
Joining him on stage will be emerging Canadian designer and U of T Assistant Professor Brady Peters, Toronto-based scholar, composer and artist Mitchell Akiyama, Liat Margolis, director of U of T's Green Roof Innovation Testing Laboratory, Charles Stankievech, director of visual studies, and Barbara Fischer, executive director of U of T's Art Museum.
"Architecture and art are as much a way of finding the world, as of forming it, and have surprising and often misunderstood historical and contemporary relationships with scientific inquiry," said Richard Sommer, dean and professor of urbanism at Daniels. "This event will present members of the Daniels Faculty whose research moves beyond traditional text and mathematical modes of ideation to explore intersections between design, the environment and visual culture."
After the event, the audience will be invited to the Art Museum for a reception and to celebrate the opening of the exhibition "It's All Happening So Fast: A Counter-History of the Modern Canadian Environment."
Architecture