Are Uber and public transit friends or foes? It depends on size of city, U of T study finds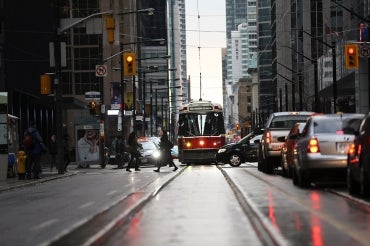 Falling transit ridership across big North American cities – including Toronto – has raised concern that Uber, Lyft and other ride-hailing services may be leeching passengers.
But a new study in the Journal of Urban Economics led by the University of Toronto's Jonathan Hall suggests Uber is more of a complement than threat to most public transit agencies. He and his co-authors, Craig Palsson at Utah State University and Joseph Price at Brigham Young University, used American federal data on transit ridership for about 200 U.S. cities and towns where Uber has a presence, from New York City to Ames, Iowa.
They estimated Uber's market penetration and took into account when it made its debut in each city to assess how it has affected ridership between 2000 and 2015.
What they found was that, in the average city, a standard increase in the intensity of Uber's market penetration led to a 1.38-per-cent increase in ridership. "Uber's effect on transit ridership grows slowly over time, increasing transit ridership by 5% after two years," the researchers add.
Instead of being a problem for most transit agencies, Uber seems to be "medicine" for transit that has fewer and fewer riders, says Hall, an assistant professor in the department of economics and Munk School of Global Affairs & Public Policy, in an interview.
"The big message here is that people are freaked out that Uber and Lyft are going to destroy transit. This study says, 'Hold on, it's not so simple,'" Hall says.
Uber's impact wasn't the same in all urban areas. "Our results indicate that Uber reduces transit ridership in smaller MSAs [Metropolitan Statistical Areas] while increasing ridership in larger cities," the paper says. 
The results were different depending on the size of the transit agency and mode of transportation. The study suggests Uber helps larger agencies compared to smaller ones. It also seems Uber helps bus ridership but slightly decreases train use. 
The researchers got their data on metro areas from the National Transit Database, which has monthly ridership numbers for transit agencies that get federal funding. They base their estimate of Uber market penetration on the relative number of Google searches for "uber" – which appears to be a good approximation for the number of Uber drivers per capita. The study focuses on UberX, which makes up the majority of Uber trips.
The data isn't enough to explain Uber's impact on transit, but the economists have a few theories. They suggest it can actually help transit by filling in gaps in the system's map and schedule. It can also offer a solution to what's known as the last mile problem in transportation – the idea that the last leg of your commute, such as getting from the subway platform to your office, is the hardest. 
One reason Uber doesn't steal all that many passengers from transit is that it remains much cheaper to take the bus or train, the researchers write. The median Uber fare was US$5 compared to US$1 for transit. "Transit is cheaper by enough that Uber's role in adding flexibility to the transit system is more important than its ability to substitute for riding transit," the study says.
What about a city like Toronto? Although the paper just focuses on the United States, Hall predicts Uber would have no real effect on ridership here based on his and his colleagues' findings since the TTC provides extensive coverage. For smaller metro areas with above-average ridership, Uber appears to hurt transit, which is probably bad news for cities like Hamilton and Barrie, Hall says. 
The results were surprising even for the lead author. Hall says he expected Uber to help trains over buses. "Imagine a trip on the Bloor line," he says. "Uber is going to be more expensive and slower than the subway." Vis-a-vis the bus, the same trip by Uber would still be more expensive but save more time.
The paper, he says, intends to contribute to the conversation on efficient mobility and to show the importance of considering ride-hailing in the inventory of urban transportation options. He points to Innisfil, near Barrie, where the city has turned to Uber as an alternative to public transit, as the kind of experiment that municipalities should be trying.
"Experiments like the one by Innisfil are well worth doing," he says. "Modern transportation systems that get people where they want to be are probably going to involve all these options."
UTC