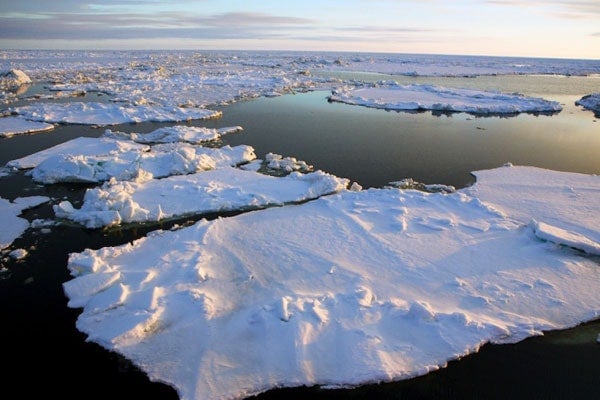 Arctic researchers to study marine ecosystem of Beaufort Sea
UTM, as part of the Stantec Team, selected to lead major marine Arctic ecosystem study
The University of Toronto Mississauga (UTM), as a part of the Stantec Team, has been selected by an interagency scientific review panel to lead a long-term scientific study of the Arctic marine ecosystem along the Beaufort Sea shelf from Barrow, Alaska to the Mackenzie River delta in Canadian waters.
The Marine Arctic Ecosystem Study (MARES) stems from increased attention to climate change, energy development, and sustainability in the Arctic region.  Information gained will aid government, industry and communities in making decisions related to regulations, resource management, economic development and environmental protection issues.  
Professor Kent Moore, a UTM atmospheric physicist, investigates how the ocean and the atmosphere communicate through the exchange of heat, energy and momentum.
"The Arctic is a very important part of the world and one that is seeing the most rapid changes to its climate," said Moore, who has worked in the Arctic for more than 20 years. "It is logistically complicated to do research there, but thanks to MARES, we have an extraordinary opportunity to do interdisciplinary research there that will shed light on changes to the regional climate and the impact on the ecosystem."
Public/Private Partnership
MARES is an integrated ecosystem research initiative coordinated and planned by the Bureau of Ocean Energy Management (BOEM), a bureau of the Department of the Interior, in conjunction with its federal and private sector research partners: U.S. Arctic Research Commission, U.S. Coast Guard, U.S. Geological Survey, U.S. Integrated Ocean Observing System, Marine Mammal Commission, National Science Foundation, National Oceanic and Atmospheric Administration, Office of Naval Research, and Shell Oil Company.
"BOEM is pleased to join our federal and industry partners to undertake this forward-looking project," said BOEM Acting Director Walter Cruickshank. "With widespread interest in the Artic, including potential oil and gas leasing and development, we're looking to significantly expand our knowledge of the Beaufort Sea ecosystem to inform our decision-making."
Study Goals
The overarching goal of the study is to better understand the interrelationships of the physical, biological, chemical and human systems, including traditional knowledge, of the Beaufort Sea and to advance scientific prediction capabilities for linkages between marine life, human uses, sea ice, atmospheric and oceanic processes and river discharge.  
The research is being undertaken under the National Oceanographic Partnership Program (NOPP), which leverages resources from federal agencies, academia, industry and non-governmental organizations to support ocean research. It is important for BOEM and its NOPP partners to study and monitor areas know for high biological productivity and prevalent subsistence use to ensure their protection.
Over the course of the study, the team will use multiple sampling platforms, including ships, drones, satellites and snow machines; multiple sampling techniques such as ice and snow sensors, acoustics and nets and multiple ocean, ice and air modeling approaches.
The study results will inform several research areas, including environmental protection, climate change, food security, biodiversity, exploration and discovery and ecosystem services (the contributions that a biological community and its habitat provide to our day to day lives). An independent review board of internationally recognized experts will help steer and peer review the five-year project.