All photos by Romi Levine
On the first Tuesday of every month for more than half a decade, Graham White got up bright and early to make it to Hart House for 8 a.m. so he could chair the centre's finance committee alongside a group of students.
The U of T Mississauga Professor Emeritus didn't get paid to do what he did, and that was fine by him.
"There's all kinds of things we do for which we're not paid but it's really part of being part of the profession and part of the university," he says. "Everyone – faculty, students and staff get so much out of the place, it's only reasonable to give something back."
White's philosophy can be applied to the thousands of people who volunteer within the U of T community. 
They share "a real passion and desire to make a difference in the lives of others," says Barbara Dick, U of T's assistant vice president, alumni relations. 
And while most volunteers prefer to do their work behind the scenes, there's one night a year where they get to be in the spotlight – the Arbor Awards.
Since 1989, the annual awards have celebrated students, alumni, faculty, staff and community members for their exceptional volunteer work.   
Volunteers can be nominated through colleges, faculties and departments. 
This year's event took place on September 15 at President Meric Gertler's residence, with 102 volunteers receiving awards.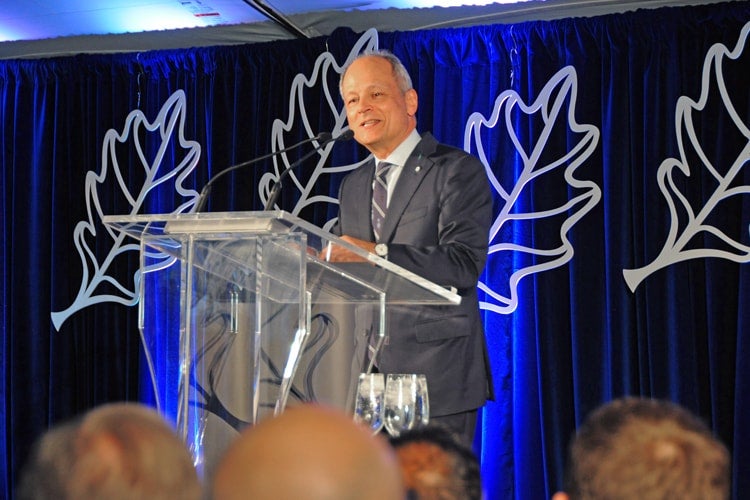 "U of T stands as one of Canada's most accessible, diverse and excellent institutions in no small measure because of our alumni volunteers," President Gertler told the crowd of current and past recipients and their guests. 
U of T News spoke with some of this year's award winners about the value of volunteering.
---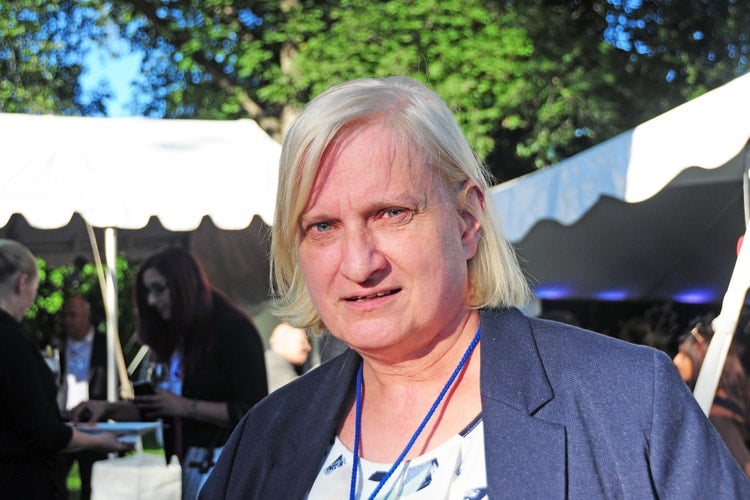 Brenda Stade, U of T alumna and nurse practitioner at St. Michael's Hospital
Stade spent a decade instructing U of T nursing students, specifically in the community nursing aboriginal stream, taking care of children with fetal alcohol spectrum disorder.
"The students I got were wonderful. They were so compassionate. I had some at the end (of the term) start crying, saying 'I never realized how hard it was for some people in life.' They were always so touching and I always learned a lot from them," she says.
"You get to experience other people's perspective of the world and I think that's the most valuable thing in life, because you can't do it all so you see it through other people's eyes," says Stade. 
---

Safiya Muharuma, class of 2004
Muharuma is an assistant coach of the Varsity women's hockey team. She regularly organizes alumni events that help support the current team, keeping them connected with current players.
"You wonder 'what brought me here, why is it so important to me and how am I going to ensure the next group has that same feeling,'" she says. "University of Toronto, Varsity Athletics and physical education as well, they do a really good job of doing that and they instil that in everyone else and the next generation of kids that live in Toronto."
---

Lynda Macdonald, city planner
Macdonald has been a mentor for Innis College urban studies interns for over a decade, showing them what it's really like to work as a planner. She says the internship is mutually beneficial for planners and students. 
"It's a two-way street. It's great for the city because students bring a different perspective and a different energy which is really important because we're really planning for them. They'll be the ones living in the cities we're building," she says. "For them, it's an opportunity to look at what it would be like to actually be working in the profession and see what the day-to-day work is like."
---

Larry Wayne Richards, Professor Emeritus and former dean of the John H. Daniels Faculty of Architecture, Landscape, and Design
Richards is the author of a comprehensive campus guidebook on heritage buildings and architecture on the three U of T campuses. He also mentors interns and promotes the university and his faculty to the wider community. 
"We can all influence 50 other people and share all the good news that comes to of the university. Unlike the Ivy League schools, it's not as rich. So a lot of what the university can accomplish depends on the initiative of the alums and former faculty like myself. We all have to pitch in and keep things moving in the right direction," says Richards. 
---

Rebecca Friedman, class of 2013
While she was completing her Master's of Science in applied computing, Friedman participated in the alumni student mentorship program so when she graduated, she felt it was only natural to return the favour. 
"My mentor was amazing. She actually got an Arbor award for all of her work. It inspired me. She was so helpful and gave such good career advice and such good life advice," she says. 
Friedman has been a mentor for three years and attends events that help students transition into the workforce. 
"When I was a new grad and looking at my first job, I didn't really understand the industry and didn't know what to expect. A lot of the time, students need someone to tell them 'this is what it's like in the workplace,' and then they'll feel so much better and be so much calmer," she says.
---

Faran Umar-Khitab, class of 2004
Umar-Khitab has been volunteering with the Rotman Commerce undergrad program for the past nine years, as a mentor to third-year and fourth-year students.
"It's great to see young minds as they embark on their careers and it's great to give some practical advice on what the world holds and what the brochures for law school and legal career don't tell you," he says.