With app to cut emissions from rice burning in India, U of T student wins global entrepreneurship competition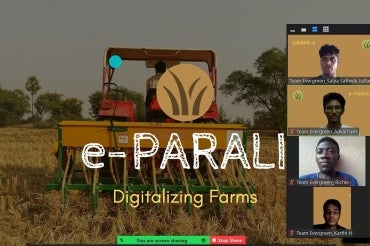 In his first-ever hackathon, Satya Sathwik Juttada and his three teammates finished first out of 72 teams at the Global Challenge Lab 2022, hosted by Imperial College London. 
The virtual entrepreneurship program brings together students and recent university graduates from around the world to form international teams that generate solutions to achieve the UN Sustainable Development Goals. This year's event focused on Goal 13, Climate Action. 
"This competition was something that just popped in my email inbox one day, and it looked cool, so I joined," says Juttada, a second-year chemical engineering student in the University of Toronto's Faculty of Applied Science & Engineering. "I had no idea who I would work with, or that we would end up winning." 
From introduction to presentation, the teams had 10 days to work together. Juttada, based in Toronto, connected with Advait Iyer and Karthi Hari Krishnan, students at the Indian Institute of Technology Madras, and Richmond Theophilus Ghanney, a recent graduate from the University of Ghana. They worked across three time zones to create e-Parali, an agricultural machinery rental-sharing application that aims to cut carbon emissions in India. 
In northern India, approximately 23 million tons of straw from rice harvests are burned each year. The smoke from this burning degrades local air quality and human health, while also causing massive carbon emissions. 
The team's app – named after the Punjabi word for stubble, parali – aims to help reduce the air pollution from burning stubble residue by offering small-scale farmers access to stubble-removing machines.  
While the Indian government subsidizes the purchase of machinery needed to manage rice paddy stubble, the technology is still too costly for farmers who own less than five acres of land.   
That's where e-Parali comes in. The app allows machinery owners to rent out their stubble-removing machines to smaller farms. It also offers additional economic benefits to the regions by connecting farmers with local truck drivers, who can collect the recovered stubble and sell it as a resource. Stubble has many uses: it can be made into paper, reinforce bricks, fertilize crops or be fermented for biofuel.
The team benefitted from the guidance of Massimiliano Colla, a physicist and senior lecturer at Singapore University of Technology and Design. 
"Our mentor gave us the biggest boost and helped us expand our idea to include opportunities for farmers to sell carbon credits to multinational companies around the world," Juttada says. 
"With the technology boom in India and growth of Wi-Fi availability in rural areas, our app would empower small-scale farmers to get essential machinery at reasonable prices. We presented a strong business model that would not only reduce air pollution, but also create job opportunities and promote biofuel, a renewable energy source."  
Juttada and his teammates plan to use the £4,000 prize money (approximately $6,200) from the hackathon for market research and to help purchase app development software to keep working on e-Parali, while they are using their academic networks to connect with local farmers. 
Engineering