Anti-Muslim prejudice: Canadians have no right to feel smug, say U of T experts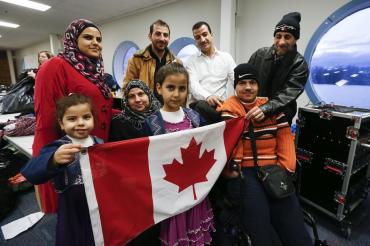 Canadians have no reason to feel superior to Americans and Europeans about their attitudes towards immigrants and refugees, University of Toronto political scientist Phil Triadafilopoulos told a packed forum at the Munk School of Global Affairs recently.
Triadafilopoulos, an associate professor at U of T Scarborough, was participating in an all-U of T panel discussion called Banning Muslims: Explaining Xenophobia and Islam in Europe and the U.S. He believes Canadians are just as xenophobic as other peoples, and that our acceptance of immigrants and refugees is due in large part to our electoral system.
Other participants at the Munk forum included Randall Hansen, professor of political science in the Faculty of Arts & Science who is also the director of the Munk School's Centre for European, Russian, and Eurasian Studies; Chris Cochrane, an associate professor of political science at U of T Scarborough; and Anna Korteweg, chair of the department of sociology at U of T Mississauga. The debate was hosted by the Munk School's Brian Stewart and organized by Aisha Ahmad, an assistant professor of political science at U of T Scarborough.
Ahmad said she organized the panel after a spate of anti-Muslim sentiment and actions in America, Europe and Canada. She cited as examples U.S. presidential candidate Donald Trump's call for a ban on Muslims coming to the U.S. and Canadian Conservative leadership candidates demanding restrictions on women wearing niqabs and wanting immigrants and refugees to be tested for "Canadian values."
"Canadians are not especially open to asylum seekers and refugees," Triadafilopoulos said. "At best we will resettle 50,000 Syrian refugees. We could do more. We could do much more, and other states have done much more despite facing more trying circumstances."
Every country in the North Atlantic world has experienced a backlash against Muslims and refugees, he said. Canada's was more muted because our first-past-the-post electoral system means that politicians must pay heed to recent immigrants who have influence in vote-rich areas in and around our major cities.
European countries with proportional representation are more prone to anti-Muslim rhetoric because extremist parties can gain votes by indulging in such rhetoric, he said. In the United States, the primary system allowed Donald Trump to gain support with similar anti-Muslim sentiments.
Hansen, who noted that European attitudes towards Muslims are sometimes grounded in historical conflicts, had a different explanation for Canadian tolerance: our secure borders.
"Immigration is popular in Canada, not because of our incredible merits, our extraordinary tolerance or our exceptional Canadian virtues," he said. "It's popular because we feel secure. We have always had control of our borders. What we've seen in the U.S. and Germany is that when people have a sense that they have lost control of their borders, support for immigration collapses and populism flourishes."
But Canadians can pat themselves on the back for their success in integrating immigrants and refugees into Canadian society, Cochrane said.
"Evidence shows that Canada does an incredibly good job of integrating immigrants. For example, we have very high rates of citizenship acquisition by immigrants, high rates of labour force participation, high rates of support for political participation among immigrants, high rates of adoption of majority values and high rates of intermarriage as well."
Hansen held out hope that anti-Muslim sentiment will subside in Europe and the United States.
"Much of this reflects the last gasp on the part of a bunch of racist, misogynist and homophobic white men who once ruled the roost and whose world has disappeared," he said.
Hardline anti-Muslim politicians will never be able to get more than 35 or 40 per cent of the vote, if even that, Hansen predicted.
Cochrane expressed some sympathy for those who feel ambivalent towards refugees and immigrants.
"It's perfectly natural for people to feel uncomfortable in the presence of things that they're not used to and things that they haven't experienced before," Cochrane said. "People who are losing their jobs have valid concerns about their prospects. They are the ones most likely to be affected or at least possibly by immigration. So it's not entirely a mystery why there is unease about immigration."
However, Triadafilopoulos said, anti-immigrant attitudes have implications for democracy, peace, and international security.
"Fear is not a good ground for generating social cohesion," he said. "It turns fellow citizens into scapegoats and friends into enemies."
Cochrane noted that Muslims bear the brunt of anti-immigrant sentiment today.
"The question is why are we singling out Muslims," he said. "Is it a question of religion or a question of ethnic diversity more generally? Is there in fact something different about Muslims? I haven't seen any evidence to suggest that there is. The evidence suggests the opposite."