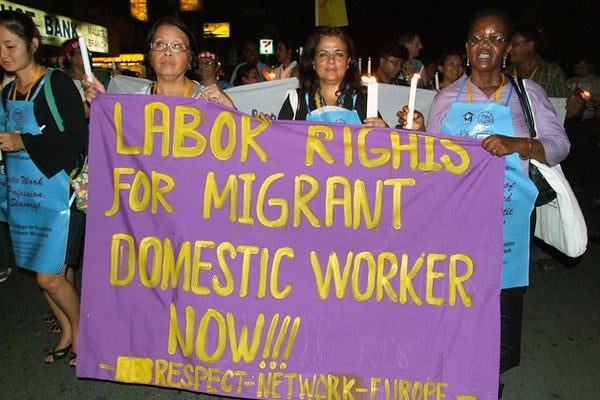 Answering the Geneva Challenge: U of T student team makes it to the finals
Interdisciplinary group tackles vulnerabilities of female migrant workers
Two student teams from the University of Toronto's Munk School's Master of Global Affairs program competed this year in the prestigious Geneva Challenge, an annual international competition that challenges interdisciplinary groups of graduate students to offer innovative solutions to relevant global problems.
Kathleen Gnocato, Anika Harford, Kailee Jordan and Elizabeth Shelley made it to the semifinals of the competition with their report "Women, Health and Corruption: Redefining Partnerships for Social Change," while Anam Ansari, Amrita Kumar-Ratta, Faye Simmonds and Qurrat-ul-ain (Annie) Tayyab (along with Kevin Vuong from Western) are in the finals of the competition with "Educating Against Vulnerability: An integrated approach to addressing the exploitation of female migrant workers."
Ansari, Kumar-Ratt, Simmonds, Tayyab and Vuong will be in Geneva this month to defend their paper before an international jury as they compete against teams from Columbia and the United Kingdom for the top prize of 10,000 Swiss francs. U of T News international relations reporter Terry Lavender interviewed the team members before they left for Switzerland.
How did your team get together?
Our team actually began with a Facebook post. One of our group members, Amrita, put the call out to her friends that she was interested in the Geneva Challenge, and asked if anyone else would like to form a team. Anam, Annie and Faye, colleagues at U of T, responded, as did Kevin, one of her peers from high school who is a geography master's student at Western.
Why did you pick female migrant workers in Saudi Arabia as an issue?
We chose female migrant workers moving from Indonesia to Saudi Arabia for a variety of reasons. To begin with, there are many of them, so there is currently a pressing need for protection. Women's out-migration to Saudi Arabia has remained persistently high over the past two decades, and the majority of these workers were women who were employed as domestic servants.
Also, Islam plays a major role in the culture of both Indonesia and Saudi Arabia, which provides a window of opportunity for our group to find solutions that are culturally appropriate both at home and abroad, and to partner and engage with faith-based organizations for funding and support.
What sort of problems do these women face?
While abroad, they are often unable to contact their families as their employers take away their cell phones. Many of them are subjected to poor working conditions and abusive situations. There are reports of rape, sexual harassment, overwork, torture and underpayment of wages. When they return many experience divorce, or their husbands spend the money they earn on personal items. Their children have often forgotten their mothers when they return after years of working overseas. Unfortunately, many women blame themselves because they are culturally expected to be nurturers and tradition-bearers.
Does this issue have wider implications beyond Saudi Arabia?
This is a global problem that will require global solutions. The resource centre, workshops, communal cellphone, etc. that we propose can easily be repurposed to help female migrant workers around the world.
In your submission, you suggest setting up a resource centre for overseas workers and their families. Where would the centre be located?
We suggest setting up the resource centre in East Java because we believe our services are the most in need there, and it is therefore where we could have the greatest impact on the lives of these workers. East Java's incidence of poverty is 18.5 to 20 per cent greater than the rest of Indonesia, it is located along the confluence of the Indo-Australian and Eurasian tectonic plates which increases its risk of natural disasters, and the working poor have low levels of education and productivity.
It would be great if we could expand our services to other cities within Indonesia, and around the world. Female migrant workers leave their country because of economic challenges, and it's unlikely that those living some distance from the resource centre will be able to afford the transportation necessary to fully take advantage of our services.
Did you think your submission would make it to the finals of the competition?
While we were pleasantly surprised by the announcement that our submission is one of the three selected to present in Geneva, we submitted our proposal knowing that we had given the project 100 per cent of our combined effort!
Will you all be going to Geneva for the announcement of the winner?
Yes! We are all incredibly excited about this.
One of the conditions of accepting our status as finalists in the competition was actually our ability to travel as a team to Geneva to present our proposal to a jury composed of esteemed international scholars and global policy professionals – including, among others, the director of the United Nations Development Programme office in Geneva and the director of the Frankfurt Research Centre for Postcolonial Studies.
(Team members at top left: Faye Simmonds and Annie Tayyab. From bottom left: Amrita Kumar-Ratta, Kevin Vuong, Anam Ansari.)