Annette Kennedy, renowned nurse and nursing advocate, receives honorary degree
As president of the International Council of Nurses (ICN), Annette Kennedy represented 28 million nurses in 130 countries when they needed her most – during some of the most challenging days of the COVID-19 pandemic.
Kennedy brought decades of experience and unwavering advocacy to the role – and, in the year since her term ended, she has continued to be a champion for nurses and health care.
"There is always a solution," Kennedy told writer Rebecca Biason recently. "Nurses are not always great at talking about the lives we save every day or advocating for ourselves, but we need to realize it is a long game that requires patience, passion, and persistence.
"We need to be a collective of voices."
Today, Kennedy receives a Doctor of Laws, honoris causa, from the University of Toronto in recognition of her dedicated and influential leadership in the nursing profession, and for championing equity and inclusivity, human rights and universal health care.
Born in Ireland, Kennedy holds a diploma in management, a bachelor of arts degree in nursing studies and a master of science degree in public sector analysis. She would later build a career dedicated to transforming health care in Ireland and around the globe, particularly in the European Union (EU).
Kennedy discovered her passion for leadership education as a ward manager during the 1980s in Ireland, where she noticed there was no continuing education for nurse managers. As director of professional development for the Irish Nurses and Midwives Organisation for 19 years, Kennedy launched a program centred around leadership education for nurses – one of her many advancements for health-care systems in Ireland.
As a registered nurse tutor at Beaumont Hospital, located in Dublin, Ireland, Kennedy established the country's first neurosurgical intensive care unit, organized the hospital's post-registration specialist training programs for nurses – and got creative when faced with budget challenges that prevented her from procuring badly needed equipment.
"I contacted several companies and asked if I could try out some of their ventilators and cardiac monitors, indicating if we liked their equipment we would put in an order to buy many," Kennedy recounted in a 2017 speech.
"They gave me equipment on loan to try out which I duly used for my patients. So every time the company representatives returned to remove their equipment it was always in use and I would say, 'It is in use. I can't disconnect from the patient, I don't have another ventilator.'"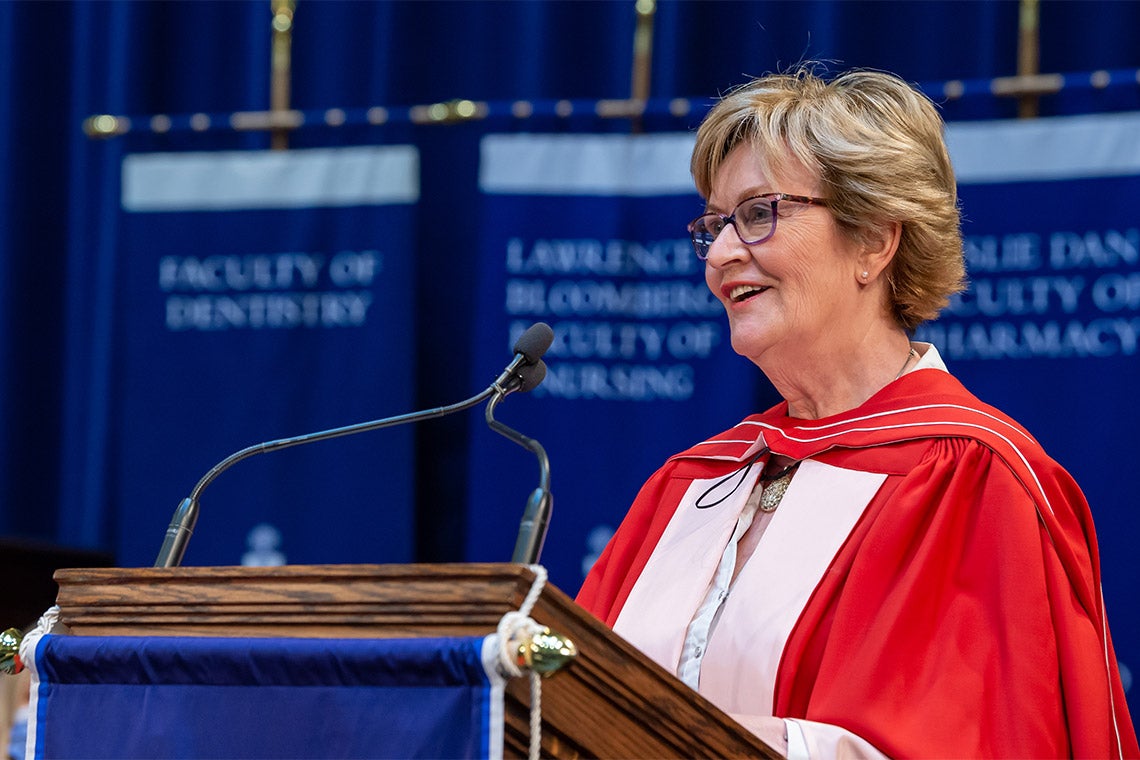 (photo by Steve Frost)
As a commissioner on the World Health Organization's Independent High Level Commission on Non-Communicable Diseases (NCDs), Kennedy helped develop measures to support countries efforts to manage the burden of chronic diseases. She also worked with WHO Director-General Tedros Adhanom Ghebreyesus to create the organization's first chief nursing officer role.
Kennedy was recognized with the WHO Director-General's Global Health Leaders Award last November for her contributions as president of ICN.
"I would now like to personally thank you, President Kennedy – Annette – for your outstanding and passionate leadership of the global nursing community," Tadros said. "We began our respective roles around the same time. And we have worked closely our entire tenure. Your leadership, values, and clear voice have played a crucial role in strengthening nursing these past four years.
"You have inspired and will continue to inspire generations of nurses and women globally."
Kennedy continues to be a strong advocate for the ability of nurses to lead conversations on global health system challenges. At the World Health Summit in Berlin last year, she underscored the hardships nurses have endured during the pandemic. "I worked in intensive care for many years, I nursed many patients who died quickly and without warning. And I remember every one of those patients who died, so I can't imagine what those nurses will be feeling after this is over," Kennedy said in an address to politicians, health professionals and scientists. "There will be no health systems without nurses."
Kennedy has more recently worked with the Santa Marta Group, an alliance of international police chiefs and bishops, and other groups focused on eliminating human trafficking and modern-day slavery.  
The recipient of numerous awards, Kennedy – who will deliver the Lawrence S. Bloomberg Faculty of Nursing's annual Verna Huffman Splane Lecture on Nov. 9, 2022 – received an honorary degree from Dublin City University in 2021 and was named one of more than 100 most influential nurse leaders in 2020 by Women in Global Health and WHO. She received an Honorary Fellowship from the Royal College of Surgeons in Ireland in 2017.
In her planned remarks to U of T graduates in nursing, dentistry, pharmacy and public health, Kennedy emphasized the critical role played by health-care workers throughout history.
"Courage, compassion and humanity are still evident in health care today and will ultimately be part of your legacy. You are the custodians of this legacy – guard it well."
UTC/Freelance