'And I Live On': U of T law students, researchers mark 25 years since Rwanda genocide with stories of resilience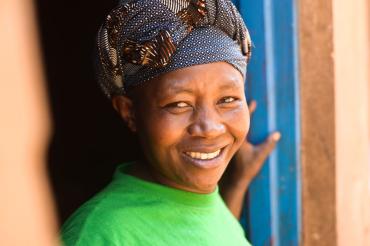 On the 25th anniversary of the Rwandan genocide, a group of University of Toronto faculty, researchers and students is looking to shift the narrative away from the atrocities that took place and instead focus on survivors' stories of resilience and strength.
For Samer Muscati, director of the International Human Rights Program (IHRP) in the Faculty of Law, sharing these stories is deeply personal. Ten years ago, Muscati traveled to Rwanda with a group of researchers to interview and photograph genocide survivors who had been victims of sexual violence.
"I left shaken," says Muscati. "It was the start of my career documenting international crimes and the stories we heard there are still probably the worst I've heard in my career. It's hard not to see that and hear that and not be moved and changed by it."
The Hutu-orchestrated genocide, which took place over 100 days in 1994, involved the slaughter of over 800,000 people, mostly from the minority Tutsi group. During that time, the perpetrators used rape, and sexual violence more broadly, as a tool to achieve power and control. 
Based on that first visit to Rwanda, Muscati and his colleagues wrote a book called The Men Who Killed Me, which included the testimonies of 17 survivors. 
Last year, Muscati returned to Rwanda along with Yolanda Song, an IHRP research associate, and India Annamanthadoo, a second-year law student, to work on a sequel to the 2009 book.
And I Live On: Enduring Stories of Rwanda's Survivors will be published this year and includes accounts by some of the same survivors 10 years later. The book is a collaborative project with IMPACT, a Dutch organization that seeks to prevent and address sexual violence in conflict.
On April 1, Hart House will host a book launch for And I Live On, as well as an exhibition of photographs by Muscati and audio from the recent trip to Rwanda that was curated by Sarah Milroy, chief curator at the McMichael Canadian Art Collection. The exhibit will continue into May as part of the Contact Photography Festival and will also be shown at U of T Scarborough in the Instructional Centre's atrium and the Doris McCarthy Gallery vitrines.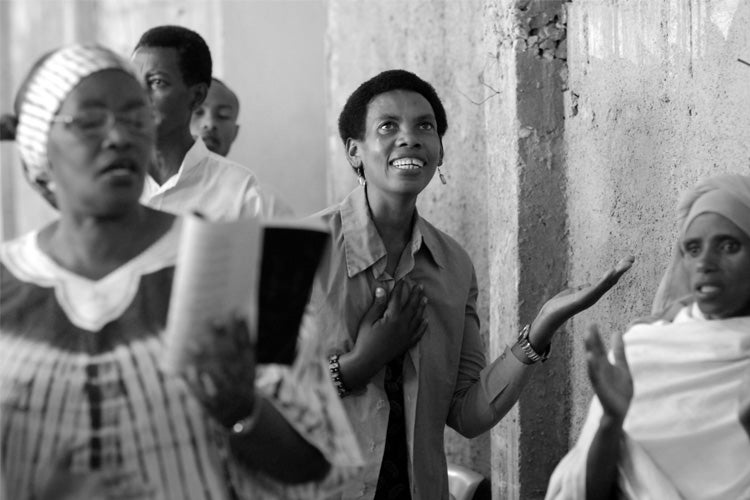 Muscati photographed Rwandan survivor Adela in 2008 (photo by Samer Muscati)

Annamanthadoo and fellow law student Mehak Kawatra joined the project as part of a clinic run by IHRP. While Annamanthadoo was on the ground in Rwanda, Kawatra provided background research, interview preparation and transcribed the audio recordings. She also contributed to the book, writing about sexual violence from a sociological and historical lens.
In Rwanda, Song, Annamanthadoo and Muscati traveled around the country where they were warmly welcomed by survivors.
"Because they've lost so many members of their families in the genocide, they find family and a sense of belonging in each other. I was really surprised at how quickly I became part of that family too," says Annamanthadoo.
In one case, the group traveled to visit a survivor named Faustin who lives in a rural area of southern Rwanda.
"He took us for a walk around his village and the whole village came out to see us because they don't have many visitors, especially from outside Rwanda," says Annamanthadoo.
The man also took them on a treacherous hike so he could show them the cassava fields he cultivated with help from sponsors.
"It was an amazing experience – just to see him so empowered and him so proud of something he had done," she says.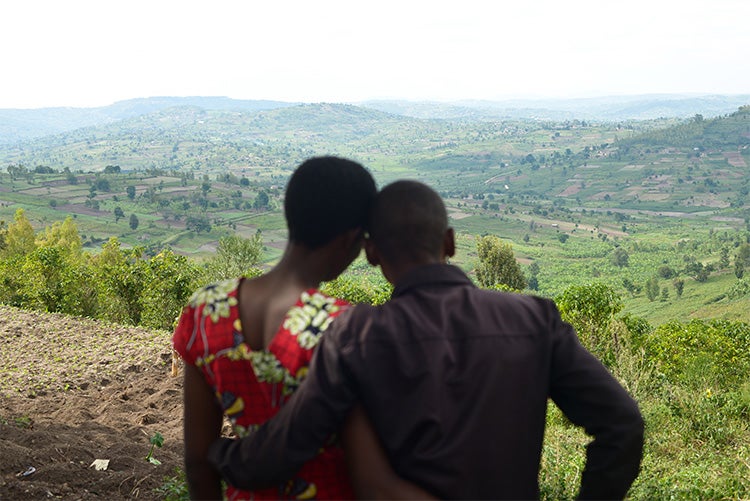 Muscati took a photo of Faustin (right) on his most recent trip to Rwanda (photo by Samer Muscati)
On this trip, Muscati got to see how survivors' lives have changed over the past decade. For the most part, he says he noticed a vast improvement in their quality of life due to the local and international services and support they have received.
"When you're dealing with these types of issues, it's never a complete turnaround. You're still dealing with the scars and the stains of the genocide," he says. "But to see where they are now compared to where they were 10 years ago, it's really uplifting, and it's uplifting for me to see that hope can be restored in a way that I didn't think was imaginable."
Many of the survivors now have homes and small businesses, and while most of them have HIV, they are receiving treatment from the government, Muscati says.
"The fact that we're focusing on the resilience gave us a new window from an advocacy perspective because we are able to say to the international community, 'Yes, it is important to have criminal accountability, yes, it's important to recognize that these crimes are happening, but that's not where our responsibility ends,'" says Muscati. "We have to try and make people whole again through these services."
Read reflections on the project from law students Kawatra and Annamanthadoo 
Song says when speaking with survivors, many said it meant a lot to them that they were able to tell their stories.
"I'm really glad to be part of something that pays tribute to their recovery and strength," she says.
"It's not something that many of them can freely talk about within their own communities because of the stigma attached, but they have been really appreciative of the level of support they get from the international community, which isn't something I necessarily expected."
Working on And I Live On provided Kawatra and Annamanthadoo with a unique experience that's not often afforded to law students.
"So often in the legal profession, the skills we prioritize are drafting and legal research, which are obviously quite important. But in order to be an effective human rights advocate or otherwise, having the human skills, having that humility and having that ability to see things from other people's perspective is critical," says Muscati.
Annamanthadoo says the opportunity to work on a project like this provides meaning beyond the classroom.
"It really shapes who you are and it makes you thankful for a lot of things, but it also makes you realize how strong human beings are and how much resilience is possible. That's quite inspiring as a student and just as a person."
Gearing up for Monday's exhibition, Kawatra hopes people come out to learn, reflect and challenge their understanding of what life is like for survivors in Rwanda. 
"The exhibit is not meant to tell you how to feel – it's meant for you to come and take advantage of the photos, the audio, and the music," she says. "It's going to be a really powerful space."
UTC