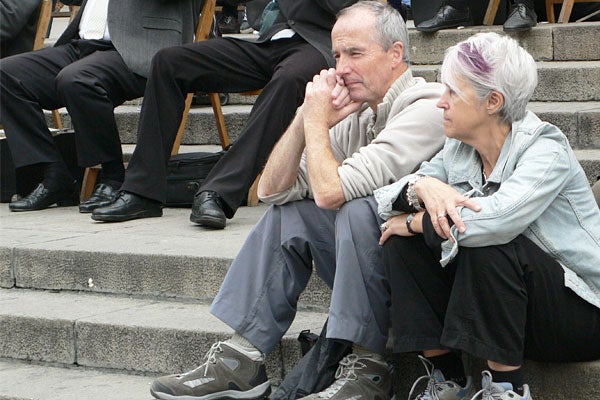 Analyzing the health issues of baby boomers
Are baby boomers aging with different health issues than previous generations? If so, what implications will this have for health and social services?
These are the key questions Professor Elizabeth Badley is addressing in a large population study with the help of her team at the University of Toronto's Dalla Lana School of Public Health.
There is a general sense that boomers are different from previous generations, but no one is sure how health and other services need to change to adapt to those differences.
"Boomers are the first generation to have access to antibiotics, to have access to a publicly funded health care system, and generally have a higher level of education than the previous generation," says Badley. "On the other hand, they are more obese and less physically active than the previous generation and that might be expected to make their health worse."
In addition, advances in medical care, such as treatments for heart disease, have meant that people are living longer. However, these people may have ongoing health issues.
Many boomers have already reached retirement age, and the health services they need may differ from the services that their parents required. Health policies that help inform services need to keep up as the characteristics of the population change. Badley is trying to identify these changes so that new health care policies can be based on strong evidence.
Badley and her team are analyzing data from the National Population Health Survey (NPHS) which was designed to measure the health status of Canadians. Participants in this long-term survey were interviewed by Statistics Canada every two years from 1994 to 2010.
Badley's team has divided the respondents into three categories: people born from 1935 to 1944 (the pre-boomer population); 1945 to 1954 (the older boomer population); and 1955 to 1964 (the younger boomer generation). There are relevant health data for more than 1,500 people in the pre-boomer group, 2,000 in the older boomer group, and 3,000 younger boomers.
"We're looking at four specific health indicators for our study," says Badley.
One indicator is how people rate their own health, which is a well-established marker for actual health status. Two additional indicators are limitations in daily activities and the need for assistance due to a long-term health problem. The final indicator - the number of doctor visits in the previous year - is a marker of health care use.
The researchers are currently analyzing the data and working to identify differences between boomers and the earlier generation, and why they occur. Their analysis should be complete in the fall of 2013 and will give insights into how the health of the Canadian population is changing over time.