'America the Beautiful and Violent' by U of T Social Work's Dexter Voisin examines violence in Chicago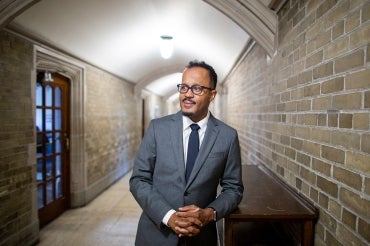 Dexter Voisin, the dean of the University of Toronto's Factor-Inwentash Faculty of Social Work, has been studying violence in Chicago for over two decades. 
Media coverage of shootings on the city's South Side and other under-resourced communities typically gloss over the underlying structural causes of the violence, he told PBS in a recent interview. 
Voisin's new book, America the Beautiful and Violent: Black Youth and Neighbourhood Trauma in Chicago, draws on surveys, in-depth interviews, historical data and more to shine a light on the circumstances that give rise to violence in these communities. At the same time, Voisin aimed to elevate the often unheard voices of witnesses and victims of violence.
"The story of some neighbourhoods is often coming from law enforcement," Voisin told PBS Chicago. "The voices of the kids and how they were dealing with violence were not being told."
UTC