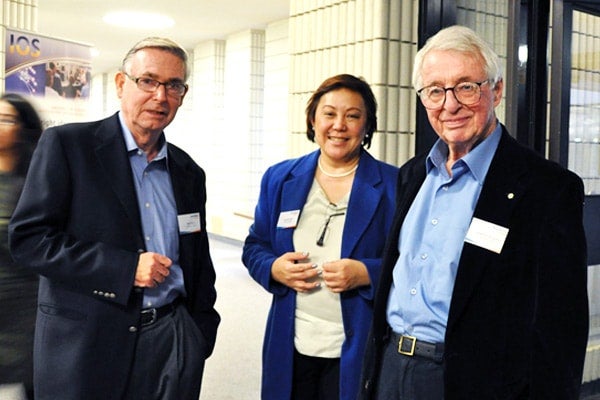 Alumni return to support student entrepreneurs
Symposium: The U of T Student as Inventor and Entrepreneur
University of Toronto students have invented products and launched companies that create everything from crop protection to ultra-fast surgical lasers and earthquake-resistant building materials.
On Nov. 12, U of T's Institute for Optical Sciences (IOS) celebrates that strong tradition of research, innovation and commercialization success with a symposium for student inventors and entrepreneurs that features alumni who have led successful technology-based companies aimed at improving quality of life.
"U of T is a world-class institution with a large number of brilliant students and faculty who have gone on to create cutting-edge technologies rooted in outstanding science," says IOS director Cynthia Goh. "In order to sustain the innovation momentum, we must continue to leverage what we consider to be the key advantages of our institution: knowledge and students."
The IOS will announce the launch of TechnoLABS at the symposium, expanding the ever growing support system for U of T entrepreneurs. TechnoLABS will provide work space and access to chemical, electrical, and other laboratory equipment for prototype development.
Lunanos Inc., a company which develops innovative solutions for cleaning and disinfecting environmental surfaces, is one of more than 20 companies already taking advantage of the TechnoLABS work space located in the Banting & Best Centre for Innovation & Entrepreneurship
"Lunanos does much of its development work in a wet lab, which would have been prohibitively expensive to rent if not for the space provided by TechnoLABS," says Leo Mui, who co-founded the company in 2010 while completing his master's degree in organic chemistry at U of T. "Besides giving us physical space to build our company, we are able to tap into the experience and expertise of mentors on site when we need help."
"TechnoLABS offers a very unique environment for startups and entrepreneurs," adds Dan Hosseinzadeh, co-founder and chief technical officer of software developer PathCore Digital Pathology. "The community of thriving business and entrepreneurs within TechnoLABS tends to acts as one unit; sharing their collective experience and knowledge to make sure they all grow together."
Students participating in TechnoLABS will have the opportunity to meet and present their companies to guest speakers such as: Tony Redpath, MaRS advisor and former CEO of Eco-Plastics; Graeme Ferguson, co-founder of IMAX; Vaughn Betz, founder of Right Track CAD; Neil Reid, co-founder of Sciex and Darren Anderson, co-founder and CTO of Vive Crop Protection.
"The symposium should give students who are considering entrepreneurship as a career an introduction to the subject, as well as the chance to ask questions of experienced entrepreneurs about the good, the bad, and the ugly about entrepreneurship," says Anderson, who attributes his decision to pursue an entrepreneurial career to his education at U of T.
"Knowledge is the University's most valuable asset. But before society can reap the rewards, knowledge has to be commercialized and brought to market through entrepreneurship," says Goh. "TechnoLABS essentially accelerates the process by which outstanding fundamental science carried out at the university is translated into tangible economic benefits."
Click here for more information about the symposium.