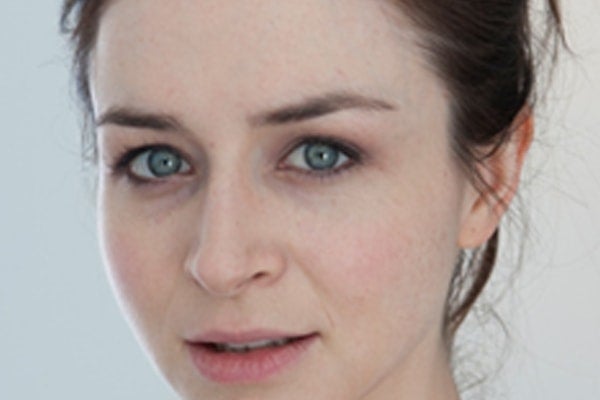 Alumna portrays troubled surgeon on TV
Caterina Scorsone a regular on popular Private Practice
Even though Trinity College graduate Caterina Scorsone worked as a professional actor throughout her childhood and teen years, the introspective Scorsone was never sure it should be her only path. She now plays the brilliant but struggling Dr. Amelia Shepherd on the TV medical drama – and Grey's Anatomy spinoff – Private Practice. As the fifth season of Private Practice begins, writer Lisa Bryn Rundle takes a history.
You started your acting career at age 8 on Mr. Dressup. Do you remember anything about that first acting gig?
I do! I remember the absolute shock when I walked into Mr. Dressup's house and it was in fact a studio! It was a horrifying moment of pulling back the curtain.
Oh God! And by the way, kid, Santa doesn't exist.
Exactly! And off-camera the "puppets" would, on occasion, make grown-up jokes. But still, it was an incredibly positive first acting experience. We sang and drew. Mr. Dressup – Ernie Coombs – was a lovely man.
When did you first realize you wanted to act? Was it a way to stand out as the middle child of five?
Basically, yes. It was a very creative family and there were so many of us! We were involved in the Canadian Children's Opera, and one of the children had an agent. One of my sisters wanted to try acting, so we both met with the agent. That's how it started. But I didn't think I wanted to be an actor at that age. I wanted to be a doctor.
And you've ended up as a doctor on TV. Why did you initially want to go to med school?
There's a big emphasis in my family on giving back, and medicine seemed like a perfect way to do that.
And you weren't sure at first that acting could be a way of giving back? Have you reconciled that?
Yes, I'd been acting at a pretty intense level until I was 18 or 19, but I stepped away from that and went to university really willing to follow my intellectual curiosity. My major was literary studies, and one of my minors was philosophy, and I discovered that our ability to understand ourselves through narrative is why humans are so special.
Is there one theory that seems to apply to your life today?
"The medium is the message" comes to mind a lot. As an artist I get to manifest theory with my body.
Your character on Private Practice and Grey's Anatomy has struggles…
Yes, at this point she suffers emotionally and chemically. She had her surgical privileges revoked because she fell off the wagon. So I explore depression, grief and substance abuse. I think – speaking of wanting to help people – I do get to articulate and illustrate for people what a struggle with substance abuse and mental health looks like.
What is the most complicated operation you've performed as a TV surgeon?
Ah, Amelia has done so many! The hardest to pull off as an actor – because I wasn't just faking it, and most of the time we just pretend – was suturing latex skin while I delivered lines. I practiced on chicken pieces. I got pretty good at it.
 -- Courtesy of U of T Magazine