Alternative Reading Week: U of T program connects student volunteers, community partners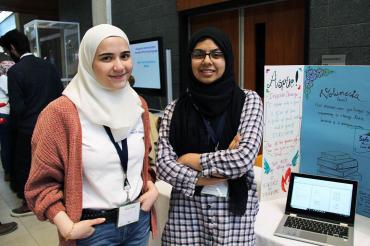 For some students, Spring Reading Week means hitting the books or taking a well-deserved break, but for many, the February break is also a time to give back.
 
More than 90 students from the University of Toronto Mississauga participated in this year's Alternative Reading Week, a tri-campus initiative that matches undergraduate and graduate students with local community organizations to provide short-term support and problem-solving.
Over three days, local partner organizations get much-needed extra help and resources, and students have the chance to make new friends, discover new skills and earn a co-curricular record credit.
Michelle Atkinson, community engagement co-ordinator with U of T Mississauga's student engagement team, oversees the program. "We work closely with community organizations to develop projects that are beneficial to their clientele, and to ensure it's an integrated learning opportunity for UTM students," she says.
Small teams of students were matched with 10 local community groups in Peel and Caledon. The resulting projects included market research, event organization, delivering products to clients, planning fundraising initiatives and creation of public awareness campaigns.
"Students get to feel like they're making a real difference in the community," Atkinson says.
Undergraduate students Javeria Rizwan and Dahlia Husrieh worked with Safe City Mississauga's Aspire program, which provides after-school peer tutoring in priority neighbourhoods in Mississauga. The duo created classroom lesson plans for volunteer tutors, and developed recognition initiatives to help with volunteer tutor retention.
"It's a challenge to retain trained volunteers," says Rizwan, a third-year management student. "We looked for opportunities to motivate them with group activities and awards, and recommended a space for volunteers to gather to recognize and welcome them."
Husrieh, a second-year finance student, was pleased to find a creative outlet outside of her academic studies. "It was my first time creating a lesson plan," she says.
Undergraduate students Asya Twahir, Saugar Viji, Michael Li and Gowthaman Gurunathan Surendran worked with Caledon/Dufferin Victim Services, a group that assists victims of crime and tragic circumstances.
The team researched the most effective way to communicate the organization's services to different demographics. Their findings will help the group to create future outreach campaigns.
Li, a third-year life sciences student, says the experience helped him to practise his research skills and learn more about teamwork.
Twahir, a third-year political science student, adds that the project opened her eyes to different roles in not-for-profit groups. "I want to work with NGOs," she says. "This gave me a different perspective – I hadn't really thought about communicating services before."
The community organizations benefit by getting short-term help with projects that they might not otherwise have the resources to handle. Michelle Lu, a communicative disorders assistant with program partner Halton-Peel Community Aphasia Programs, says the student volunteers created an aphasia awareness video and contacted health-care providers to help them understand how they can better assist people with aphasia.
Aphasia is an impairment in the expression and comprehension of language caused by damage to the temporal and frontal lobes of the brain.
"The students raise a lot of awareness and really help to get the word out about aphasia," she says. "Their projects can be shared with the community to let different services know that this program exists. That's a big help for our clients."
At the end of the week, student volunteers gathered in Deerfield Hall to present their projects at the first-ever Alternative Reading Week Impact Fair.
"The fair brings everyone together to showcase their work to each other so students can see the impact of their individual contributions, and also the impact of being part of the whole program," Atkinson says.
"This was my first volunteering experience at UTM," Viji says of his experience. "It's a great feeling to work on something that will be used by a non-profit organization to reach more people."
UTM