Alexie Tcheuyap named U of T's head of international student experience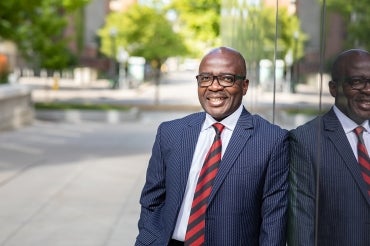 Alexie Tcheuyap, a professor of French whose scholarship focuses on African literary, cinema and media studies, has been appointed the University of Toronto's associate vice-president and vice-provost, international student experience.
Having received governance approval Thursday, Tcheuyap will serve for nearly six years beginning Sept. 1, 2021, including six months of administrative leave. He will be responsible for promoting opportunities for students to learn abroad, overseeing the tri-campus Centre for International Experience, developing global engagement opportunities for all U of T students through curricular and co-curricular initiatives and generally fostering a positive experience for international students at the university.
Tcheuyap says his own experience as an international student – he was educated in Cameroon and in the United Kingdom before moving to Kingston, Ont. for graduate studies at Queen's University – gives him unique insight into the needs of U of T students who are new to Canada.
"All of this is very personal for me because I came here as an international student and this means I have lived through a lot of the same things as the students whom I will be working to support," he said.
"In my career as a professor, I have always been very sensitive not only to the experience of students, but of those who are new to the country."
He added that he arrived in Canada in 1997 carrying two suitcases – one for clothes and another full of books.
"My driver dropped me off [at Queen's] in front of the university's Stauffer Library and he said: 'You brought books here. See that building over there? It's full of books,'" Tcheuyap recalled.
He went on to earn a PhD in French literature from Queen's, adding to a doctorate and master's in the same field from the University of Yaoundé in Cameroon. He taught at the University of Calgary before joining the French department at U of T in 2006 and is a senior fellow of the European Institutes for Advanced Study.
An expert in African literature, cinema and media studies, Tcheuyap counts Ariane Astrid Atodji, Florence Ayisi, Jean-Pierre Bekolo, Assia Djebar, Amina Abdoulaye Mamani, Jean-Marie Teno and Mansour Sora Wade among his favourite African filmmakers. He has written several books, including De l'écrit à l'écran, Postnationalist African Cinemas, Autoritarisme, presse et violence au Cameroun and Avoir peur. Insécurité et roman en Afrique francophone.
The most rewarding part of his job as an instructor, he said, is to introduce native English speakers to the original text of French language works.
Tcheuyap also brings considerable senior leadership experience to his new role.
He served as chair and associate chair of the department of French in the Faculty of Arts & Science and has been the faculty's vice-dean, academic life and equity since 2019. As vice-dean, Tcheuyap initiated new strategies to develop a more diverse and more inclusive faculty, including the recruitment of several Black and Indigenous scholars.
Tcheuyap succeeds Professor Joseph Wong in the international student experience office; Wong was named vice-president, international earlier this year.
"Professor Tcheuyap is an extraordinary leader at the University of Toronto, who brings with him tremendous insight into the international student experience, having been one himself in the 1990s," Wong said.
"He is well known among colleagues for his leadership skills at all levels of the university. His academic background in the humanities will no doubt open up new opportunities in international partnership-building as well as international learning experiences for our students."
Tcheuyap said he will continue promoting equity, diversity and inclusion in his new role.
 "It's important to ask where our students come from and to make sure that everyone feels welcome on campus, regardless of their background," he said. "This requires special efforts to attract and retain students from underrepresented groups."
He also plans to build on Wong's efforts to create global scholar and global citizen designations for U of T students that are acquired through completing academic or extracurricular activities that foster a global outlook. The designations appear on a student's co-curricular record or transcript.
"We are very fortunate to have the global scholar and citizen programs," Tcheuyap said. "We just need to make sure that all students are aware of these possibilities to gain an international perspective.
"It's not unusual to find a student who was born in Lethbridge or Kingston and who has never left Canada. The world is changing around us. We need to bring these international opportunities to students.
"The world is so rich. We need to encourage students to learn about the world in Toronto or go abroad and harvest international experience and then return to share their newfound knowledge back here."
UTC