Alexandra Gillespie appointed vice-president and principal of U of T Mississauga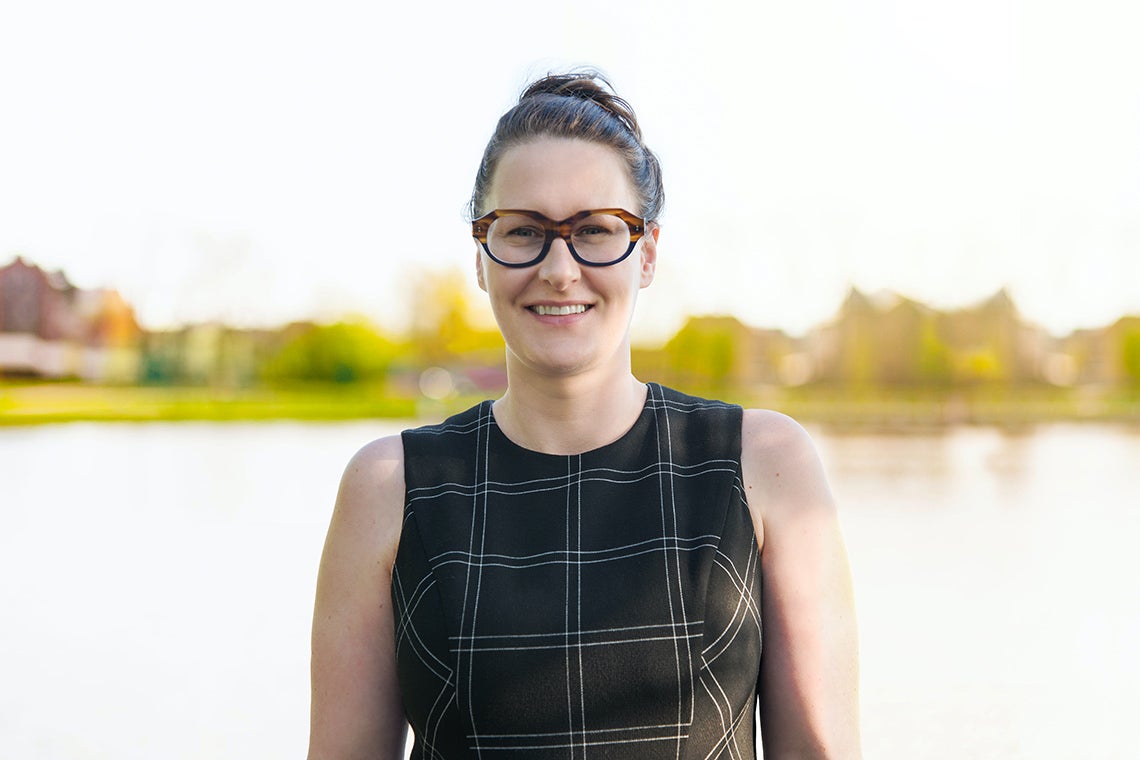 Professor Alexandra Gillespie, an internationally renowned humanities researcher, has been appointed the new vice-president and principal of the University of Toronto Mississauga, where she is the chair of the department of English and drama.
The appointment runs from July 1, 2020 to Dec. 31, 2025.
"I would like to congratulate Professor Alexandra Gillespie on her appointment to this vital position of leadership, both at U of T Mississauga and the wider U of T," said U of T President Meric Gertler. "Professor Gillespie is an accomplished and innovative researcher and an outstanding teacher and mentor. She is also a talented administrator.
"I look forward to working with her in the advancement of UTM and U of T as a whole."
Gillespie is widely recognized as an exceptional scholar, a dynamic and creative leader, and someone who is dedicated to the advancement and well-being of others. As chair of her department, she has championed innovative approaches to research and pedagogy, and made equity, diversity and inclusion central to her mandate.
"I am delighted by the appointment of Professor Gillespie as the next vice-president and principal at U of T Mississauga," said Vice-President & Provost Cheryl Regehr. "She has demonstrated her deep passion for and commitment to UTM over many years. With her compelling vision and inspired leadership, I am certain that she will set an exciting path forward for the campus and the broader community during the next five years."
Gillespie is a scholar of 14th-century writer Geoffrey Chaucer and principal investigator of U of T's new Institutional Strategic Initiative on Global Book Science. Her 2006 book, Print Culture and the Medieval Author, showed that pre-modern ideas about authorship shaped Western printing technologies while her forthcoming monograph, Chaucer's Books, explores the literary history and philosophy of the book sciences.
Gillespie's interdisciplinary work in medieval literary studies and book history has given her extensive experience building international scholarly networks. As director of the U of T Old Books New Science Lab, she and her team have received over $2.5 million in funding, much of it in partnership with U of T Libraries. The international research initiative uses non-destructive analytic techniques to investigate the origins and development of books in their project titled The Book and the Silk Roads.
Gillespie said she is incredibly proud to be a part of the U of T Mississauga community and thrilled with the opportunity to lead the campus. "This is a challenging time for folks at UTM, as it is for everyone," she said. "But our community is resilient, and our outstanding students, teachers and researchers are poised to transform Canada and the world. I am hugely hopeful about the future and honoured to work with UTM's dedicated staff to lead our vibrant and exceptional institution."
Gillespie joined U of T Mississauga as an assistant professor in 2004. In 2010, she won U of T Mississauga's Award for Undergraduate Teaching Excellence in recognition of her outstanding work in the classroom and as a mentor to student researchers. She has served as associate chair and undergraduate director of English in the English and drama department, and currently serves U of T Mississauga as a vice-presidential special advisor in research. In 2016, she founded the Jackman Humanities Institute's tri-campus Digital Humanities Network. Prior to joining U of T Mississauga, Gillespie worked as a management consultant in New Zealand's education sector. She was a Bradley-Maxwell Junior Research Fellow at Balliol College in Oxford, and a Munby Fellow at Cambridge University Library.
Gillespie holds a DPhil and MSt in English from the University of Oxford, where she studied as a Rhodes Scholar, after completing her BA (Hons) in English at Victoria University of Wellington.
Gillespie succeeds Professor Ian Orchard who has served as acting vice-president and principal since September 2019, and Professor Ulrich Krull, who began his term as vice-president and principal in July 2017.
UTM