Alanis Obomsawin, one of the world's most acclaimed Indigenous filmmakers, receives honorary degree
For six decades, the artist Alanis Obomsawin has held a mirror up to Canada. One of the most acclaimed Indigenous filmmakers in the world, she is best known for her tenure at the National Film Board of Canada and her catalogue of more than 50 films that elevate the voices of those who have been silenced or ignored in this country – particularly Indigenous Peoples.
Obomsawin is also internationally recognized as a singer-songwriter, storyteller, engraver and printmaker.
Today, for her work as a multi-disciplinary artist and a documentary filmmaker advocating for social justice, Obomsawin receives a Doctor of Laws, honoris causa, from the University of Toronto.
A member of the Abenaki Nation, Obomsawin was born in New Hampshire in 1932, but spent the first part of her childhood on the Odanak reserve in Quebec. Her father was a guide and a medicine maker, and her mother ran a boarding house.
When she was nine, the family moved from the reserve to Trois-Rivières, where they were the only Indigenous family in the neighbourhood. Obomsawin left Trois-Rivières at age 22 and spent time learning English in Florida before settling in Montreal in the late 1950s.
She began performing as a singer and a storyteller, making appearances on reservations, in prisons and schools and at music festivals. 
In an interview with the CBC later in her career, Obomsawin recalled that she started singing as a way to teach children about Indigenous history. "My main concern was education," she said. "I was very young and wanted to influence change of what they were teaching about the history of this country."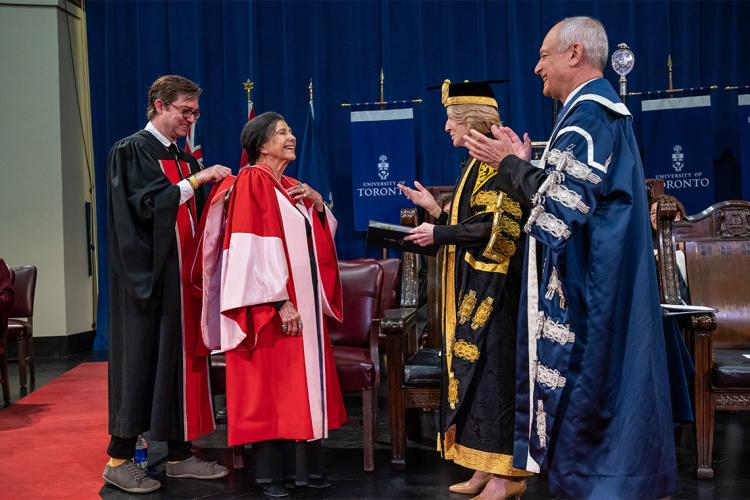 In the mid-1960s, Obomsawin organized fundraising concerts to pay for the construction of a swimming pool on the reserve where she grew up after the nearby river was deemed too polluted. The CBC interviewed her about her efforts, and producers from the National Film Board who had seen the clip invited her to be an adviser on a film about Indigenous Peoples.
In 1971, she directed her first film for the NFB, Christmas at Moose Factory, and in 1977 she became a permanent staff member.
Over her expansive career, Obomsawin has covered a wide variety of subjects important to Indigenous Peoples – from fishing and treaty rights to residential schools and protests. In 1986's Richard Cardinal: Cry from a Diary of a Métis Child, Obomsawin recounts the tragic story of a young boy's suicide, which led to a government report on social services for Indigenous foster children in Alberta.
Her 1990 documentary, Kanesatake: 270 Years of Resistance, which she filmed during the standoff between Mohawk activists and the government, has been hailed by critics "one of the great acts of courage in the history of documentary filmmaking" and "a watershed film in the history of First People's cinema." She would go on to make three other films about the Oka crisis.
A deep belief in the need to educate Canadians about the concerns of Indigenous Peoples lies at the heart of Obomsawin's work. "I think that the way we have taught the history of this country has been a crime. The way that it was designed to create hate towards our people for a very long time," she told the Ottawa Citizen in 2015.
"I know that the films can change attitudes," she added.
The seven films she made between 2010 and 2019 illuminated the lives and voices of Indigenous children, creating a useful context for discussing the findings of the Truth and Reconciliation Commission of Canada.
Listening, she told the CBC, is most important for her when it comes to documentary filmmaking. "If you go and you say, 'Oh, I know the story, I don't need to hear anymore,' there is trouble there." For Obomsawin, documentary filmmaking is a process of discovery. 
In addition to her film career, Obomsawin has worked as an engraver and print maker, with exhibitions in Canada and Europe. She features mother and child imagery prominently in her work, as well as material from her dreams, animal spirits and historical events.
Obomsawin has received many honours, including TIFF's Jeff Skoll Award in Impact Media, and the Glenn Gould Prize. She has received multiple Governor General's awards, a National Aboriginal Achievement Award and more than a dozen honorary degrees. She was invited to become a member of the Academy of Motion Picture Arts and Sciences in 2017. Appointed to the Order of Canada in 1983, she was promoted to Companion of the Order of Canada in 2019.
UTC