Ahead of Trudeau's trip to India: Rotman hosts event at U of T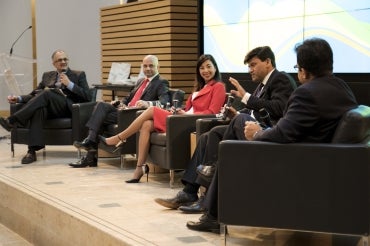 Just in time for Prime Minister Justin Trudeau's trade mission to India later this week, a panel discussion at the University of Toronto's Rotman School of Management offered suggestions for Canadian companies and government officials: Promote a Canada brand. Be willing to take risk. Look at India as a long-term investment.
"It's more important for Canada to try and be relevant to India, then vice versa," said Prashant Pathak, an Indian-Canadian who heads a private investment and holding company based in Canada called Ekagrata Group.
"There's a lot of low-hanging fruit, but I think it just comes back to, as a Canadian investor, you need to have to have a high appetite for uncertainty and a very high appetite for educated risk."
The panel on Monday, organized by Rotman's India Innovation Institute, also featured Dinesh Bhatia, the consul general of India in Toronto; Le Luong, director of Nurture Growth Bio Fertilizer, which supplies bio-organic fertilizer and is growing its presence in India; and Soumen Roy, who heads Canada's operations for Tata Consultancy Services, an IT subsidiary of India's Tata Group.
The discussion was led by Professor Partha Mohanram, director of Rotman's India Innovation Institute.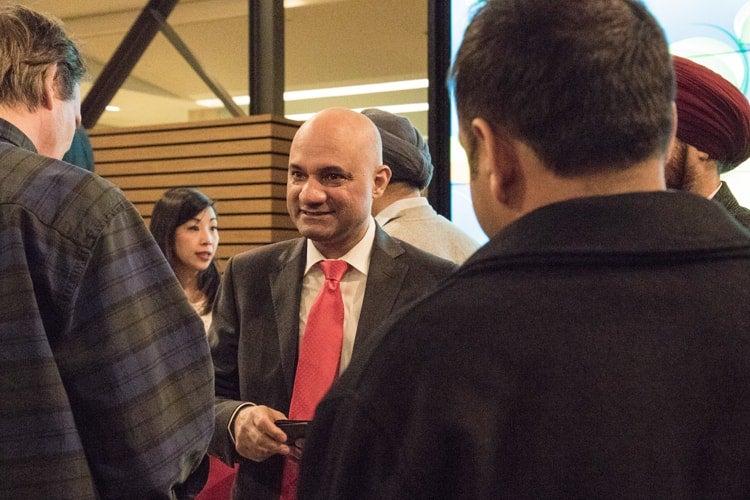 The Consul General of India in Toronto, Dinesh Bhatia, spoke on the panel about Canada and India's existing partnerships
Bhatia said Trudeau's visit follows a gap of six years, with a Canadian prime minister last travelling to India in 2012. He pointed out that while it was important to look at the India-Canada partnerships through an "economic prism," it was also important to take into account the large Indian diaspora in Canada, which he estimated at about 1.3 million people, the dozens of Canadian politicians of Indian origin, and the 124,000 Indian students studying in various Canadian universities and colleges, like the University of Toronto.
"The trade relationship between India and Canada is increasing," Bhatia said, estimating that bilateral trade reached $8.3 billlion last year.
But he added that India has taken the lead in that trade. "We have far more investment in Canada than Canadian companies have in India."
The panelists talked about promoting Canada's strengths – emerging technology in artificial intelligence, educational institutions and talent.
Tata Consultancy Services in Canada has hired more than 2,000 Canadians in the last four or five years. Roy said that Canadian companies should look at using developing technology to improve basic needs in India, not just improving the quality of life.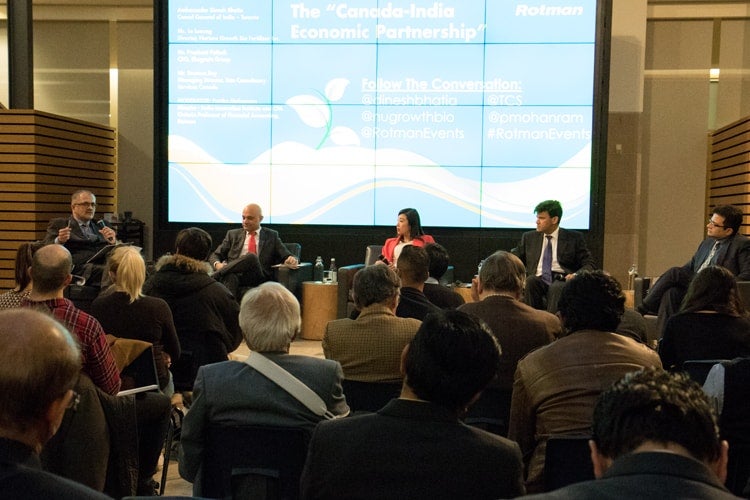 The panel included a mix of Canadian business leaders investing in India, and Indian partners exploring opportunities in Canada
Mohanram pointed out that with NAFTA negotiations with the U.S. in flux, Canada has to diversify. He pointed out that China's trade with Canada reached $80 billion last year, with $20 billion of it being Canadian exports, and $60 billion being Canadian imports.
"It just shows you how small the Canada-Indian trade relationship is on a global scale, but also how it might be an opportunity especially for Canada to look at a growing economy, the fastest growing economy in the world," he said. "India provides an opportunity for them to grow this relationship in a way that's mutually beneficial."
But first, panel members agreed, Canada needs to work on its branding.
"Despite having such a large percentage of the population of the diaspora, which is the highest in the world, and such a large number of Indian students, if you go to India and ask a moderately educated person, they will know what is made in Japan," Roy said. "They will even know what is made in China, made in U.S., made in U.K., even made in Germany. But they will never know what is made in Canada."
Luong said she's been part of three trade missions where she felt the country as a whole needed to be more unified on its brand.
"There is a lack of consistency in terms of brand," Luong said. "When you look at Australia, they're so strong in promoting the brand. When you look at the United States, Washington Apples is a perfect example. It's a commodity that they're able to market effectively. As a government, they need to market Canada, as a whole, more effectively."   
UTC