Age is but a number for U of T's oldest and youngest graduates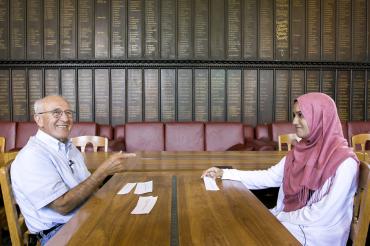 They're generations apart, but over the last few years they worked towards a common goal: a University of Toronto degree. 
Sakina Rizvi, a U of T Mississauga student who earned a specialist degree in the history of religions, is believed to be U of T's youngest graduate at 18 years, one month and a day old, as of this writing. 
Joseph Goren, 77, is graduating with a bachelor's degree in English and art history after retiring from the University of Calgary, where he taught in the biochemistry and molecular biology department. He is believed to be U of T's oldest graduate.
They're both planning to go to graduate school in the fall. Rizvi – who's about the same age as one of Goren's granddaughters – will be doing a master's of education in curriculum studies at U of T's Ontario Institute for Studies in Education, while Goren will be pursuing his master's in art history at U of T.
They met this month in University College's Junior Common Room for a chat about their university experience, including the lessons learned and their latest all-nighter.
UTC