After a harrowing escape from Sudan, U of T scholar Nisrin Elamin calls on the world to pay attention
Elamin, an assistant professor of archeology and African Studies, says more needs to be done to support the country's pro-democracy movement
Why aren't there more eyes on Sudan – the site of a humanitarian crisis which has seen more than one million people driven from their homes in the space of two months, with many others killed or injured?
Nisrin Elamin asks herself that question every day. The assistant professor in the department of anthropology and the African Studies program in the Faculty of Arts & Science recently escaped from Sudan, where she had been visiting family.
After a dangerous, difficult journey from the capital city of Khartoum to Port Sudan on the Red Sea, Elamin was evacuated at the end of April, along with her parents and three-year-old daughter.
Now, she thinks about her many close relatives who remain sheltering in place in and around Khartoum – and about the millions of other Sudanese people still living there and in other parts of the country in desperate conditions.
Entire villages have been burned to the ground, with many citizens deprived of access to food, water, medicine and fuel during the ongoing conflict between rival factions of the military government.
"It's a terrible situation," Elamin says. "And the international humanitarian response has been 'too little, too late' in the sense that when we evacuated, the aid community evacuated with us."
During a temporary ceasefire, several international aid organizations have been able to resume assistance to Sudan. But aid agency operations often report obstructions, and Elamin says the Sudanese people themselves have sometimes proven most effective at helping their fellow citizens.
"People have been relying on resistance committees and civilian volunteer networks," she says.
"These are grassroots democratic forces that have been the backbone of Sudan's popular uprising against the current regime since 2018. They've been the ones distributing food and water – and they have actually been arrested for doing this work."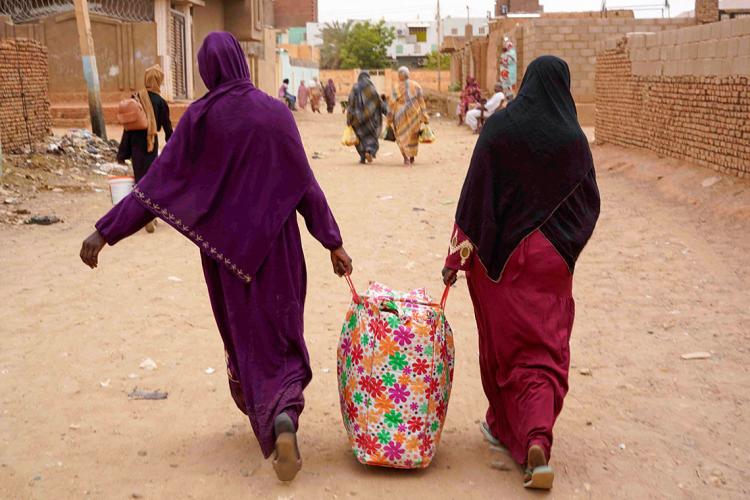 Since Sudan gained independence from colonial rule in 1956, the country has spent the majority of those years riven by internal conflict. In 2021, General Abdel Fattah al-Burhan, head of Sudan's army, and Lt. General Mohamed Hamdan Dagalo (known as Hemedti), paramilitary chief of the Rapid Support Forces, collaborated to topple the regime of Omar al-Bashir – a leader who had been indicted by the International Criminal Court in 2009 for directing a campaign of mass killing in the Darfur region and was subsequently imprisoned on corruption charges.
Yet the generals are themselves steadfast enemies of democracy – together, they have been responsible for human rights violations, including al-Burhan's direction of the Khartoum Massacre of 2019 and Hemedti's brutal leadership of the Janjaweed militia in Darfur beginning in 2003. And now they are at war with each other.
"The Rapid Support Forces were supposed to be integrated into the armed forces based on a political agreement that would eventually lead to democratic elections," Elamin says.
"But these two generals, who are known war criminals, are now struggling for political and economic control. And everybody else is in the middle of this."
Even prior to the fighting that gave rise to this catastrophe, Sudan – Africa's third-largest country – was dealing with a refugee crisis and severe food insecurity. The United Nations estimates that 25 million people in the country currently need aid and protection.
Elamin is an American citizen who recently completed her first year as a scholar at U of T. She is currently writing a book based on 15 months of fieldwork in Sudan, and her recent trip there was taken with the intention of conducting follow-up research while also introducing her young daughter to her Sudanese family.
"My work focuses on large-scale land investments – what many call 'land grabs' in central Sudan, where I'm originally from," she says.
"I've been tracing the impacts of Gulf Arab corporate and domestic investments on local communities and researching the various forms of resistance to these investments. Just to give you an idea, the Saudis and Emiratis have invested about $27 billion in real estate infrastructure over the last two decades – all while the country was governed by a brutal military regime.
"Such investments have also impacted local food sovereignty – these shifts in land ownership undermine people's access to subsistence food, and they're relying on imports now more than ever."
Elamin notes that despite the various crises affecting them, the people of Sudan remain unbowed. Soon after the shelling and explosions began, "only 16 per cent of hospitals in Khartoum were operating at capacity. The Sudanese Doctors' Union has set up field hospitals on the outskirts of the city to treat the injured, deliver babies and do whatever is needed, though even getting there is dangerous."
Since her return from Sudan, Elamin has been tireless in her efforts to inform the public about what is happening in her family's homeland, appearing on international radio and television programs. She points out that while the news cycle invariably moves on, Sudan's problems do not.
Still, Elamin affirms that much is being done.
"For example, the Sudanese Students Union at U of T recently held an event to inform the community about what's happening. It was also a fundraiser for the Sudanese Doctors' Union – that's an important initiative to support, because money goes directly to the support the lifesaving work doctors are doing there."
Elamin also calls on governments around the world to lend help where they can. Much more assistance is needed at the borders of the seven countries bordering Sudan, which are all processing refugees at a painfully slow rate in the punishing desert climate.
She notes Canada could provide expedited travel visas, such as those offered to refugees from Ukraine.
"But probably the most important thing is for Canadians to assist the international community – specifically efforts on the African continent led by regional actors such as the African Union and the Intergovernmental Authority for Development – with their effort to broker a sustainable peace," Elamin says.
"This requires, in my view, putting these two generals on trial instead of putting them at the negotiating table – and really starting a transitional kind of process: one that centres the pro-democracy forces that have been sidelined."
Arts & Science