After fleeing the Taliban, Afghanistan's former ombudsperson Ghizaal Haress finds a new home at U of T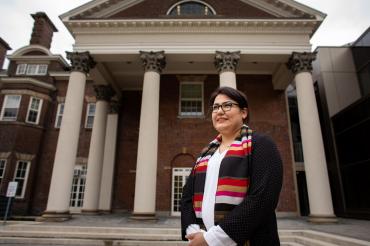 Taliban militants looking for Ghizaal Haress showed up at her apartment building three times in the days following the Taliban's takeover of Kabul.
A legal practitioner and scholar who served as Afghanistan's first presidential ombudsperson, Haress was home with her family. But the building's security guard convinced the Taliban that they had already fled.
"Somehow, the Taliban believed it," says Haress, who was previously chair of the department of law at the American University of Afghanistan. "We were so thankful to that security guard because if that didn't happen, we didn't know what would happen to us."
That was a little over a year ago. Haress and her family later fled Afghanistan on military planes, arriving in Toronto earlier this year. She is now a visiting scholar at the University of Toronto's Faculty of Law and Munk School of Global Affairs & Public Policy, and is supported by the Institute of International Education (IIE) Scholar Rescue Fund and U of T's Scholars-at-Risk funds for displaced academics and students. 
"The people I've met at U of T have been extremely kind and supportive – the kind of people who not only encourage you to pursue your goals but actually try to facilitate, help and guide you," she says, adding that her home country is never far from her thoughts.
 "I want to make sure that I don't just benefit from the great academic and intellectual environment at U of T, but that I also contribute my experiences in a country that struggled with rule of law and constitutionalism."
Haress's life has been intertwined with Afghanistan's tumultuous history. Born in Kabul, Haress and her family fled to Peshawar, Pakistan in 1992 to avoid a civil war. There, she attended a school for refugees and later Afghan University – until the government shuttered the institution at the Taliban's request. Haress later landed a job at a legal non-profit, returning to Kabul as the country began rebuilding in the wake of the U.S.-led invasion.
"There was a lot of hope, especially from people of my age and my generation, because we could see that there was a lot of potential for change," says Haress, who went on to earn a law degree from Kabul University, complete graduate studies at SOAS University of London and become a professor at the American University of Afghanistan.
After serving as a commissioner at the independent commission for overseeing the implementation of Afghanistan's constitution, where she was the only woman among 7 members, Haress was appointed the country's first ombudsperson in 2019 – a role that entrusted her with setting up a new institution devoted to tackling corruption in the halls of power.
She says it was the most difficult job of her legal career.
"Most of the institutions within the legal and judicial system – which were supposed to curb corruption – were deeply corrupt themselves. So, we didn't make any friends during the process of setting up the institution."
There were obstacles everywhere and pushback at every turn. Struggling to acquire chairs, computers and an office space, Haress spent her first few months working out of Kabul's coffee shops. Her insistence on monthly progress reports on cases referred to ministers, the attorney general and the courts met stiff resistance. "Those were the places where corruption was rampant," Haress says. "All we wanted was to have an idea of where cases stood."
But there were significant victories, too. When media accused provincial authorities of mis-using COVID-19 response funds, the Office of the Ombudsperson investigated cases and helped direct more than 200 officials to the attorney general for criminal investigations.
Haress's openness with the media – she gave monthly press conferences and took questions from reporters – also marked a sea change in the relationship between press and government. "This was a big success for us because the independent media outlets had gained trust in our institution, to the point that they didn't dispute the findings of our research," she says.
Unfortunately, none of it would last. The government soon moved to reign in her office's powers, prompting her to step down in May of 2021.
Haress vividly recalls the feeling of dread on the streets of Kabul as the Taliban entered the city as U.S. troops withdrew from the country. They seized control of Kabul on Aug. 15, 2021 as police abandoned their posts and women began to cover up their appearances.
"I didn't know whether they would come and kill me, kill my family members or take us into custody," Haress says. "We didn't know what awaited us."
Haress had just enough time to grab essential documents and belongings before she went into hiding for a week at a relative's house. She eventually boarded a military plane to Abu Dhabi, along with her parents, brother and her brother's family. "We left our lives behind," she says. "We left our houses, our assets, our money in the bank."
While Haress is grateful to now be safe in Canada – and at U of T – she says she misses Afghanistan and is pained by her country's plight.
"The fact that we lost the achievements of 20 years and it got replaced by the Taliban is a big loss, a shocking loss," she says. "The way the country fell into the hands of Taliban, the way we were abandoned – whether by the international community or our own political leaders – has really traumatized each and every one of us.
"If times change and I have the opportunity to go back to work for Afghanistan, I will. That's my country. It has given us a lot and it doesn't deserve to be abandoned."
UTC