After fleeing Syria, Aiman Ali finds a new home as co-ordinator of a U of T dentistry lab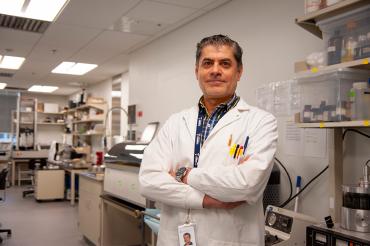 Aiman Ali and his family fled war in Syria six years ago and came to Canada in hopes of a better life. But the move to a new a country wasn't easy, especially at first. 
"I came here on a Visiting Scholar Visa for six months – our transition to Canada was extremely arduous and we faced many financial difficulties at the beginning," Ali says. "We were living cheque to cheque and it wasn't easy to make ends meet."
Despite having two advanced degrees in dentistry from universities in Syria and Spain – a doctor of dental surgery and PhD in oral cancer – Ali initially struggled to find a job that matched his qualifications. But earlier this year he became the manager and lab co-ordinator for the Histopathology Research Unit at the Faculty of Dentistry.
Histopathology refers to the branch of pathology dealing with tissue changes characteristic of disease. The lab uses both human and animal samples for precise experiments to determine the role of specific proteins in cells and their role in the progression of cancer and other diseases. 
As manager, Ali is responsible for everything that goes on in the lab, including experiments, ordering materials and chemicals and training students and researchers to use the equipment.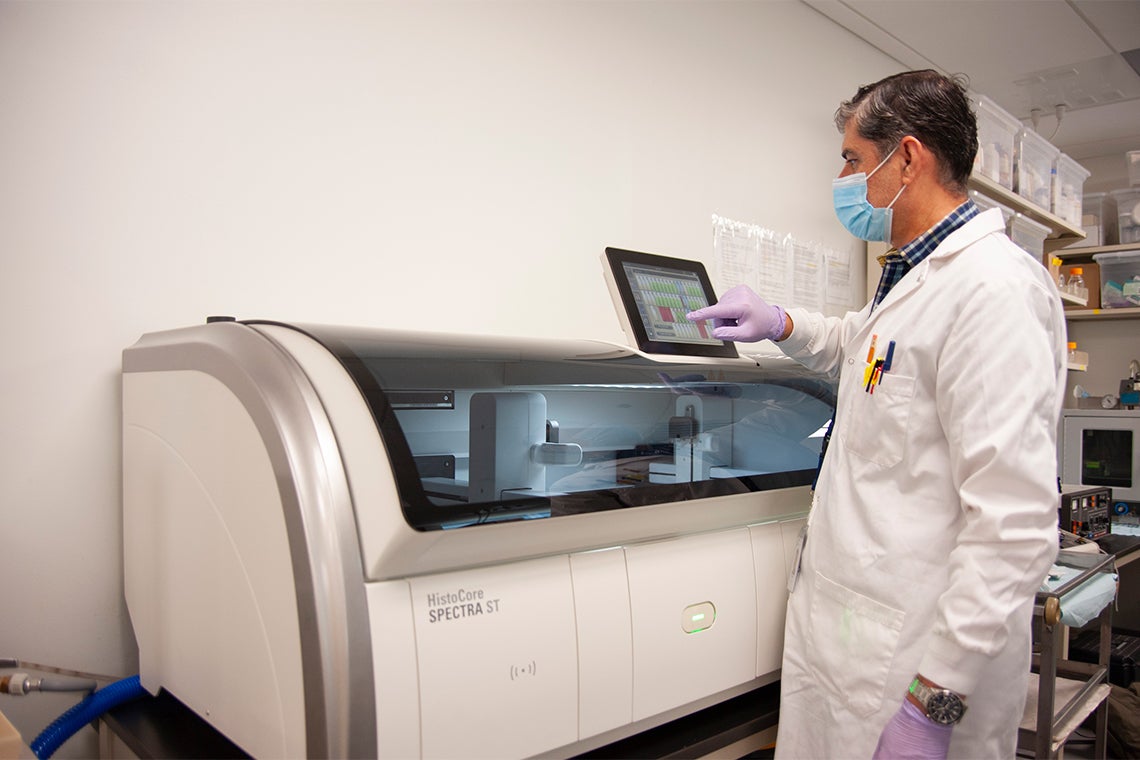 Ali programming one of the automated machines in the Histopathology Research Unit (Jeff Comber)
The job put Ali and his family on firmer financial footing, and it's a good fit with his credentials, he says. 
Ali took it upon himself when he arrived to modernize the lab with newer equipment so that it could provide more services, including the ability to perform immunostains experiments and full soft- and hard-tissues services for anything related to histopathology and immunohistochemistry.
"Now researchers are sending us work from Sinai and MARS because we can do it all in house," he says. "Having the ability to deal with dental implants, mineralized tissue in the teeth, [and] bone and jaw puts us at an advantage as it's difficult for a lot of other labs to complete."
Ali says he's enthusiastic about using the lab's new machinery to help researchers in Canada and beyond. He says the new equipment has made the lab more efficient by automating certain procedures, thereby saving time and improving accuracy. 
"Our lab is an example of the way forward in histopathology," he says. "I'm excited to see what the future holds for this type of research."
Dentistry