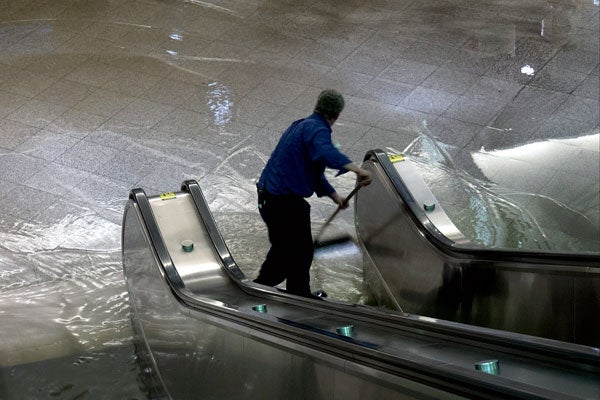 After the deluge: U of T expert analyzes Toronto's flood
Professor Jennifer Drake of Civil Engineering conducts research into Low Impact Development (LID) stormwater systems, watershed planning and stormwater management, and the impact of LID technologies on aquatic environments, urban water security and wet weather policy. 
She is co-researcher, Hydrology, at the Green Roof Innovation Testing Laboratory in the John H. Daniels Faculty of Architecture, Landscape, and Design.
U of T News asked Professor Drake for her insights into recent flooding in Toronto.
What was the scale of the flood in comparison to previous Toronto floods? Or other global floods we've recently seen?
The 127mm of rainfall was record breaking! In 1954 Hurricane Hazel dropped 121 mm of rain in 24 hours. However the real flood damage caused by Hazel was the human casualties with 81 deaths and ~4000 families left homeless. This flood was fierce and dramatic but it did not result in any of the human losses experienced during Hazel.

How would you evaluate Toronto's response to the flooding?
The rain truly was unprecedented and yet there were no flooding related deaths and no evacuations! This is a huge accomplishment and is the result of years of city and emergency planning, investment in flood protection infrastructure and good communication to the public during the storm. Torontonians should take pride in the performance of their emergency and public services.
What should Toronto have done differently in its response?
Getting people home safely during extreme weather is very important. Improved warning and alert systems could help encourage people to leave work early, particularly when severe weather is forecasted to coincide with rush hour. Unfortunately, the severity and size of summer storms are extremely difficult to predict.
How can Toronto and Torontonians better prepare for potential flooding?
The historical legacy of urbanization in the Don Watershed and modifications made to the Don River has made the lower reach of the Don River an area of high risk for flooding. This is unlikely to change and flooding of the Expressway will continue to occur on occasion. Flood risks need to be rapidly communicated to public transit organizations to prevent situations like yesterday's flooded GO train.

One of the best actions residents can do to prepare for a flood is to have a basic emergency kit that includes a radio. Homeowners can reduce their risk of basement flooding by installing a backflow prevention device, a basement sump pump and disconnecting downspouts. Emergency kits are important both at home and at places of work. Toronto is a hub for economic and commercial activity. By preparing emergency and business continuity plans, Toronto businesses can plan how to suspend or continue work in the event of a flood.

What do you recommend individual home- or business-owners affected by the flood do in terms of managing clean-up?
The Toronto and Region Conservation has very good resources for information flood preparedness and clean-up on their website: www.trca.on.ca/flood. People can also call Toronto Services 311 for help. Some general recommendations are to practice good hygiene because flood water can be highly polluted and can make you sick, and to document damage in as much detail as possible.
Can you compare the situations in Toronto and Calgary?
The Toronto and Calgary floods are not comparable. The situation in Calgary was a disaster. Fortunately, Toronto has not suffered anything this extreme. In the coming weeks Toronto will execute a clean-up but the recovery in Calgary will take months or years.
The rivers, watersheds and climates of these two cities are very different. This creates different risks for flooding in each city. The Elbow river is much larger than any of Toronto's rivers. To give an example the monthly average discharge in July for the Elbow River is 14 m3/s  and only 2-4m3/s  for the Don River (estimated from Environment Canada's real time hydrometric data).
If people, especially Torontonians, would like to help with the Calgary with the recovery please donate to relief efforts through charities like the Canadian Red Cross!

Dominic Ali is a writer with University Relations at the University of Toronto.