After 12 years of study, lifelong learner John Bond graduates from U of T Mississauga at 76
Embracing the idea that "there's always something to learn," the retired engineer and travel enthusiast returned to U of T for a third degree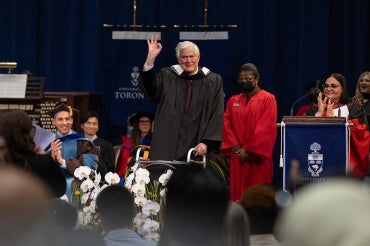 The thing about history is, it takes a while to happen. 
In John Bond's case, about 12 years, to be exact. 
During the University of Toronto Mississauga convocation ceremony on June 7, Bond graduated with a double major in history and classical civilization after a dozen years of study. At 76, Bond is the oldest U of T Mississauga grad this spring – and among the oldest gradates at the university this year.
It was his third U of T graduation, having picked up a degree in engineering from the St. George campus in 1968, followed by a master's degree in applied engineering.
A career as a civil engineer for a railway company followed, where he designed and inspected bridges for almost 40 years. 
"Because of that, I was always interested in structures and the civil engineering of cities," he said. "Then, when I went to Rome and saw the aqueducts, I wanted to know more." 
An avid traveller, Bond began reading about the places he would visit, which in turn led to more travel ideas for himself and his wife of 54 years, Lynda. 
"I'd always had an interest in history, and we travelled to Europe and New York and there were so many interesting ancient sites and stories," he said. "I wanted to get more acquainted with what I was seeing."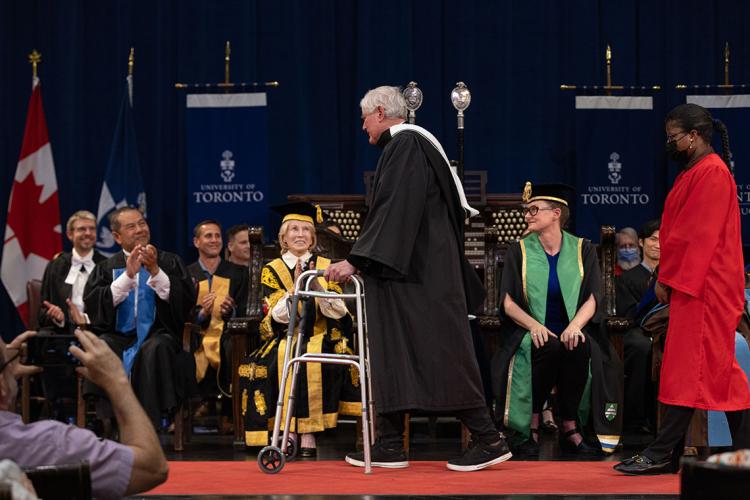 As his personal research expanded, Lynda – who met John at U of T in the late 1960s, when she was majoring in history at Victoria College – made a suggestion. 
"The advice from my wife was to 'read with a purpose,'" he said. 
And so, six years before retiring from his civil engineering job, Bond began taking courses at U of T Mississauga.
"I took one or two a semester, trying to do all the reading and assignments while still working," he said.
"It wasn't always easy to stay focused and interested, keeping up with the studying and combining what I have to do around the house," he added jokingly. "Always have to help in the kitchen." 
His professors say he balanced it all well. 
"John has been an excellent student – diligent with his research, curious to learn new things and always interested to hear what the other students think," said Mairi Cowan, associate professor, teaching stream, in U of T Mississauga's department of historical studies.
Cowan noted that while she's happy Bond is graduating, she's going to miss having him in class. 
"The other students and I have learned a lot from being with John in our courses," she said. "Not only about the content of history, but also about how to approach our studies with enthusiasm and openness." 
Though most of his classmates were closer in age to his two grandkids, Bond said interacting with them on campus was energizing.
 "It's great being among the young people," he said. "They really make things interesting."   
And they enjoyed having him around as well, said Christopher Petrakos, associate professor, teaching stream, in the department of historical studies.
"The students in class seemed to gravitate towards him because of his intellect and wisdom," Petrakos said.
"John Bond is the kind of student that every professor wants to teach – he is genuinely interested in learning, possesses an informed worldview and questions established interpretations of the past." 
Although Bond had been a U of T student before, quite a few things have changed since then, he notes. 
"Everything is computers now for class," he said with a laugh. "In the '60s, it was all handwritten. Computers then came with boxes of punch cards." 
Once Bond retired, he was able to increase both his course load and his travelling – a combination which occasionally led to serendipitous opportunities. 
"I missed a few classes in order to travel," Bond recalls. "So I have fond memories of logging on to Quercus from hotel lobby computers in London and Rome to take the required quizzes. One Classical Civilization quiz that I answered in the Rome hotel was about sites and events in Rome." 
It also gave him chances to do his homework where it meant the most.  
"I read Homer's Odyssey for a Classics course while sitting on our hotel patio overlooking the blue Mediterranean on the Amalfi Coast," he said. "That's the way to do it." 
Inspired by his studies and armed with a list of places to see, Bond and his wife are once again ready to explore the world. But he admits he may still have some studying left in him.  
"Don't think I need another major, but there are still some classes I'd like to take," he said.
"You should never give up – always go for more education; get as much as you can. There are always new things to learn."
UTM