Advanced manufacturing supercluster invests in potentially life-saving gene therapies
The organization that runs Canada's advanced manufacturing supercluster – which includes the University of Toronto – has announced its first funded project: a consortium devoted to producing special viruses that can deliver genetic treatments to people suffering from late-stage cancers and rare genetic disorders.
Next Generation Manufacturing Canada (NGen), a not-for-profit that oversees the supercluster and includes Faculty of Applied Science & Engineering Dean Emerita Cristina Amon on its board, said it will contribute $1.89 million towards the project.
The project, led by Toronto-based company iVexSol Canada, will see iVexSol forge a partnership with the Centre for Commercialization of Regenerative Medicine (CCRM), which is hosted at U of T and counts Vice-President, Research and Innovation, and Strategic Initiatives Vivek Goel among its directors. Other partners include GE Healthcare and Vancouver-based biotech company Stemcell Technologies.
Its mission is to produce lentiviral vectors – retroviruses that are crucial to the development of cell and gene therapies to fight cancer and various genetic disorders – in far greater quantities and at a significantly lower cost than legacy methods by using iVexSol's clinically proven advanced manufacturing process.
Navdeep Bains, the federal minister of innovation, science and economic development, hailed the CCRM-linked project as an example of how the advanced manufacturing supercluster can drive potentially life-saving innovations.
"We all know someone who has had to battle cancer. This project and its results will give new hope to those family members, friends, the very people battling late-stage cancers," Bains said during an event at the MaRS Discovery District on Wednesday.
"This project is an important first step for the game-changing work of the supercluster and will drive innovation in the treatment of diseases and genetic disorders once considered untreatable."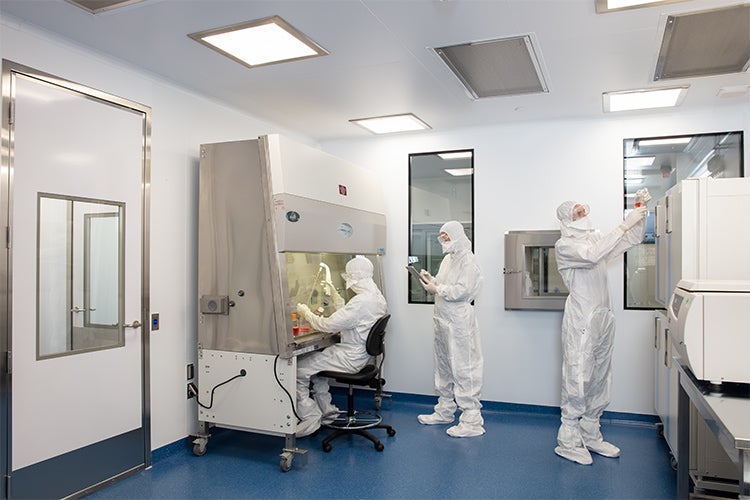 Researchers work at the Centre for Commercialization of Regenerative Medicine, which supports the development of technologies focused on cell and gene therapies (photo courtesy of CCRM)
The advanced manufacturing supercluster is one of five superclusters announced by the federal government in early 2018. Superclusters – networks of companies, academic and research institutions and other innovation actors – are part of the government's broader innovation strategy to invest in industries where Canadian companies are positioned to emerge as global leaders.
CCRM's contribution to the gene therapies operation will be to provide manufacturing infrastructure and technical services.
Michael May, president and CEO of CCRM, said the organization was excited to offer its expertise to bring the project to fruition.
"This initiative aligns perfectly with CCRM's purpose to revolutionize health care by solving the big problems in regenerative medicine, including cell and gene therapy," said May, who earned his PhD in chemical engineering from U of T in 1998.
Bains noted that advanced manufacturing activities such as the lentiviral vector initiative have the potential to spawn economic benefits for generations.
"This is about making sure that innovation benefits Canadians and also creates economic growth and job opportunities," Bains said.
"In Canada, we already have a strong footprint in manufacturing, and 10 per cent of the Canadian economy is linked to manufacturing. But today, it is advanced manufacturing that is revolutionizing how we produce goods, which are often products that promise to transform our lives.
"Globally, advanced manufacturing is an industry that's valued in the billions of dollars – I'm talking hundreds of billions."
The investment in iVexSol is expected to create over 450 jobs, while the NGen supercluster as a whole is estimated to create over 13,500 jobs and add more than $13.5 billion to the Canadian economy over the coming decade.
UTC