Adalsteinn Brown discusses fall scenarios, future pandemic preparedness at U of T event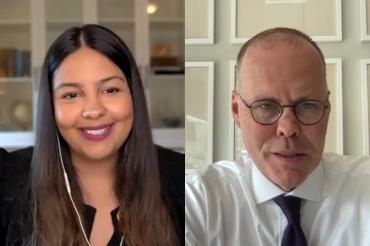 Ontario is at a turning point in its battle against COVID-19, says Adalsteinn (Steini) Brown, dean of the University of Toronto's Dalla Lana School of Public Health and co-chair of the Ontario COVID-19 Science Advisory Table.
If the province continues rolling out vaccines in a thoughtful and equitable way, Brown says we will see a return to something resembling pre-pandemic life.
But he warns that a stumble could bring a fourth wave of infections – and surface a bitter social divide.
"I believe if we continue to drive the vaccination as strongly as we can, and we are in line with our numbers and progress, we can look at an increasingly normalfall," Brown said during a wide-ranging online conversation this week for the school's alumni with soon-to-be doctor of public health student Sabina Vohra-Miller.
"The disease will be endemic, but we have the tools to deal with an endemic disease. You could – and you should – look at a fall with schools open … where going out before the holidays to do some shopping is a lot more fun again, and the idea of getting together with loved ones is not fraught with peril or risk."
But "if we falter on vaccination, if we relax things wildly or quickly without thought, you could see a fourth wave," Brown added. "I think it would bring a fundamentally divisive point in our society, where a number of people will want to increase [public health measures], and a number of people will say, 'I just can't do this again.'"
The hour-long conversation, titled "One on One With Steini," was a chance for Dalla Lana alumni to ask Brown, who goes by @SteiniBrown on Twitter, questions about the pandemic – and to hear from the professor who has become the public face of the scientists advising Ontario's government on its pandemic response.
Brown has been lauded for his clear communication style during press conferences – even as he shares complex and often dispiriting data about the pandemic's progress. So Vohra-Miller, herself a rising public health voice on social media, was curious about his approach to the unvaccinated people in his own life.
"The more you can provide information to people, the more you can keep them in the loop and treat them as partners, the better you'll do," said Brown, adding that he has convinced 90 per cent of his vaccine-hesitant friends to take a COVID-19 vaccine by employing such a philosophy. The idea of patients as partners – not as passive recipients of information and directives –  is "an interesting revolution that is slowly sweeping through the health system," he added.
Brown emphasized the massive inequities of the pandemic, but pointed to a bright spot: Ontario's quick pivot away from mass vaccination clinics toward targeted "hot spot" approaches that put more vaccines into the arms of essential workers and racialized people, who were being disproportionately affected by COVID-19.
On a wider scale, Brown said, Ontario's health system needs to undergo a massive change to catch up with patients' delayed treatments and tests, noting that the physical and mental health impacts of those delays could be felt for decades.
Calling for a "Marshall Plan for the health system," Brown, a former assistant deputy health minister for Ontario, said finding more money will be the easy part – but that achieving the necessary culture change will be much more difficult. That includes moving away from treating disease to promoting health, for example, or truly tackling the social determinants of health such as poverty and housing.
He said such challenges are among the reasons he encourages public health and health systems alumni to run for public office.
When he looks ahead to the next pandemic – and both Brown and Vohra-Miller agreed there will be a next one – Brown said he believes the biggest challenge is complacency. Despite the devastating effects of COVID-19, he noted a historical tendency for policy-makers to focus on competing priorities at the expense of building stronger public health systems.
That said, Brown said he is proud that the Dalla Lana School of Public Health has responded by establishing the Institute for Pandemics, which the Vohra Miller Foundation helped establish. It will continue planning and preparing for future public health crises long after the world has moved on from COVID-19, he said. 
"That's all about making sure we've got the tools so that as we get close to the next one ... we're not starting from scratch again. When we get to the next health crisis, we won't have to start from zero.
"We'll have faculty, students, the network of experts ready to go."
Dalla Lana