Ada CEO Mike Murchison is using AI to 'make customer service extraordinary'
U of T alum plans to talk about his entrepreneurial journey at upcoming event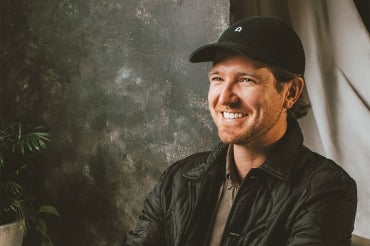 For Mike Murchison, the best way to understand a problem isn't to analyze it – but to immerse yourself in it.
So, when the serial tech entrepreneur found himself looking for a way to improve companies' customer service, he decided to work as a frontline tech support agent for several months.
"I used to believe that creating a solution to a problem is an intellectual exercise," says Murchison, who studied cognitive science, psychology and human-computer interaction in the University of Toronto's Faculty of Arts & Science. "But the way you execute on that is very different if you actually understand the toil that exists in the day-to-day."
Murchison's call centre insights helped shape the work and mission of his startup, Ada, which uses AI to help businesses and brands automate their customer support.
Ada – which successfully completed the Creative Destruction Lab's seed-stage accelerator program at the Rotman School of Management – has established itself at the vanguard of the AI-enabled customer support business. In 2021, the startup secured a Series C funding round of $130 million. That pushed its valuation above a $1 billion, earning it "unicorn" status; its clients include tech giants such Meta, Shopify and Verizon.
Murchison plans to further discuss the startup's growth and his own entrepreneurial journey in a keynote address on Nov. 21 as part of the Desjardins Speaker Series organized by U of T Entrepreneurship. The series is part of a three-year partnership with Desjardins that includes a student startup pitch competition with more than $100,000 in prizes.
It's one of many initiatives designed to inspire U of T's ballooning entrepreneurship community, which now comprises more than 12 campus-based accelerators that have spawned 650 companies, created more than 9,000 jobs and generated more than $3 billion in investment over the past decade.
Murchison says Ada is moving to expand its AI platform, which helps companies resolve complex customer inquiries with minimal human effort.
"We've developed what we call a reasoning engine which essentially brings together a bunch of different large language models – some of which are foundation models powered by the likes of OpenAI [makers of ChatGPT]," he said.
Ada also recently introduced a product, Generative Actions, that enables clients to train their AI bots on how to retrieve information from their business systems, making for more personalized responses and actions that can be carried out. "We're now starting to see AI experiences that we're powering that are not only on par with what humans are capable of, but are exceeding human capability," Murchison said. "That's huge because the whole mission of Ada is to make customer service extraordinary for everyone."
Murchison urged entrepreneurs in the AI space to think of the technology as a tool to solve real-world problems, as opposed to an end in itself: "What sends people in the wrong direction is when they believe that the technology holds some inherent value and their intellectual or high-level approach is all they need to build the right solution."
He also suggested entrepreneurs view AI as an employee that requires feedback and coaching to improve its performance. "When you hire a human employee, you expect their impact will be greater a year later than on day one. That same paradigm is what's needed to get the most out of AI," Murchison said, noting his upcoming keynote will address some ways this approach can be implemented.
As for students interested in AI and other technologies of the future, Murchison urged them to seek out the array of knowledge, resources and mentors available at U of T.
"I went to U of T when [University Professor Emeritus] Geoffrey Hinton was still teaching and was very lucky to be able to crash his courses. I also spent a lot of time just going into random labs – like, [computer engineering Professor] Steve Mann let me just show up in his lab and hang out," Murchison said.
"U of T gives you an incredible level of access to world-renowned research that's at your fingertips. It's on you to access it and tap into it."
Murchison also appealed to students to take advantage of U of T's vast entrepreneurship supports.
"It's really heartening and exciting to see the growth of entrepreneurship at U of T," he said. "Being in an environment where you have a structure to catch you if you fall – or as you experiment – is so valuable; it becomes harder later on. I'd love to encourage more students to do that."
UTC