Abuse crisis in Catholic Church is subject of conference at University of St. Michael's College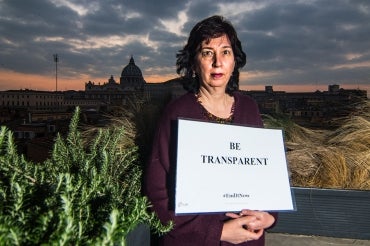 Leona Huggins remembers clearly why her parish priest stopped abusing her.
"I got too old, too aware. He couldn't control me," says Huggins, who spoke about her childhood experiences and her current work advocating for an end to clergy sexual abuse in a recent episode of the Global News This is Why podcast.
When Huggins discovered years later that the man who abused her when she was 13 was now working with a youth group, she stepped forward with her story and became an activist.
The priest served 10 months in jail on various abuse-related charges, but returned to active ministry elsewhere.
Huggins, who lives in Vancouver, was the sole Canadian among the 12 abuse survivors offered a chance to address last month's unprecedented Vatican summit on clergy sexual abuse. Now, she will be a key participant in a two-day event at the University of St. Michael's College looking at the abuse crisis in the Roman Catholic Church.
"The Wounded Body of Christ: Listening and Responding to Abuse in the Church," which takes place Thursday and Friday, will include input from legal, medical and pastoral experts. It will also hear from three survivors of clerical sexual abuse, including Huggins, who will share their stories as well as their advice on how to end the crisis.
The event begins with a keynote address Thursday evening by Dr. Brian Flanagan, associate professor of theology and religious studies at Virginia's Marymount University. His talk is titled "Believing in a Sinful and Holy Church."
Dr. Nuala Kenny, a professor emeritus of bioethics at Dalhousie University in Halifax, will deliver a paper Friday sharing insight she has gained as a physician in diagnosing and treating clerical sexual abuse, while Mary Ann Hinsdale, an associate professor of theology at Boston College, will address the links between clericalism and abuse.
A group discussion toward the end of Friday will bring together the range of voices involved in addressing what Pope Francis has called "the pain and unbearable suffering" the scandals have caused. That discussion will be moderated by David Byrne, a doctoral student whose work addresses ethical, spiritual, moral and practical issues in society's – and the courts' – response to sex offenders.
The St. Michael's conference comes as survivors and the broader church assess what did and did not come out of the Vatican conference, as well as what next steps are needed to end a crisis that has rocked the church to its core.
"The question of clerical sexual abuse is such a complex issue," says James Ginther, dean of the Faculty of Theology at St. Michael's. "We need to hear from the survivors because the onus is on us to become agents of change, creating a church that doesn't allow any space for abuse. We need to ensure our ecclesiastical leaders can't let this happen again."
As Huggins told the This is Why podcast, the Vatican summit left her disappointed she didn't see a more practical action plan come out of the meetings. The church is still "parsing" what abuse is, she says, adding that until it takes a "really good look at the rot within," the church's right to position itself as a moral authority is threatened.
Huggins stepped forward with her story in 1992, 15 years after her experience of abuse. While in Rome, she met a 22-year-old abuse survivor, which she sees as evidence that offers of handbooks and talking points have not done enough to end the crime.
"I'd love to stop telling my story," she says.
St. Mike's