U of T lab retrofit "an historic investment in Canadian science and innovation": Meric Gertler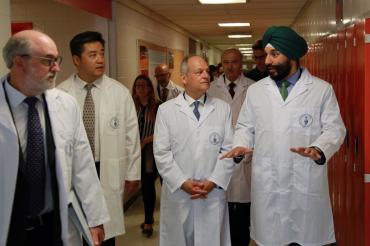 In what University of Toronto President Meric Gertler called "an historic investment in Canadian science and innovation," the federal and provincial governments are joining with the university to provide almost $190 million to upgrade nearly half of U of T's research labs over the next two years.
The announcement of the Lab Innovation for Toronto (LIFT) project was made this morning at U of T's Medical Sciences Building by President Gertler, federal  innovation, science and economic development minister Navdeep Bains and science minister Kirsty Duncan, and provincial ministers Deb Matthews and Reza Moridi. The university will provide $91.8 million, while the federal and provincial governments will contribute $83.7 million and $14.3 million respectively for a total of $189.8 million.
"These investments will help us attract and retain talent from around the world and across the country. It's really critical," President Gertler told reporters after the announcement. "We're very well known as a research powerhouse but, as the ministers have said, if the [lab research] space is substandard it limits what this talent and faculty and student body can do. By modernizing that space the sky is really the limit."
The LIFT project will lead to the renewal of 47 per cent of U of T's research space, said Scott Mabury, vice-president operations. The labs to be renovated by the project are on average 50 years old and comprise more than 50,000 square metres of inefficient space, he said. Work has already begun and will be complete by the spring of 2018.
Using a square metre as a prop, he gave an impromptu lesson in what the scale of the infrastructure project really means. If you add up the current inefficient lab space, he said, it's equivalent in total size to 15 soccer pitches. And, if U of T was building all-new labs instead of rejuvenating existing facilities, the total cost per square metre would be approximately $12,000, totaling close to $650 million.
"The renovations will modernize U of T's research labs to increase usable space and enhance the quality of the research and learning environment," Mabury said. "They will also improve air handling, climate, and electrical systems."
The federal contribution is part of the government's Post-Secondary Institutions Strategic Investment Fund, Bains said. "This once-in-a-generation investment by the Government of Canada is a historic down payment on the government's vision to position Canada as a global centre for innovation," he said, adding that the funding would "create the conditions for innovation and long-term growth that will keep the Canadian economy globally competitive."
Duncan, who has had first-hand experience of U of T lab facilities as both a student and instructor, agreed. "It's a little extra special to be here today. I'm a proud UC graduate and a former faculty member. Being back at the university is bringing back wonderful memories," she told the crowd. "Science has a central role in [Canada's] Innovation Agenda. Through investments such as these, we are strengthening the foundation for building Canada as a global leader in scientific excellence."
The Ontario government is proud to support LIFT, said Matthews, the provincial minister of higher education and skills development. "This important project will give University of Toronto students access to the renewed facilities they need to prepare for successful careers in science and research. We know that providing access to high-quality education and training facilities is critical to building the skilled workforce we need to support good jobs and economic growth for today and tomorrow and this investment will help us to do it."
President Gertler thanked the federal and provincial ministers for the government support. "The LIFT project will equip our brilliant scholars, students and staff with the cutting-edge facilities they need to learn, collaborate and discover. The modernization of these labs will also reduce our greenhouse gas emissions significantly. The University of Toronto greatly appreciates the federal and provincial governments' support of postsecondary education and research, and their leadership in ensuring Canada secures its place among global leaders of science and technology."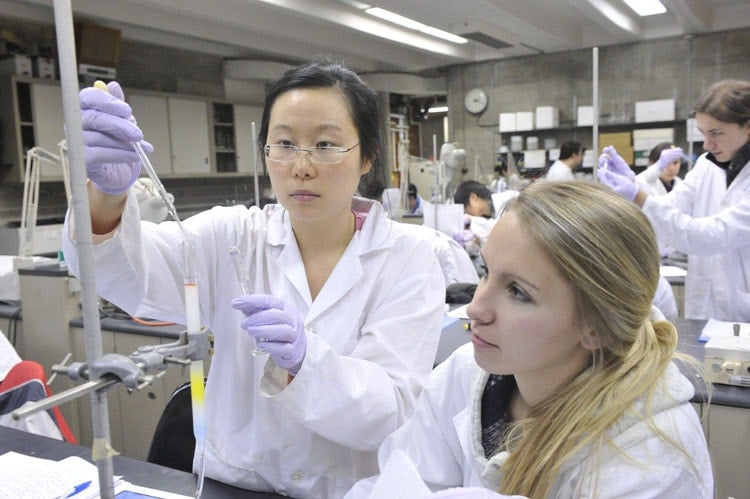 Students in a biochemistry lab at the University of Toronto Scarborough campus (Ken Jones photo)
Daniel Haas, dean of U of T's Faculty of Dentistry, also thanked the ministers for the infrastructure funding, which will allow the faculty to sustain its excellence and to make much-needed repairs.
"Our research facilities are badly outdated," Haas said. "Our primary building opened 57 years ago in 1959, and a number of our researchers are working out of a facility built in 1927. We have exceptionally talented people who are being limited in what they can accomplish, simply because of infrastructure.  The funding announced today will allow our faculty to capitalize on their potential. It will help us modernize our existing facilities and sustain our position as leaders in health research."
The LIFT project will affect all three campuses and nine academic divisions.
The facilities to be renovated include not only medical, dental, biology, chemistry and engineering labs, but also include a former horse barn north of Toronto now used for ecological research, a green roof on the historic 1 Spadina Avenue building (the new home of the John H. Daniels Faculty of Architecture, Landscape, and Design), an electro-acoustic music studio at the Faculty of Music and many others. For example, at the University of Toronto Scarborough, the campus vivarium and the S-Wing research labs will undergo $17.8 million in renovations, while the University of Toronto Mississauga's Davis Building will get a $17.1 million upgrade.
In total, 546 labs will be fully renovated, providing state-of-the-art research facilities to an estimated 1,100 researchers and 5,500 students.
Mario Ostrowski is one of the researchers affected. A renowned HIV scientist affiliated with St. Michael's Hospital and U of T's Faculty of Medicine, Ostrowski says there is fierce competition among research institutions for graduate students and post-docs. State-of-the-art labs will help U of T recruit the best and the brightest students, he said, and will also inspire existing researchers and students to greater achievements.
"Just like great architecture inspires people every day to achieve excellence, if you've got a nice lab that's state of the art, rather than something old and decrepit that's falling apart, it inspires and stimulates people to produce excellence."
UTC