From 24 countries to U of T: New Pearson Scholars bring global perspectives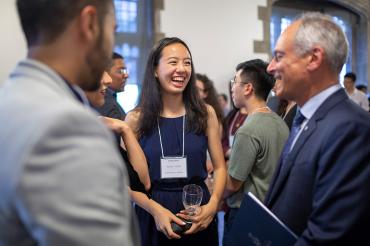 Hola. Merhaba. Kamusta. 
There are many different ways to greet this year's Pearson Scholars, who come to the University of Toronto from 24 different countries. They are – in U of T President Meric Gertler's words – a welcome addition to "U of T's unique culture of double-diversity."
International students make up more than one-in-five U of T students, he pointed out at a welcome reception at Hart House Monday evening – in a city where half the population was born outside of Canada. "The University of Toronto, and the city-region around our campuses, is an ideal place for brilliant students to develop as globally minded leaders in every field of endeavour," he said.
"So, over the next four years, make the most of the countless learning opportunities we offer, both inside and outside the classroom. Finally, please remember that we are here to support you."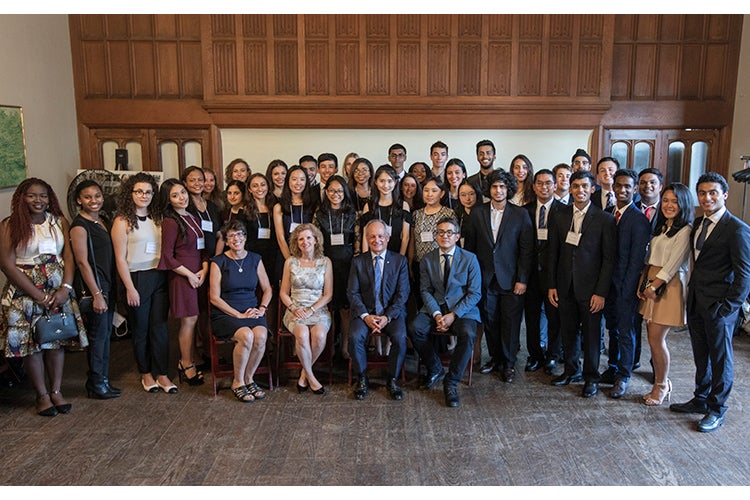 The 2018 class of Lester B. Pearson scholars. Sitting in the front row are, from left: Sandy Welsh, vice-provost, students; Cheryl Regehr, vice-president and provost; U of T President Meric Gertler; and Joseph Wong, associate vice-president and vice-provost, international student experience (photo by Nick Iwanyshyn)
The current cohort of scholars were joined by last year's class, the first group of top students from around the globe who came to U of T on a scholarship named after alumnus, former prime minister and Nobel laureate Lester B. Pearson. The scholarship covers four years of study at U of T, including tuition, books, incidental fees and residence support. 
The award recognizes students who demonstrate exceptional academic achievement, creativity and leadership, as well as a commitment to making an impact in their community. The scholarship is highly competitive since only one student can be nominated by a high school. 
The 40 new scholars come with lofty aspirations, from discovering new treatments for Parkinson's to using actuarial science to help the poor in rural Kenya and advancing sustainable development. 
U of T News spoke to four scholars about their first impression of Toronto and their goals.
---
Adriana DÍaz Lozano Patiño
From Mexico
Faculty of Applied Science & Engineering, engineering science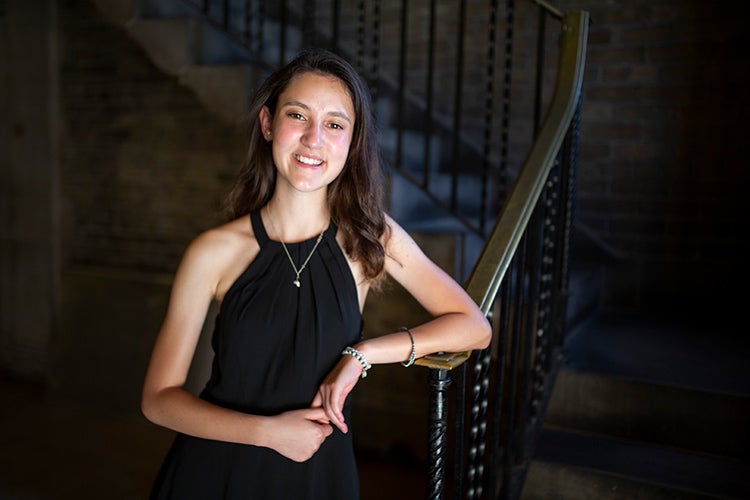 Patiño was a precocious kid. As early as age 12, she knew she wanted to be an engineer. "I wanted to learn how to tackle problems in an analytical way, something to allow me to create efficient solutions for the world," she says.
The student from Mexico City chose U of T for its engineering science program, which she describes as a perfect mix of theoretical and practical courses that will prepare her for graduate school. 
One of the most striking things about her first days on campus has been the diversity of the student body. "You get people from Asia, Africa, Europe and the U.S. They bring all these perspectives into your life that you didn't have before," she observes. 
Patiño doesn't want to limit her U of T experience to the classroom. Far from it. After dabbling in theatre back home – having played Timon in The Lion King and Belle in Beauty and the Beast – she wants to continue acting while also exploring engineering clubs and practising debating.
Hannah Godrey-Clarke
From the United Kingdom
In the Faculty of Music, music performance
Godfrey-Clarke comes to U of T from Halifax, north of Manchester, England, where she was the first female principal bassist in the National Youth Orchestra of Great Britain. "There shouldn't be 'first female' anythings in 2018, but I was very lucky to get that," she says.
Her first instrument was the cello, but she picked up the double bass at 11 years old through a local music service and she never looked back.
If you wonder about the mini harmonica she wears around her neck, it's a nod to an inside joke with her family, who kid that she should play the harmonica so she doesn't have to lug around an instrument that can weigh over 50 pounds in its case. 
She practises four or five hours a day, and hopes to join as many U of T ensembles as possible. At the same time, she wants to become involved with music outreach since the music program that inspired her was later cut through lack of funding. "Music has opened so many doors to me. I wouldn't be here without the opportunities that I've had," she says. 
Devansh Khare
From India
Faculty of Applied Science & Engineering, mechanical engineering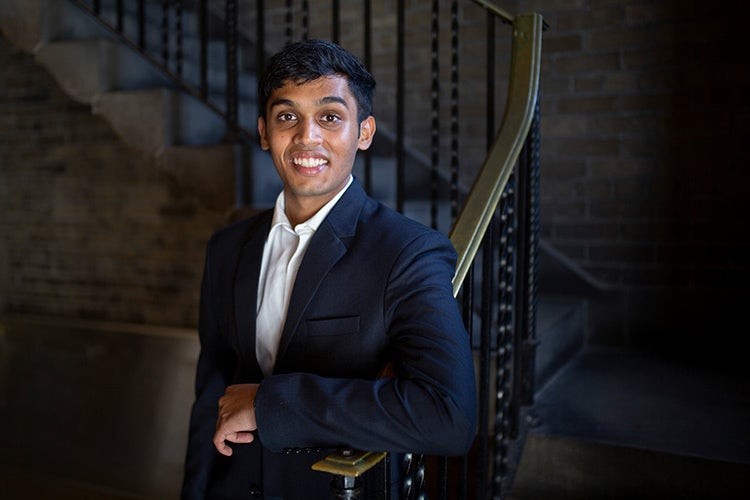 In his first month in Toronto after arriving from Mumbai, Khare was confronted with a problem.
He took part in the engineering student tradition of painting himself completely purple during orientation, only to remember he had a photoshoot with his fellow Pearson Scholars the next day. 
"I completely forgot and had to spend two hours scrubbing my face," he recalls with a smile.
Having represented India at international environmental events, such as the Sunburst Environment Program in Singapore, he's looking forward to a career in the clean energy sector. U of T – with its strong engineering program and diverse student population – is the ideal launching pad, he says.
"I've realized the importance of understanding different cultures to tackle the various issues faced by our society today," he writes in his scholarship bio, "and with the Lester B. Pearson Scholarship, I hope to gain a broader perspective for improving education, environment and lifestyle in the future."
Ami Alexis
From Trinidad and Tobago
U of T Scarborough, co-op management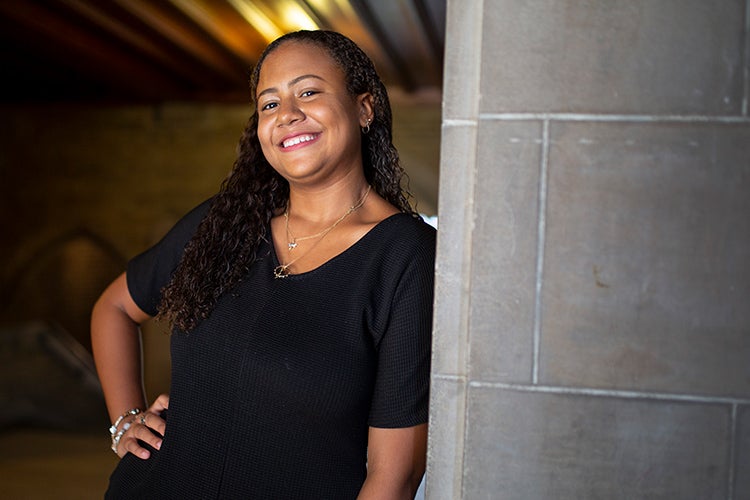 Alexis's first weeks on campus have been a bit of a cultural shock particularly when it comes to cuisine. 
"The food is different because at home we use a lot of seasoning," she says, adding she may bring some back after visiting home at Christmas. 
The 18-year-old from the twin island Republic of Trinidad and Tobago has a passion for water sports, especially swimming and water polo. She chose to study business at U of T Scarborough to keep her options open after graduation. 
"I'm excited for what's ahead," she says – though maybe not for her first Canadian winter. 
"Monday was really cold. It was 14 degrees. I thought it was freezing. Imagine minus 40."
UTC