In the 1990s, five friends from Oxford provided the antidote to the Spice Girls, Backstreet Boys and other mainstream pop dominating the airwaves. 
Radiohead's OK Computer "tapped into a general sense of unease about the oncoming 21st century," said Rolling Stone recently in a story about the album's 20th anniversary.
The dark and melancholic album still resonates today, says Don Scott, lead singer of the local Radiohead tribute band Idiotheque and a graduate of U of T's music program. 
"Some of the themes on it lyrically and musically – people having trouble with politics, technology, loneliness, privacy – all these things are still very much true," he said.
Idiotheque (the band's name comes from a track on another Radiohead album, Kid A) started in 2010 as a side project by graduates of U of T's jazz program. In addition to Scott, the current lineup features U of T Faculty of Music alumnus Ernesto Cervini on drums, alumna Teri Parker on keyboard, Jessica Stuart and Charles Tilden on guitar and providing backup vocals, and Liam Smith on bass.
On July 21, the band will be playing OK Computer note-for-note in concert at the Horseshoe Tavern.
Scott and Cervini spoke to U of T News about the album's significance two decades since it was released.
---
As jazz musicians what do you like about Radiohead?
Don Scott: I suppose we all have our own individual stories about our connection with Radiohead and when we discovered them. Maybe there's some nostalgia involved. But I guess it's not surprising for musicians to be fans of Radiohead because their music is – I don't want to use the words complex or sophisticated – but there's a lot going on. It has very interesting forms, chords and ideas that musicians love. There is a history of well-known jazz musicians that we all listen to who have covered a Radiohead tune on their album.
Thom Yorke says OK Computer was influenced by Miles Davis' Bitches Brew. 
Don Scott: Sonically, I can see some of the connections to Bitches Brew just because there are some wild ethereal sounds. Maybe it's even a reckless abandon approach to the playing of the material that can be related back to Miles Davis' work.
OK Computer's 20th anniversary has gotten some attention. Does the music stand the test of time? 
Ernesto Cervini: The music stands up. You don't listen to it and think, 'Yeah, that sounds 20 years old.' If someone released that album today, I still think it would be cutting edge. 
Don Scott: This album struck a nerve with a lot of people and really predicted some of the atmosphere to come in the early 21st century. Some of the themes on the album lyrically and musically – people having trouble with politics, technology, loneliness, privacy – all these things are still very much true.
Music can sometimes be a generational thing. What do your parents think of Radiohead and your covers? 
Don Scott: My parents are funny because they're totally not musical at all. I don't know where I came from. My mom just kind of listens to what's on the radio and keeps the radio on to keep the cats company. I don't even know if she has an opinion.
Although, she was just in town for our last show a couple of months ago, and she was floored by how much she enjoyed the music. She was like, 'I want to come back for the Horseshoe show.'
Ernesto Cervini: It was really adorable. She's pretty awesome.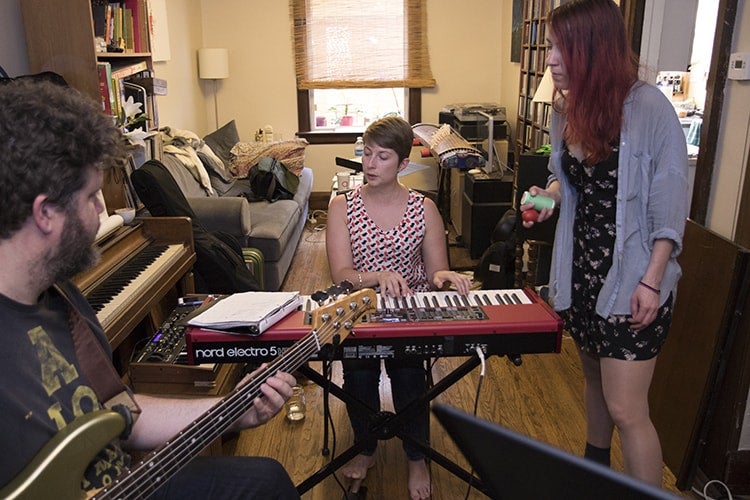 Alumna Teri Parker runs through "Everything in its Right Place" from Kid A at a rehearsal with bassist Liam Smith and Jessica Stuart (photo by Geoffrey Vendeville) 
What are the hardest parts of covering Radiohead? Is it hitting those Thom Yorke high notes? 
Don Scott: The hardest thing is divvying up the parts when we start a new tune. 
We don't have defined roles like, you're Jonny Greenwood, and you're Ed O'Brien. You're playing all that person's parts, and you dress like them and act like them on stage. Basically, it takes a while to decide who's playing which part. In rehearsal, we'll see how that works. 
Ernesto Cervini: We try to learn the studio version which isn't necessarily how they perform it live. Between the three guitarists and the keyboard, and as we've been developing this band, we've been buying more gear. The bass player has a synth that he plays sometimes. I bought myself a drum pad, and I know all three guitar players are adding different pedals. 
Don Scott: We're always trying to figure out the logistics, and how we're going to get these sounds. If you look at what they do in studio or even live, they have 20 times the gear we'll have. They have $20,000 to 40,000 worth of gear to make the sounds we're making with probably a couple of grand. 
I think the challenge for us is to come as close to the recordings as we can. Even after so many shows and studying the music, I keep hearing new things in their songs. I'll be like wait there's this weird little wobble at three minutes and 27 seconds – who can play that? 
Ernesto Cervini: It's amazing to listen to something for the 78th time and be like, 'Oh wait, I never heard that before. Crap, no one's covering that.' That to me is also the fun of it.